On the occasion of Mid- Atumn Festival, the members of Sunwah GYLN Hanoi organized a charitable activity with the main objective was to visit the poor manual workers and the people who are living in difficult life condition around Hanoi City.
"Look around"
Sometimes we go so far to find people who are in need of help but forget the ones who really need sharing around us. Originating from this idea, a "look around" campaign within the GYLNers had started and come up with many good results.
The meaningful trips
In Vietnam, full-moon festival is the day when family members get together, enjoy moon cakes and wait for the moon to rise up. But for the poor manual workers that we met in Long Bien, Hanoi, there was no Mid- Autumn festival at all. They were immigrants from Bac Ninh province to Hanoi for earning their living. Both males and females were approximately 60 years old. Without stable jobs, they did not mind doing anything including hard works. We were all touched because at these ages, they should have rested and had a happy life together with  their family. We went and visited them at their rented rooms, all of them were in bad condition which had only enough space for a bed and it was really hot in summer. Being together in a room, we felt the familiar and close atmosphere when enjoying moon cakes and listening to them sharing their daily stories. "Rarely could we have a chance to welcome you, students, so we greatly appreciate your visit "- a man's saying had touched our hearts. Seeing the brighten smiles on their faces, we experienced the famous saying "Happiness lies in making others happy, in forsaking self-interest to bring joy to others."
After saying goodbye to the friendly workers, we visited  Nguyen Khanh  Linh, a cerebral palsy patient. Born with the illness, Linh was not able to do almost anything. To cure her from illness, her parents  had to borrow money from relatives for her treatment. Unfortunately, there was not any sign of recovery. However, thanks to the relatives' help, the parents could open a small grocery store. When we arrived at Linh's house, the 12-years-old girl was lying on the floor. Her twinkle eyes and innocent smile broke our hearts. She should have been a lovely and intelligent girl as many friends at her ages if she wasn't born under a unlucky star.
At the e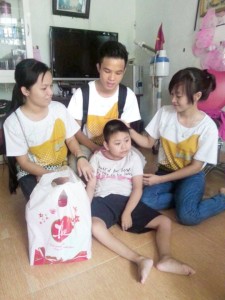 nd of the trip was a vegetable seller's family, we first met her- Mrs. Duong with her 14-years-old son who had dropped out of school and were selling vegetable in an open air market. The harsh life did not just stop there. After four years working in Hanoi, her husband felt into temptation and soon became a drug addict. Consequently, the family's possessions were gradually sold out to satisfy his craving for drugs. He finally was taken into a drug treatment centre, from then on, it was her responsibility to carry out the family burden. Listening to her story, we not only felt sympathy for her but also admired the woman with  full tolerance and austerity.
And what we have achieved from the activity
To many GYLN members, this activity brought us more meaningful experiences than what we had given. Understanding the life of the people in difficult circumstances, we certainly found motivation for to continue devoting our effort to social development. This reminds us of a Vietnamese famous song "to cast into the wind"…"To live one's life, one needs a heart … to what end, do you know? To cast into the wind, to cast into the wind…."