Life continues in every corner. We have to keep going for a better life. The road ahead of Sunwah GYLN and little students would be bright, though it would be somewhat far with a lot of hardships BUT I firmly believe that all of us will go through it surely!
It's hard to depict the feelings from the day I started to write the proposal till the day I got the approval of Ms. Betty for the plan. It isn't easy at all actually. With a record number of meetings, considerations about the time, the schedule, excluding the less realistic proposals, we finally heard from my leader sister that after half a day of submitting, we officially got the approval for the plan. I virtually burst into tears, after a number of times wanting to quit, a lot of deadlines and odd things we have to care about. Finally, we made it! I immediately called my friends who worked on the proposal with me: "Oh my buddies, it's about to come to reality, we have not wasted our effort!" I never imagined that I would have chance to become a leader of such a big project, a "happy but introvert" me, an "always want to learn new things but don't dare to take the lead" me, without being a member of Sunwah GYLN.  How could I have had that chance otherwise? When would I exactly define myself, a young adult – part of Vietnam's younger generation?
After having got the approval for the plan, we set out to carry it out.
Different from some previous projects, we planned to collect used clothes and books for children.  Just by some simple ways such as informing our acquaintances, sharing information on facebook, we got so much stuff
from these people. Some members of Sunwah GYLN even spent part of their own savings to buy socks and gloves for small chidlren. That's really praiseworthy indeed! We spent about 3 days to arrange and buy stuff for the trip on the 27th. A little bit tired but we knew that we finally made it!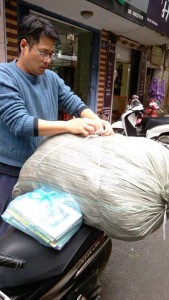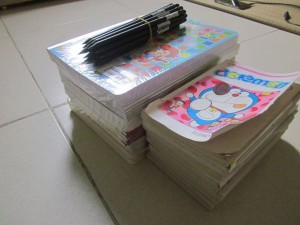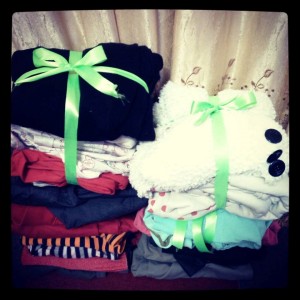 The 27th  of  December- bright and early on a drizzling and freezing morning, we set out on our trip at 5:30 am with a high-spirited and elated state of mind. Outside was quite dark so some of us still took a short nap before getting ready for the warming-up part at 7:30. Thanks for Chi and Thai, we did have a lot of fun for the game of guessing riddles.
Passing through a distance of about 138 kilometers with roughly 4 hours on the coach, we finally set foot in Phong Minh Primary School. We were welcomed by the teachers with a lot of smiles and handshakes. Our representative gave a picture as a present to the school, we quickly moved to the place that the students stay! We were looking forward to seeing their eyes, to hearing from them their beloved greetings.
I was dying to see their skinny but gentle and smart faces!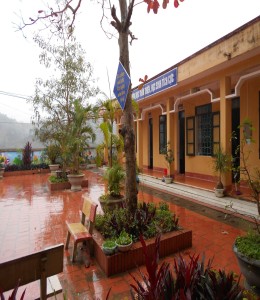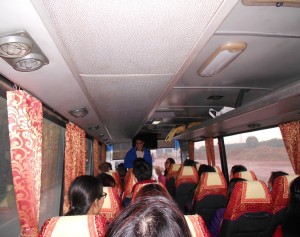 Standing in from of us right then were about 80 students of the age from grade 1 to grade 5. They did not stop running around the room until the teacher said: "Attention!"  (that works exactly the same in military). Our very first common impression was the students were so skinny, actually. At their age they should be much taller and fatter, but they are not! The teacher said: "They are their most beautiful clothes, they won't dress like this except for special occasions." That was very heart-breaking actually, but still, we were really well-respected, how grateful we felt at that moment!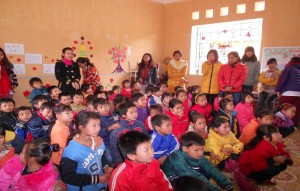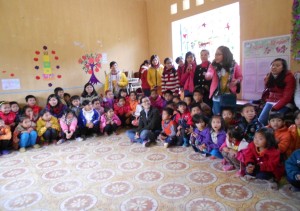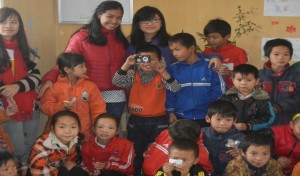 After a moment, the teachers assigned them to sit in position and started the part of playing game. Lady Claus Chi and Santa Claus Thai appeared again with a lot of stimulating games and quizzes. The children had never ever been such delighted. We love the innocent and carefree smiles. We hope that they would permanently wear such cheerful smiles whatever happens. Asking them "What is your dream?" We did receive a lot of surprisingly simple answers: "I wish I owned a new pen"; "I deeply wish I possessed a new school bag"; "I hope that I had a bike to go to school, walking's sometimes really tired then."  You guess what did we say to them? "Ok then, if you want to fulfill your dream, what should you do? " "Just try to study harder and harder, your dream definitely comes true!"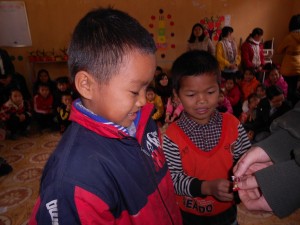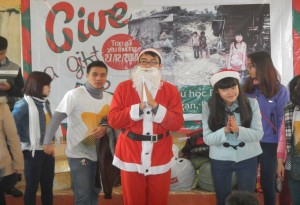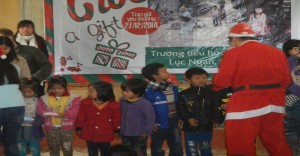 In the afternoon, we moved to the part of visiting 6 poorest households. We visited them one after the other. Each student has different family background. Some of them are handicapped, Some either lost their father or mother, some has their mother suffering from cancer. We talked and shared a lot about the stories. The sadness submerged deeply in our heart. We stand speechless, a sense of frustration quickly all rush in upon me. I was very aware of how privileged I've been through my life.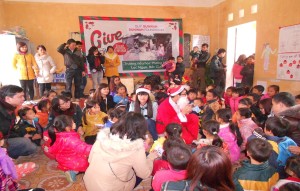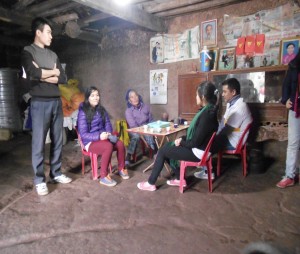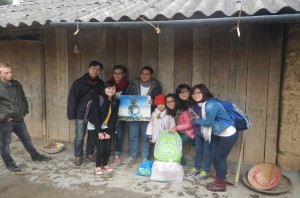 Another plan was successfully closed that left behind a complicated blend of every single emotion possible – joy, sadness, hope, despair, pity, envy, gratitude, connection, and alienation – except pride (Dustin Lewis- An American Volunteer's inspiration right after the trip). Whether more or less, we hope that we had brought happiness, a change in thinking or much more great was a new lease of life for people especially small students here. "Education is the key to unlock the golden door of life" Little kids, just bear in mind these words, all right? We hope to return Bac Giang soon to do more things for you!!! We are sure we shall meet soon, on the day that you are with a laurel on your head and the flying-colour on your faces, dears!