November 6th-10th 2020 were memorable days for Sunwah GYLN members in Vietnam as we were selected to join the "50 Student Environmental Ambassadors in Vietnam 2020" program – organized by Sunwah Foundation and co-organized by Vietnam National University, Hanoi. The program broadened our worldview about environmental issues, supported us in building meaningful projects, and last but not least gave us a chance to befriend talented young students across Vietnam.
The opening ceremony was held on November 6th with the attendance of Mr. Jesse Choi, Director of Sunwah Vietnam, Mr Dang Minh Khoi, Vice Minister of Foreign Affairs, and representatives from the Chinese Embassy in Vietnam, Vietnam Environment Administration Office – Ministry of Natural Resources and Environment, Higher Education Department – Ministry of Education and Training along with teachers and students from different universities in Vietnam. Dr Jonathan Choi, Chairman of Sunwah Group, Sunwah Foundation, and Jonathan KS Choi Foundation also joined virtually to deliver his welcome remarks. Attending the ceremony, we were impressed with the professional and dedicated organization. We believed that we would learn a lot during the time of joining the program.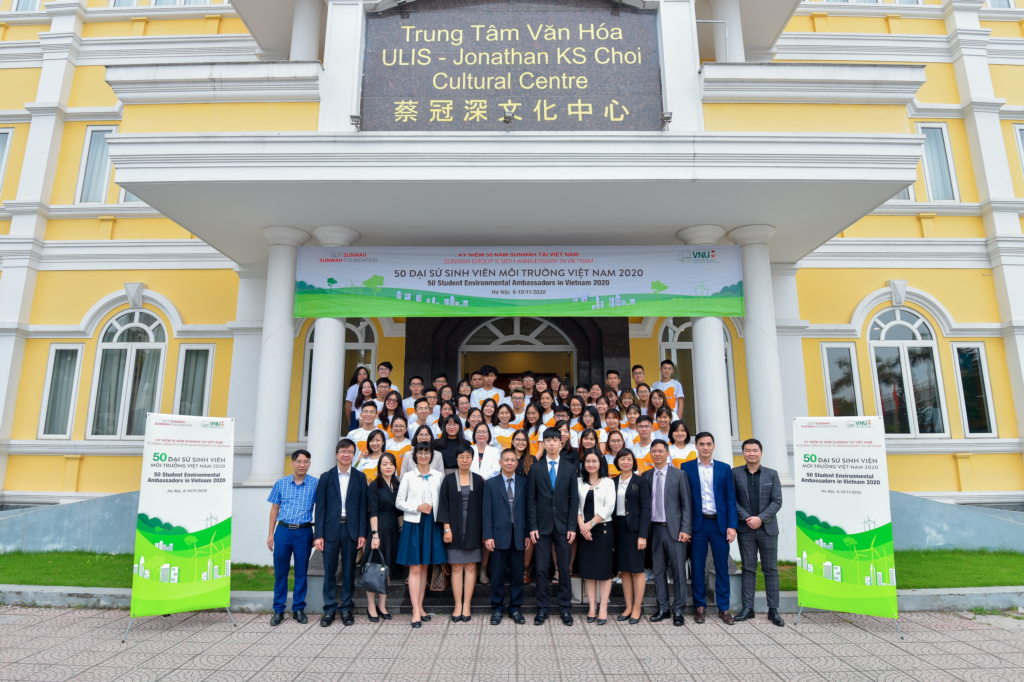 Afterward, we were introduced to five different approaches towards "Green Growth and Sustainable Development" of the environment which gave us a comprehensive understanding of environmental issues: (1) "Sustainable Built Environment", by Prof Matt Syal, Construction Management Department, School of Planning, Design, and Construction, Michigan State University, USA. (2) "The important role of national parks in Green Growth and Sustainable Development: Lessons from Canada" by Dr Harvey Locke, University of Alberta, Canada. (3) "Natural attenuation strategy of groundwater and subsurface water impacted by acid mine drainage" by Prof Keiko Sasaki, Department of Earth Resources Engineering, Kyushu University, Japan. (4) "Climate change affecting the Arctic, Antarctica and the World" by Dr Rebecca Lee, Founder of Polar Museum, Hong Kong. (5) "CCS Technologies for mitigating CO2 emissions" by Assoc Prof Dao Sy Duc, Department of Chemical Technology, VNU University of Science. Due to the Covid-19th, the first four speeches were delivered via an online platform. It did not bring any negative effect on the quality of their contents but drew much interest from participants.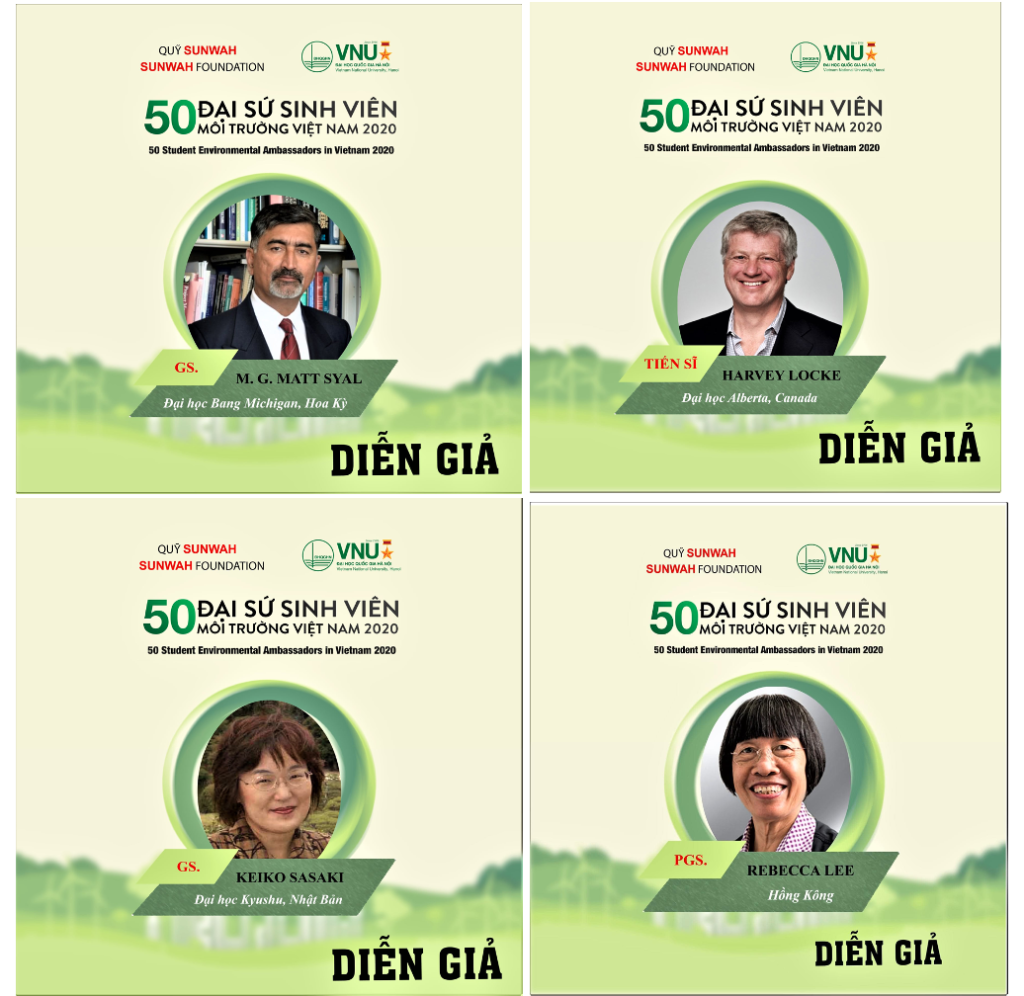 In the afternoon, Prof Keiko Sasaki continued her topic about "Natural attenuation strategy of groundwater and subsurface water impacted by acid mine drainage". She described two scientific approaches to treat heavy metals in wastewater from the exploitation of minerals in Japan: (1) Active Path by using chemicals that can precipitate with metallic ions or toxic substances in wastewater such as Cr (IV) and FeS2 (2) Passive Path by handling in situ microorganisms through Permeable Reactive Barriers (PRBs). On the passive path, the heavy metals would be gone through a wall that includes 3 steps: Sorption -> Precipitation -> Degradation. As a result, we have clean water. An interesting and impressive thing in her sharing is that even though the control test does not undergo any kind of methods, the downstream water source will also return to its original state (heavy ion content at a safe level) after 15 years. That means nature has a self-healing capacity! However, can self-healing nature's speed keep pace with human destruction speed? Scientific articles are always reliable evidence for environmentalists to appeal to people to be aware of keeping nature. Thank you very much for Prof Keiko Sasaki for minimizing the gap between scientific research and practical applications.
On November 7th, we attended 4 lectures.
The first one was "Knowing and Acting in Response to Environmental Risks: Science, Publics and the Policy Process" by Prof Kevin Jones, University of Alberta, Canada. In his lecture, Prof Jones introduced the participants to the fundamental principles of political science and how to engage the public in decision-making. Starting with identifying the wicked problem, we realized the environment is not only an international issue but also a paradoxical issue because there is no final solution we can make to resist the risks we will face. It looks like an elephant in a room, we know its existence, but we try to ignore the dark side of this progress. When hearing his speech, we believed that we are underdetermining the consequence of environmental pollution and putting it as the last priority, while its change directly affects human daily life. The environment should not be isolated from other social problems, instead, it should be considered when operating the initiative for enhancing human living standards. The impacts of climate change are increasingly evident, and policy institutions are facing challenges to ensure its prosperity. From our perspective, the adaptation to routine uncertainty is essential to control the risk in our capacity to solve, as well as open up the option when the risk scenarios come. To accomplish this idea, the policy institution is required to consider environmental factors at the same level as socio-economic factors when making a policy. Moreover, we need an evidence-based policy and public engagement in this process, which means the requirement for transparency and legitimacy for people to be involved in policymaking. From his lecture, we acknowledge the necessity of bridging the gap between common knowledge with expert knowledge, as well as increasing the active engagement of citizens into policy. This idea is new for us, and many of Vietnam's young people because we hardly engage in policymaking. Therefore, we enjoyed the lecture of Prof Jones and considered the initiative to bring public interest to the community.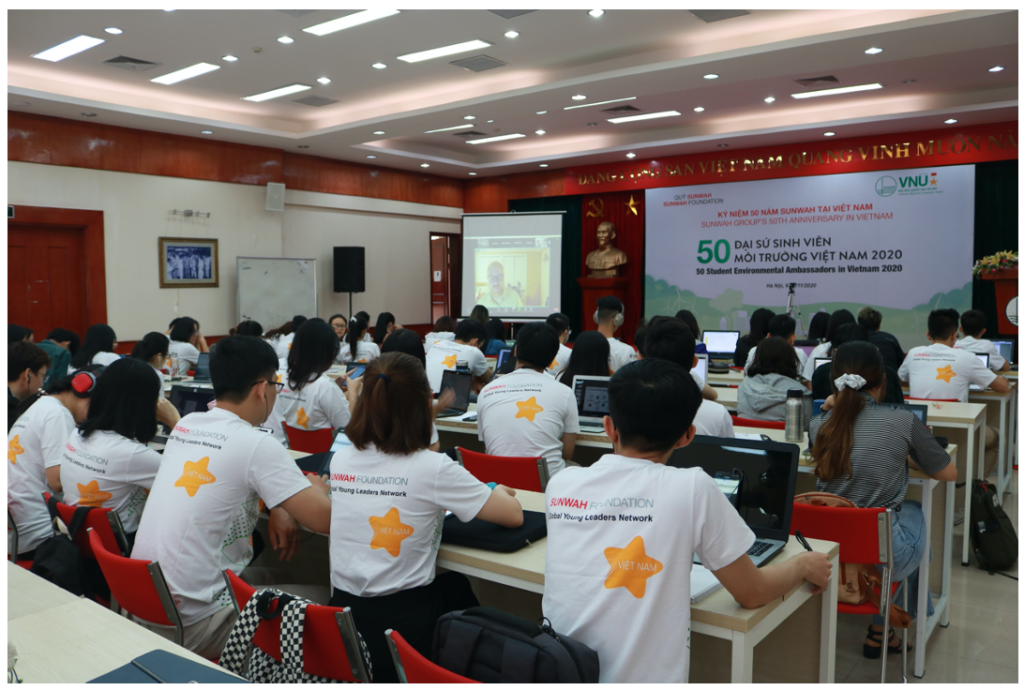 The second lesson was about "Biodiversity in Vietnam: status, causes of degradation and main solutions for sustainable development" lectured by Dr Truong Ngoc Kiem, Lecturer, Faculty of Biology, University of Science, VNUHN. Dr Kiem introduced the diverse resources of Vietnam and how to utilize them properly. Besides, Dr Kiem emphasized that in order to conserve biodiversity, we have not just preserved an individual, but a population, or even a biome. It's an unfortunate but inspirational story that we need to act on immediately. In addition, we always told each other that barren hills should be covered to limit landslides but have not understood the mechanism yet. The location above the quarried ground is where water accumulates during rain. That makes the soil more porous and then landslides. Therefore, when planting trees, especially trees with long roots deeply embedded in the ground and cluster roots clinging to the soil on both sides will keep the soil stable.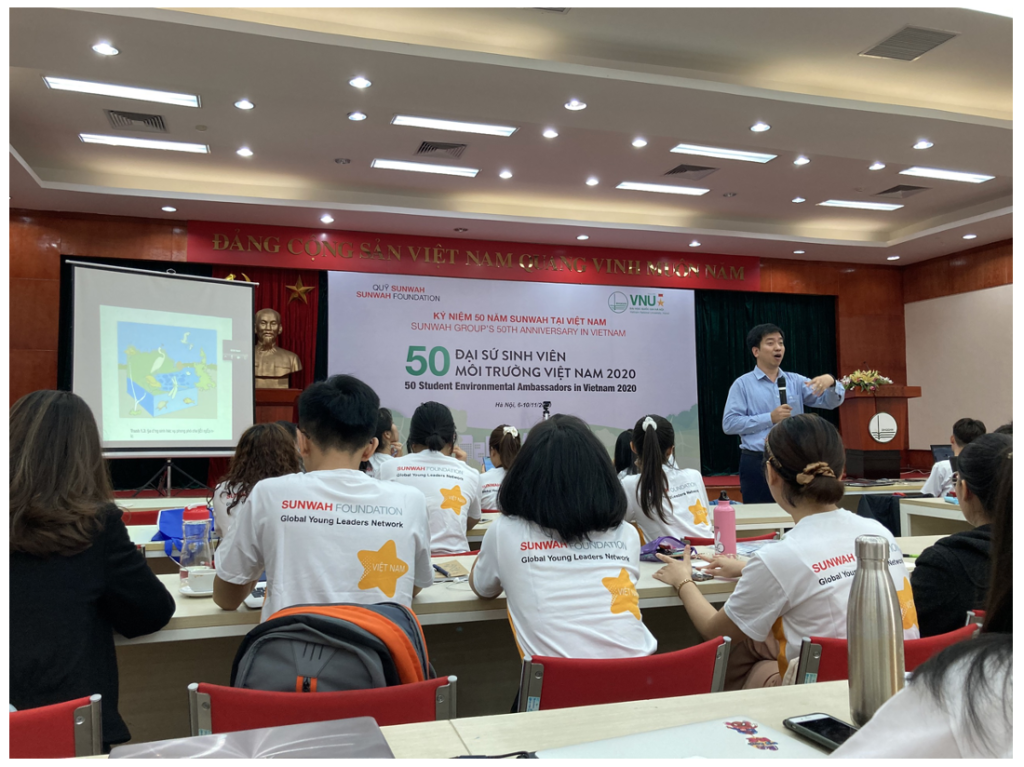 In the afternoon, Dr Rebecca Lee, Founder of Polar Museum, Hongkong continued with her topic "Climate change affecting the Arctic, Antarctica and the World" from the Opening Conference and "The role of young people in environmental protection". DrRebecca Lee had transformed herself from a professional graphic designer, painter, photographer, and writer to a polar researcher in the last 30 years. The pursuit of innovation resulted in her being recognized as the first Hong Kong woman explorer to reach the Arctic, Antarctic and Mount Everest Region. She was the author of more than fourteen books, organized numerous educational exhibitions and produced TV documentaries about the world we live in. She is the founder of the Polar Museum Foundation in Hong Kong and does "exhibition" of her work on many scales. Her integrity is seen in her courage, resilience, and survival in extreme conditions and adversity. She has been to the Arctic ten times, Antarctica eight times and to Mount Everest region four times. Her work shows a true love for our planet and mankind. Rebecca has delivered hundreds of lectures to primary and secondary school students, university undergraduates in Hong Kong, Macau, and China about her work, adventure, and latest scientific findings on the environment. They are inspired to take a more serious attitude towards life and to conserve and protect the environment. The community benefited tremendously from her public education efforts. She is the symbol of making an impact from individual change and opening a new diagram for us to tackle the problem. Sometimes, the normal thought is that we need many resources and group gatherings to make an impact, but everything starts from just a person's interest. The key is believing and being interested in ourselves in order to deliver strong engagement content to others. It applies the same thing with doing social work. If we don't trust and have any connection to the topic then we might drop it easily and consider it as one of the duties. She speaks on behalf of nature and creates a new combination of Art and Science. The huge support from the community is one of the wish lists for any project runner as proving the result of raising awareness. The same method has been applied to many organizations but not many people can become an influencer like Dr Lee. She bridges the gap of innocent thought of people to the natural reality in the Arctic, the World. We all acknowledge the increase of global warming but none of us see the reality to touch the human's soul and take action. That is also a good start for young people to raise awareness by touching human beings' core values and do not blame them but stand aside with them to see the problem.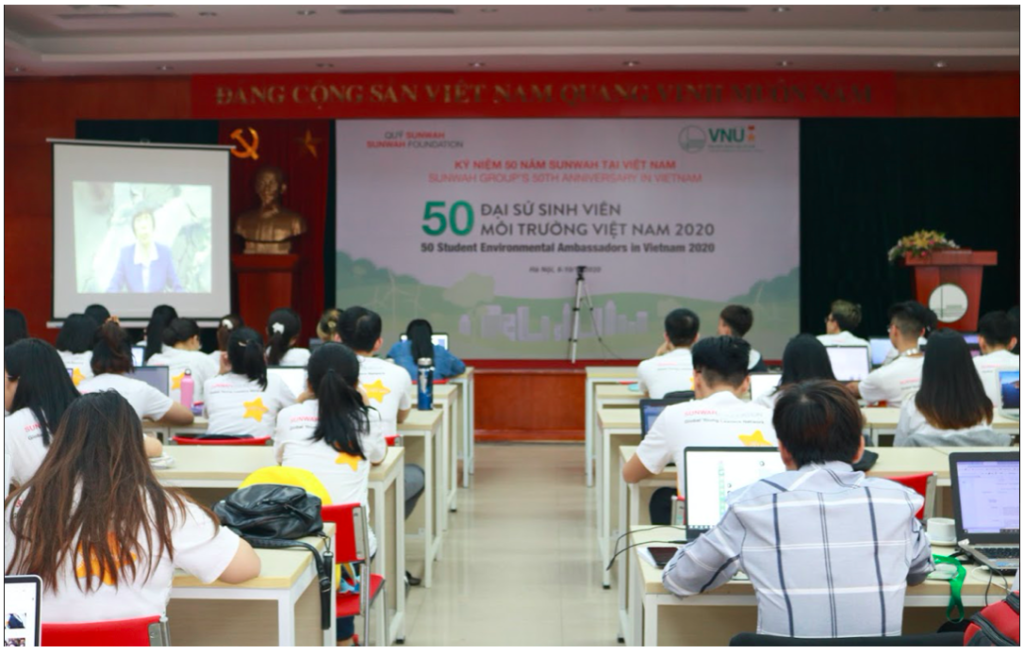 The last lecture of November 7th was "Bio-based Economy (Bioeconomy) and the difference from the term of Biotechnology" given by Prof Dang Thi Cam Ha, Senior Researcher,
former Head of Environment Biotechnology Division, Institute of Biotechnology of the Vietnam Academy of Science and Technology. Prof Ha introduced three leading economies: green economy, circular economy, bio-based economy and how science can contribute to protecting the environment. Three critical areas of the circular economy were emphasized to optimize durability and extend the product's shelf-life. It also includes the need for strengthening the rotation and reuse of waste or scrap as a new resource. It requires the importance of recirculating design, reducing raw material consumption, energy, and reusing low carbon alternative materials. It is a sustainable development that benefits not only the environment but also the economy and society. The key to the process is taking advantage of local material, resources, and lay on the natural characteristics and development. A bio-based economy is also a future economy and focuses on a recycling community, conservation of ecosystems, and equitable sharing. The production paradigms that rely on biological processes and, as with natural ecosystems, use natural inputs, expend minimum amounts of energy, and do not produce waste as all materials discarded by one process are inputs for another process and are reused in the ecosystem. Fostering a bio-based economy can contribute to achieving the following results: a lower carbon economy and sustainable primary production, building competitive bio-industries, a resilient and sustainable food chain. It reminds young people to take care of their community first and use this concept to find out suitable solutions. The old concept of "selling planet to trade material" is replaced by the circular concept where we can have a vent diagram between 3 main stakeholders. This process can get help, mainly from scientist's work to tackle global issues and build a sustainable approach.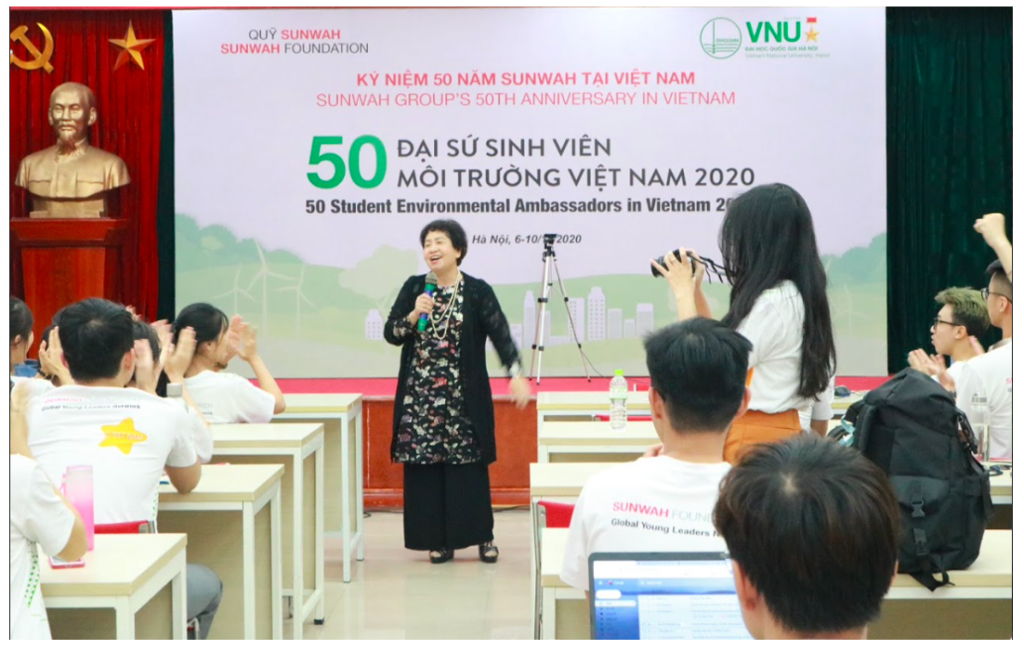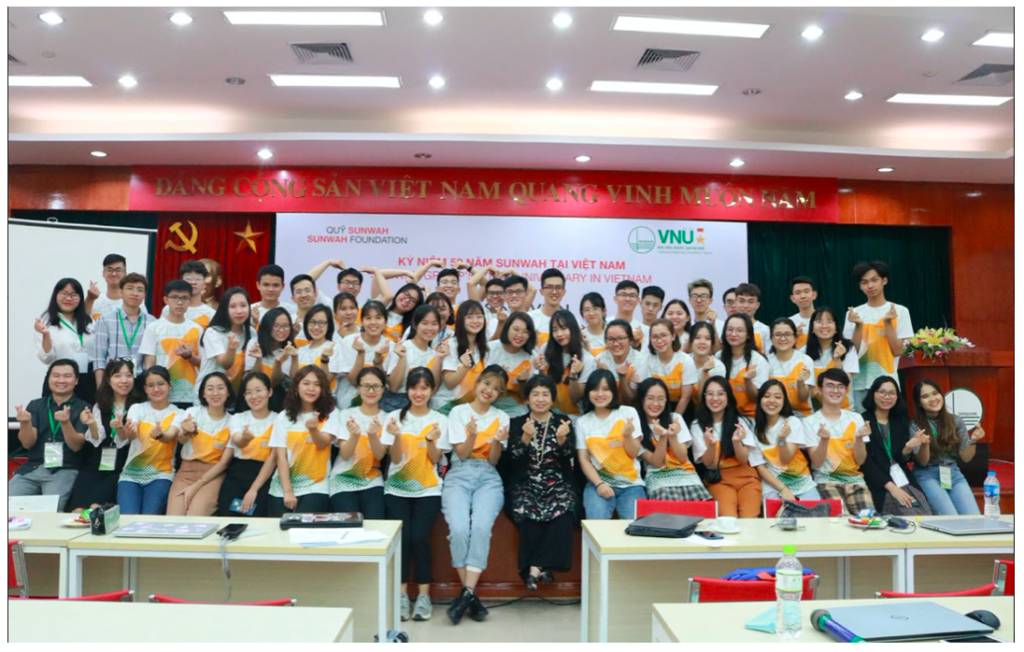 November 8th was also a great day as we learned both theories as well as practicing.
It started with the lecture "Domicology and Closing Loops as a Part of Sustainable Development Efforts" by Dr George Berghorn, Construction Management Department, School of Planning, Design and Construction, Michigan State University, USA. As a Michigan citizen, seeing a lot of abandoned buildings through the growth, Dr Berghorn was the pioneer in studying the economic, social, and environmental factors affecting the life cycle of the built environment. He experienced the effect of the financial crisis on housing abandonment, as well as the digitalization of changing consumer behavior. Currently, Amazon is the largest e-commerce platform in the US, and it replaces the function of a lot of malls and plazas, putting them closed and abandoned. Digitizing activities increase convenience, but it also increases higher insurance costs, poorer quality of life, and environmental concerns. 70,67 billion USD is stuck in my head because this budget is a requirement for removing all abandoned buildings. Lack of consideration in consumption and enjoyment has serious consequences for the environment and the economy. Dr Berghorn and his allies are involved in finding the solution. His domicology theory is a new approach method to build a structural paradigm that is more sustainable for the building. By deconstructing and circulating the building, we can maximize the resources, identify the tool of sustainable development impact, support, and create jobs for vulnerable people. In his speech, the professor showed the applicable model for Vietnam, firstly focusing on public awareness and increasing industrial practice. By setting a quality standard for construction and demolition waste, Vietnam could prevent the construction pollution and waste of resources that many developed countries are facing. Therefore, the development of public and corporate policies should be Vietnam's priority in the next period.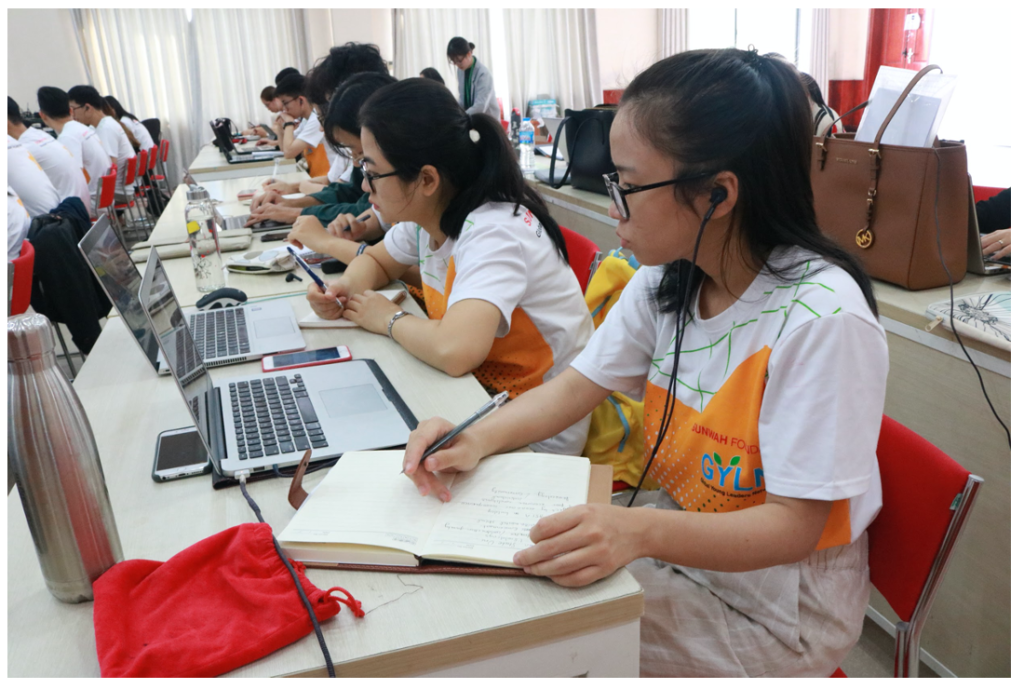 The lecture then was followed by the project development talks from Dr Truong Ngoc Kiem, Lecturer, Faculty of Biology, University of Science, VNU-HN and Ms. Do Van Nguyen, Director of Live and Learn, Vietnam about "Building and Executing community projects" and "What can the young generation do to protect the environment?" respectively.
Dr Kiem came from the University of Science, VNUHN so he delivered to us the knowledge that applied well to Vietnam. He opened the lecture with a tagline: "You need to be naive enough to do things differently". It attracted all of our attention to question ourselves, whether we are inexperienced, what is different. The lecture was like a roller-coaster for us to travel from each other's Pandora box to explore ourselves. The definition of entrepreneurship was so familiar to us nowadays, but we found it hard to reach it somehow, and Dr Kiem guided us to take it baby-steps. That was overcoming our comfort zone to seek discomfort as we always ask for innovation, but we hardly dare to take one step out of the safe area. Dr Kiem moved on to the vent diagram between three key elements: passion, talent, market demand to meet as a successful spot. Ikigai or mass media content also mentioned it lately, but it seems good only on paper. Thanks to Dr Kiem for the rest of the lecture, giving us a step-by-step direction to draw our own diagram. He understood the problem in youth and the gap between theoretical knowledge and practical application, so his presentation was answering almost our wonders. Besides that, he also delivered the tool to evaluate social projects and instruction to make a standard plan. This was one of the last lectures in 3 days, and it existed perfectly to apply what we have learned in previous sections to make our plan, also preparing for the presentation the day after.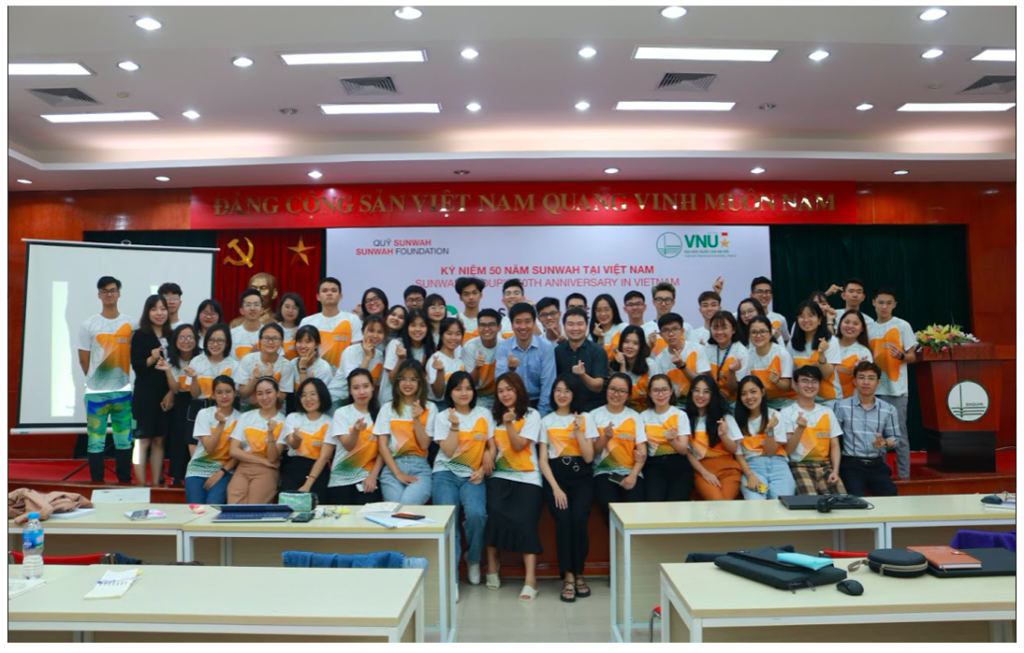 As an environmental activist, Ms Do Van Nguyet, Director of Live and Learn Vietnam inspires the participants with her interactive workshop "What can the young generation do to protect the environment?" Instead of providing us information about pollution and climate change in a traditional way, Ms Nguyet created a space for us to self-experience it. She understands how to motivate the youth by encouraging their engagement and reflection. Organizing the workshop as a game show and a mini sharing, Ms Nguyet narrowed the gap between participants and the speakers. We enjoyed her Kahoot introductory game and her graceful sharing about the air, the water, and the soil pollution. She empowers youth to take action in their daily life. By finding the 10 players, who are changing their daily routine with green consumption and eco-friendly behavior, one of the GYLN HCMC has been the first winner of her challenge. Ms Nguyet let us co-design the section, by sharing our experience and initiative to approach the environmental crisis. For us, she was successfully enhancing the motive in my heart to change my daily habit, from the smallest thing like saying "no" for single-use plastic.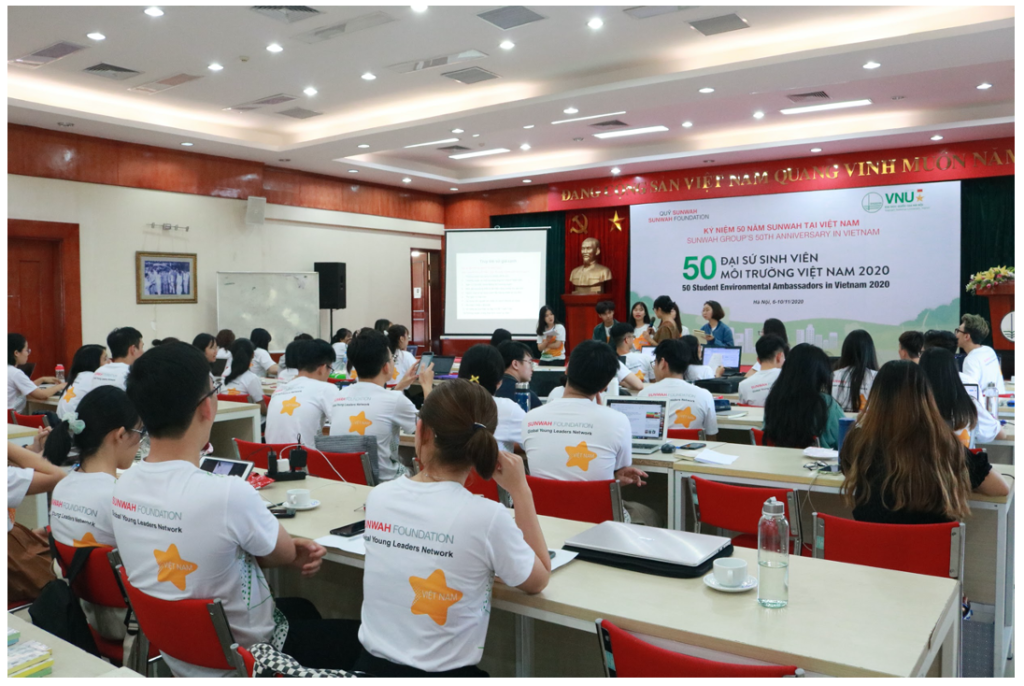 We applied what we learned in building the environmental project which was presented on November 9th. We were excited to present our ideas in front of supportive mentors and students. Various interesting questions were raised during the session which made us impressed. We were there to learn not only from professional lecturers and teachers but also from each other!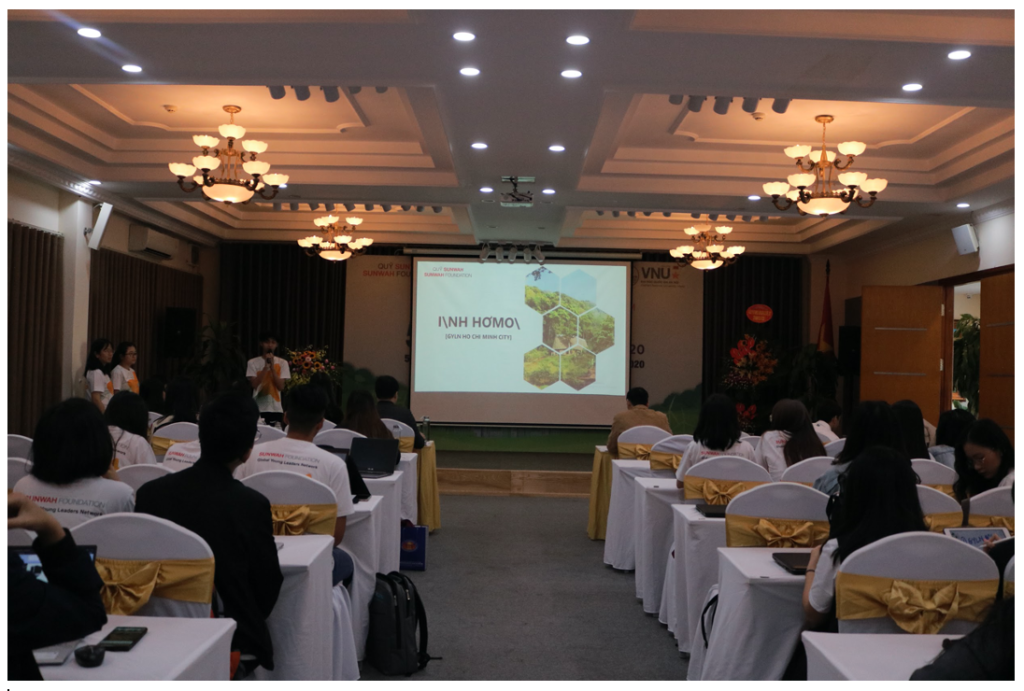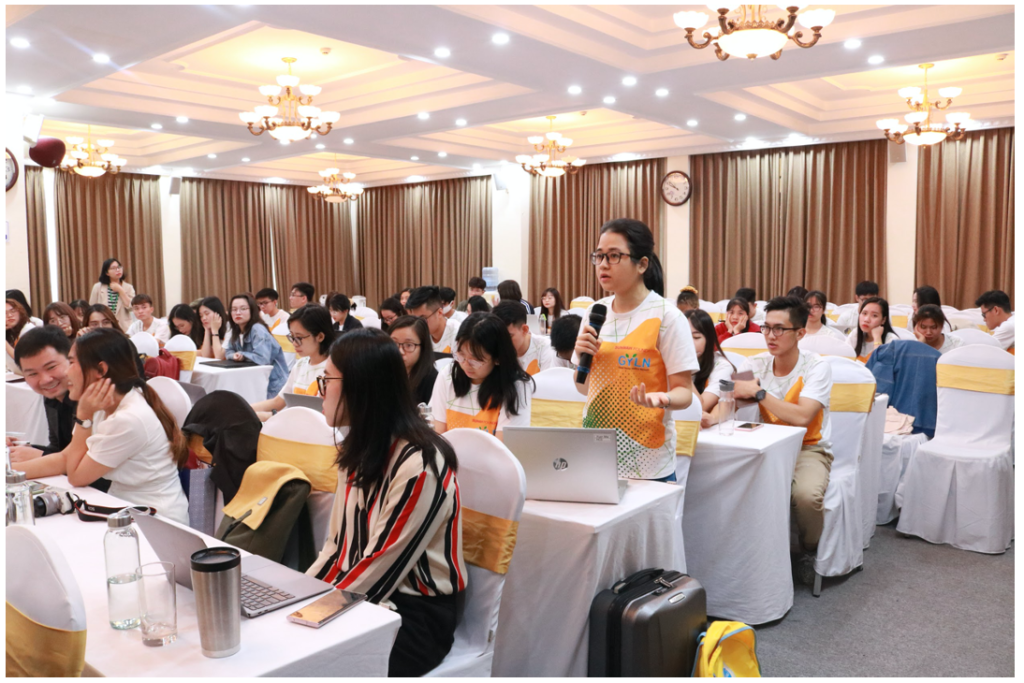 Last but not least, new connections with friends from other universities across Vietnam was likewise the meaningful value that we all received from this special program. Every day, we had two tea break times lasting for around 15 minutes and this time was a chance for us to sharing as well as discussing what we just learned from such amazing professors.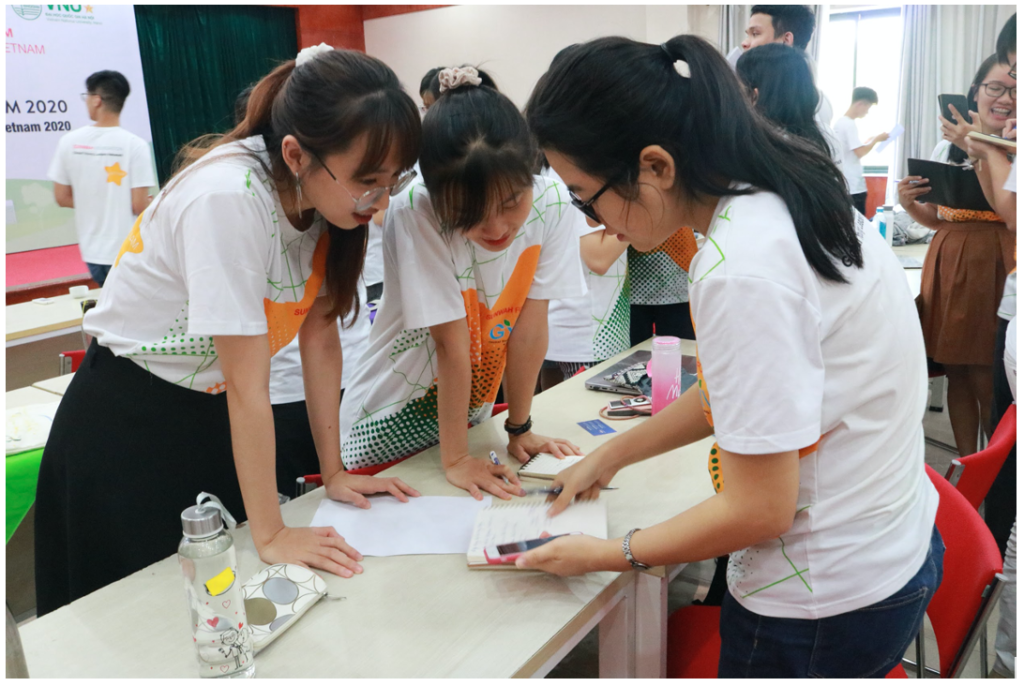 One of the most unforgettable moments was the networking night organized with the purpose to connect everybody. We gathered together and joined games that were designed to help everybody remember our friend's name as well as some special information about them such as their hometown, university, or even the special food in their hometown. The night's atmosphere was so cozy, funny and full of laughter. After the game, we had a sharing session in which everybody shared what they thought about the program or how they felt during the past few days we stayed and learned together. This session was so touching and meaningful.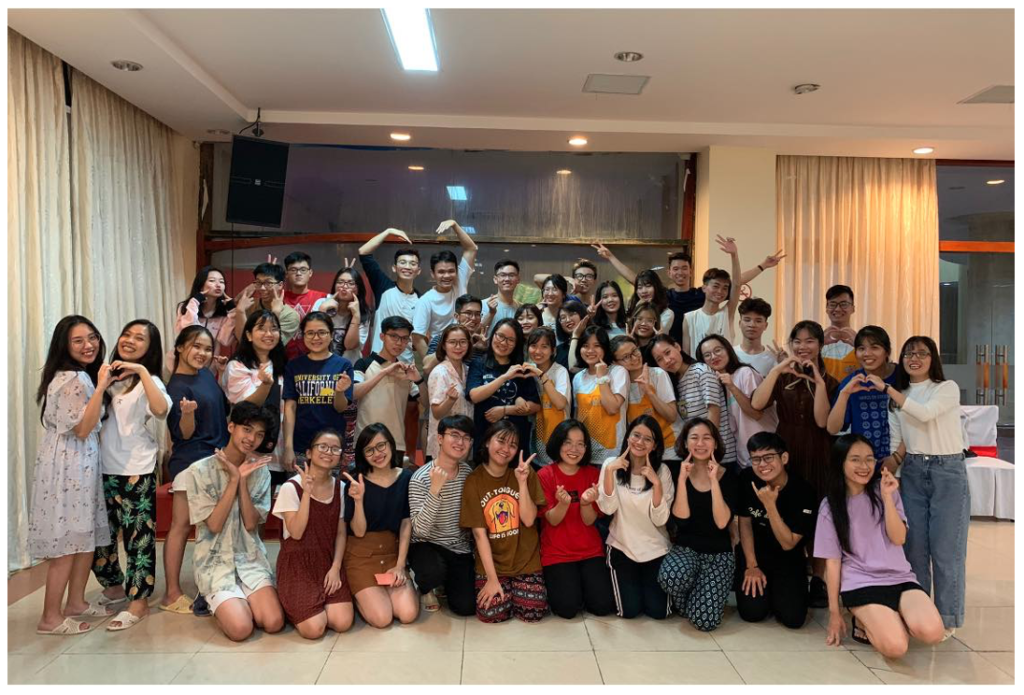 Besides making friends with participants, we also value this chance to connect with experts and speakers invited to the program. We spent time talking with them during break time and took pictures after their session.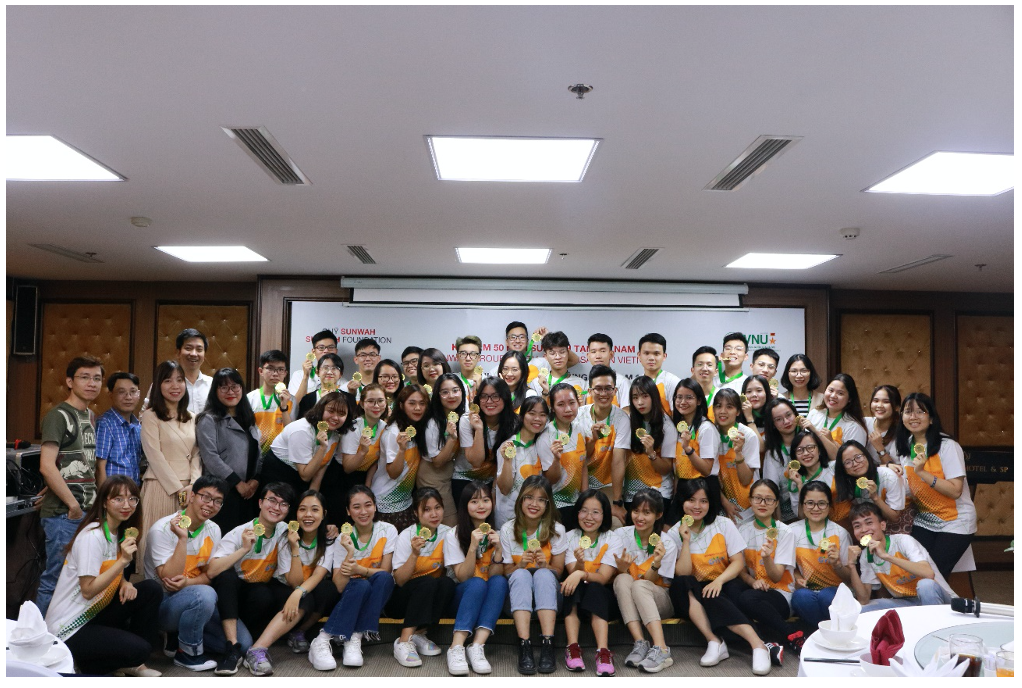 The opportunity to attend "50 Student Environmental Ambassadors in Vietnam 2020" was precious to us. We have learned and grown a lot. We thank Sunwah Foundation and Vietnam National University, Hanoi for organizing such a wonderful project.
—Reported by Sunwah GYLN Ho Chi Minh City Chapter members