1. 2020 New batch recruitment (Ho Chi Minh City, 05 Sep – 13 Oct 2020)
In early September 2020, in order to celebrate Sunwah Group's 50th Anniversary in Vietnam and to recruit a
new generation of the network, Sunwah Global Young Leaders Network Ho Chi Minh City (GYLN HCMC) Chapter has started the recruitment campaign which eventually attracted 85 applications of students from various universities in Ho Chi Minh City. After two rounds of selection including Online Application, Interview, and Teamwork, 23 active and enthusiastic members were selected to join the network.
2. The first briefing meeting for new members (Ho Chi Minh City, 02 Nov 2020)
In early November, GYLN HCMC Chapter organized the first briefing meeting at Sun Wah Tower for the new batch to introduce GYLN's structure and activities, Sunwah Foundation as well as Sunwah Group.
Also in the meeting, GYLN Committee shared information about a series of meaningful projects to celebrate Sunwah Group's 50th Anniversary in Vietnam including:
The "50 Student Environmental Ambassadors in Vietnam" project in Hanoi from 6-10 November
The Opening of Sunwah Innovation Center in Ho Chi Minh City & Sunwah Group's 50th Anniversary Event on 7-8 December
The Opening of USSH-Jonathan KS Choi Cultural Centre in the campus of University of Social Sciences and Humanities, Vietnam National University Ho Chi Minh City in 2021
The International Film Forum Hanoi in 2021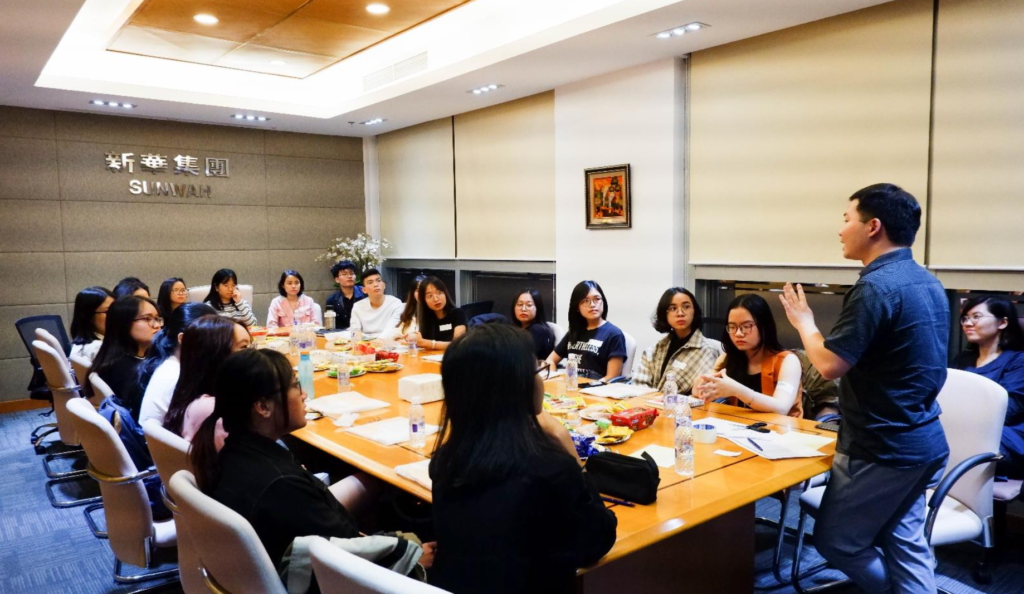 3. Participation of GYLN HCMC Chapter members in the "50 Student Environmental Ambassador in Vietnam 2020" Project (Hanoi, 06 – 10 Nov 2020)
GYLN HCMC Chapter selected 5 representatives to join the "50 Student Environment Ambassadors in Vietnam 2020" project in Hanoi from 06-10 Nov. The team has been trained for 4 days with many environmental experts from Vietnam and overseas on various topics, including:
International Conference on "Green Growth and Sustainable Development" with keynote speakers from Canada, USA, Japan, Hong Kong, and Vietnam
"Natural attenuation strategy of groundwater and subsurface water impacted by acid mine drainage" by Prof Keiko Sasaki, Kyushu University, Japan
"Knowing and Acting in Response to Environmental Risks: Science, Publics and the Policy Process" by Prof Kevin Jones, University of Alberta, Canada
"Biodiversity in Vietnam: status, causes of degradation and main solutions for sustainable development" by Dr Truong Ngoc Kiem, VNUHN, Vietnam
"Climate change affecting the Arctic, Antarctica and the World" & "The role of young people in environmental protection" by Dr Rebecca Lee, Founder of Polar Museum, Hong Kong
"Bio-based Economy and the difference from the term of Biotechnology" by Prof Dang Thi Cam Ha, former Head of Environment Biotechnology Division, Institute of Biotechnology of the Vietnam Academy of Science and Technology, Vietnam
"Domicology and Closing Loops as a Part of Sustainable Development Efforts" by Dr George Berghorn, Michigan State University, USA
"Building and Executing community projects" by Dr Truong Ngoc Kiem, VNU-HN, Vietnam
"What can the young generation do to protect the environment?" by Ms Do Van Nguyen, Live and Learn Vietnam
All Environmental Ambassadors joining the projects had a great opportunity to learn, to enhance their knowledge about the environmental issues as well as to connect and expand their network.
The GYLN HCMC team is now actively implementing their own initiated project named "I CAN (INH HOMO)" which will teach and inspire students about the biodiversity in Kon Plong (a mountainous district of Kontum Province, Vietnam) in order to raise awareness and willingness to take action toward biodiversity conservation.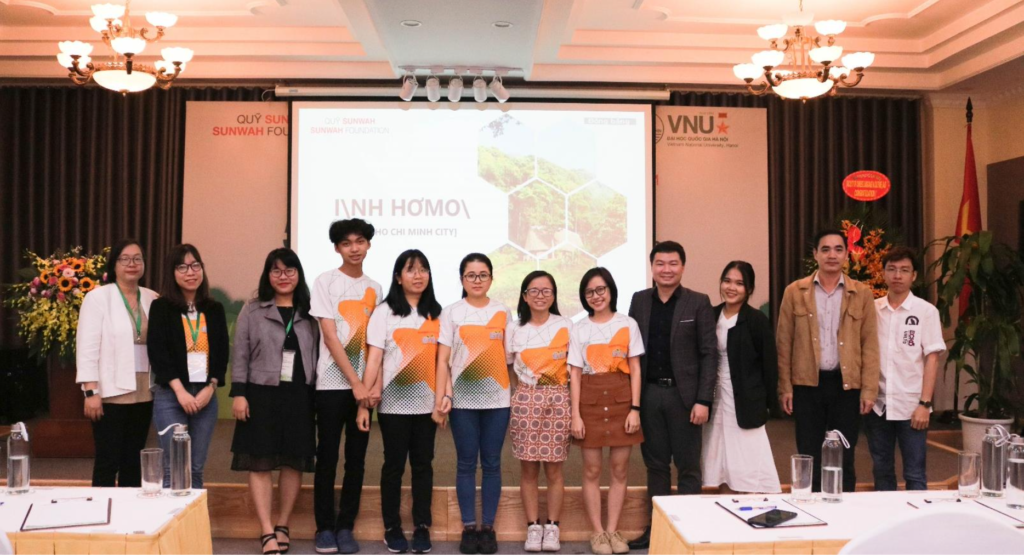 4. Sharing session of the Environmental Ambassadors' experiences (Ho Chi Minh City, 16 Nov 2020)
After one week in Hanoi, joining the "50 Student Environmental Ambassadors in Vietnam 2020" project, GYLN HCMC Chapter organized a post-program meeting for the Ambassadors to share about their trip and the training experiences gained. All of the GYLN HCMC Chapter members who joined the session were very excited.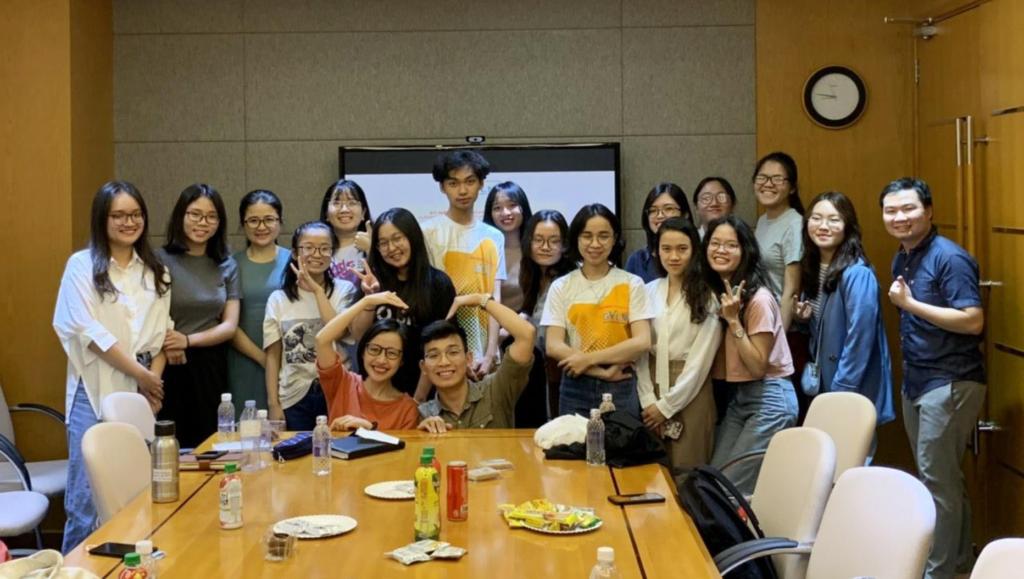 5. Joining Sunwah Innovation workshops: Opening Innovation Workshop & Edutech Workshop (Ho Chi Minh City, 07 – 08 Dec 2020)
In the afternoon of December 7th, GYLN HCMC Chapter participated in the international innovation workshop entitled "Open Innovation Mechanisms for Successful Startup-Corporate Collaborations", organized by Sunwah Innovations. The workshop witnessed the participation of notable speakers in the startup ecosystem, including Mr Louis Nguyen, CEO of Sunwah Kingsway Vietnam and Saigon Asset Management; Mr Trung Anh Nguyen, CEO of Phoenix Holdings; Mr Vu Le, Head, Strategic Partnership and Business Development, Grab Vietnam; Mr Phong Pham, Founder and CEO of Cyfeer, and Mr Peter Mok, The Head of Strategic Partnership, Hong Kong Science and Technology Park.
On this occasion, GYLN HCMC Chapter members had a chance to get more knowledge on the innovation trend, gained different perspectives from corporates and startups. It was also a great opportunity for networking with young people who are passionate about entrepreneurship, as well as experienced and successful speakers.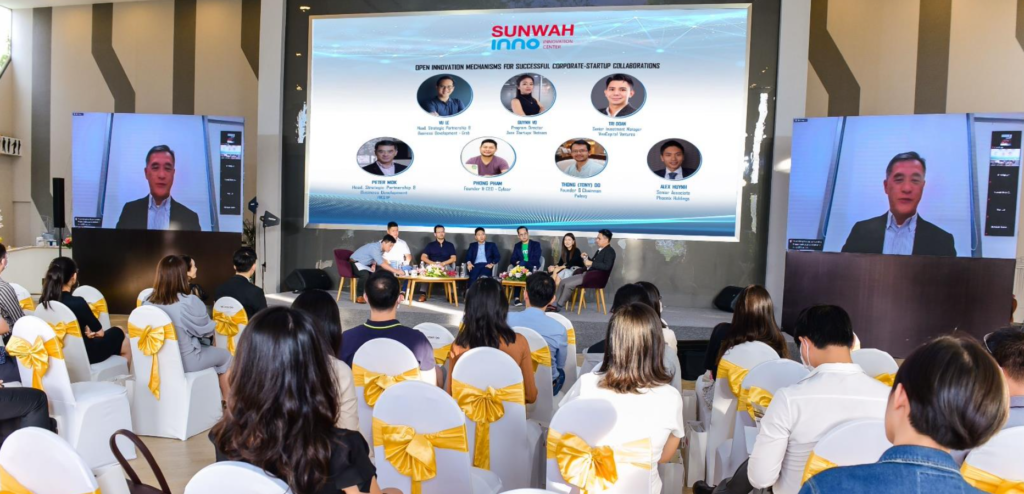 In the morning of December 8th, GYLN HCMC Chapter participated in the Edutech Workshop with the theme of "The Future of Endless Possibilities", co-organized by Sunwah Innovations and the Information Technology Park – Vietnam National University Ho Chi Minh City. The workshop shared significant trends in the Education Technology industries in recent years.
The workshop was held at Sunwah Innovation Center, which is the latest project of Sunwah Group in Vietnam. By participating in the workshop, GYLN HCMC members not only had a chance to visit the functional areas of Sunwah Innovation Center but also visited the Mini showcase with various innovative products from Edutech start-ups at the event hall.
Two members of GYLN HCMC Chapter supported organizing the 2-day event as the Logistic Helpers. This was a great occasion for them to accumulate experience in organizing an event.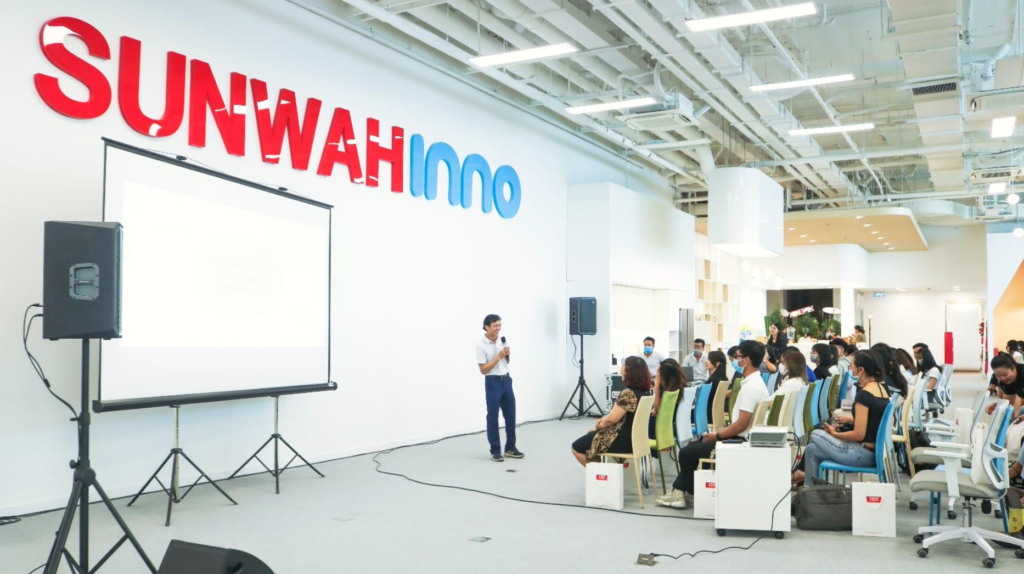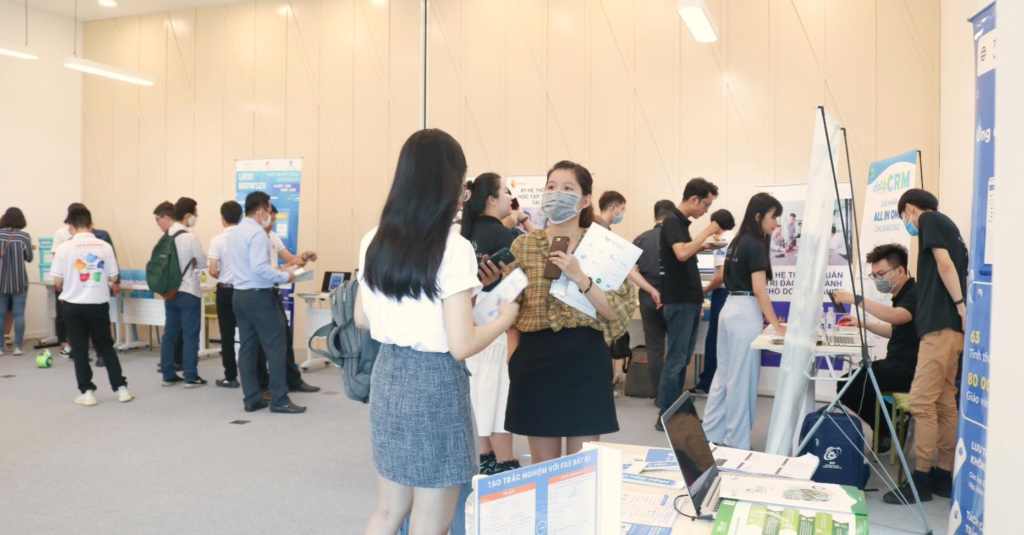 6. Training session for new members (18 Dec 2020)
On 18 Dec 2020, GYLN HCMC Chapter organized a training session to develop networking skills at public events for new members, including communication skills, social skills, empathy, positivity, and humor, etc. All members participating in this session have become more confident to practice public speaking and got a chance to know each other better.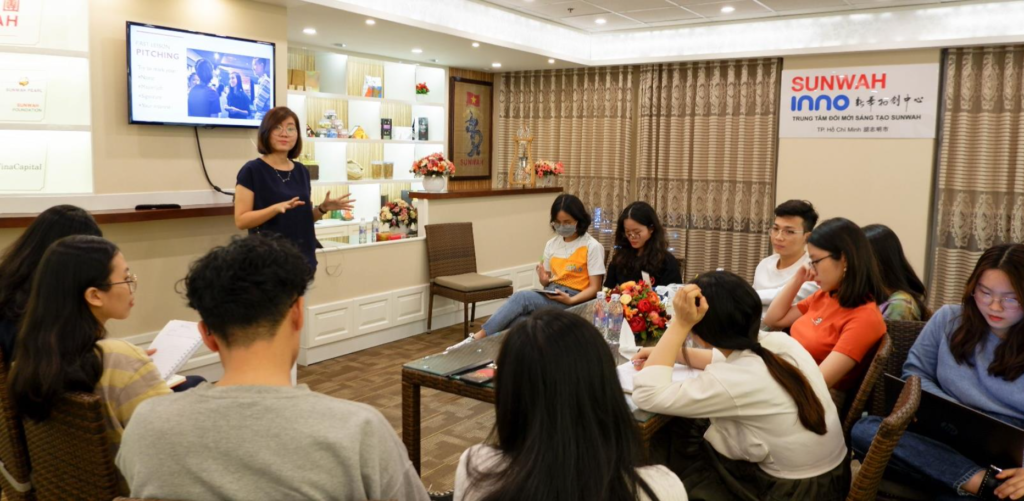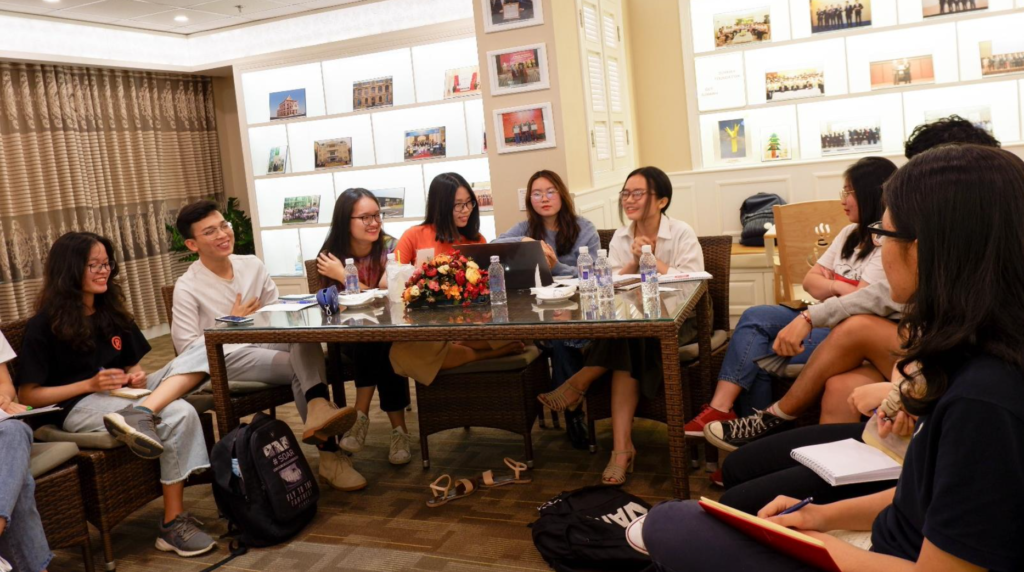 7. Networking Dinner of Sunwah GYLN Ho Chi Minh City Chapter
In the evening of 28 Dec 2020 at Sunwah Innovation Center, Sunwah GYLN Ho Chi Minh City Chapter hosted a Networking Dinner to welcome all new members and plan activities for 2021.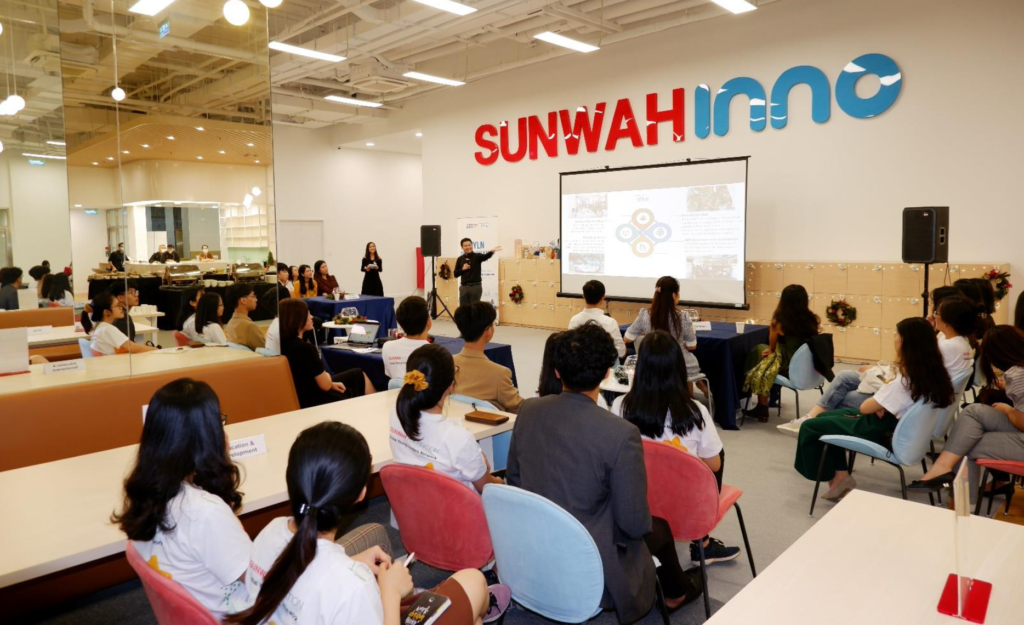 The Networking event had the participation of 30 Sunwah GYLN HCMC members, representatives of Sunwah Vietnam, Sunwah Foundation and special guests.
At the event, Sunwah GYLN HCMC members had the opportunity to receive practical advice on leadership development, education and career path, mental and emotional support from three special guests, including Mr Anh Vu Vincent Nguyen, Vietnamese Schwarzman Scholar; Ms Nguyen Duc Nhu Thuy, the only Vietnamese licensed Art Therapist in HCMC; and Dr Nguyen Tran Phi Yen, CEO, and Founder of Zigzag Career.