Before the COVID-19 pandemic came into center stage of the global community, the Sunwah GYLN PLLC Canada Chapter worked on a sustainability awareness campaign in 2019 called "Fighting for Our Future" where we strived to combat climate change through increasing awareness on Extended Producer Responsibility (EPR). Our campaign centered around two of the United Nations Sustainable Development Goals (SDGs): Responsible Consumption and Production (#12) as well as Climate Action (#13).
Climate change is undeniably one of the biggest issues facing society today and responsible waste management plays a significant role in the rate of acceleration of climate change. EPR is an emerging trend in the field of environmental policy and waste management that looks at the sustainability of specific consumable goods in both the post-consumption and disposal stage. The idea of EPR is to shift waste management responsibility upstream in the product's life cycle to the producers so that action can be taken before irreversible damage is done to our environment. This means that producers are designing every product with a specific recycling plan in mind from the very beginning in efforts to make more products recyclable. As a chapter, we believed that the two-pronged strategy of encouraging both consumers to responsibly manage their waste and producers to proactively adopt more sustainable production methods as the optimal method to secure a more sustainable future. Through our videos and social media campaign, the GYLN PLLC Canada Chapter:
Raised awareness for EPR to help ensure a sustainable Earth;
Raised awareness on harmful environmental effects associated with a lack of EPR;
Promoted sustainable practices the general public can adopt;
And initiated a call to action in our community – to "Fight for Our Future" against climate change.
Our first step of this campaign was to alert the public that our planet's resources are finite and that we will soon be in a crisis state if we continue wasteful habits. In order to extend the life of our planet's finite resources so that for the generations to come, life on Earth will still be possible – we as a chapter launched our first video "Fighting for Our Future". By introducing the concept of EPR and advocating for sustainability, we hope that we can lead a change in responsible production.
In the process of making our videos and other related campaign content, the GYLN PLLC Canada Chapter toured local landfills in Edmonton, Alberta, where we were able to familiarize ourselves with the current waste management system in place and gather insight on the challenges the industry faces. One such challenge brought to our attention during our landfill tour and our team's research was the waste product of plastic clamshell packaging. Although the plastic used to make clamshells are often highly recyclable, the adhesives and labels used on these clamshells make the recycling process incredibly difficult. The adhesives on these clamshells require extensive washing to be separated from the recyclable plastic which puts higher demands on both time and resources. As a result, the "not-so-recycle-friendly" clamshells frequently end up in landfills where they take over hundreds of years to decompose, leaving a significant carbon footprint behind.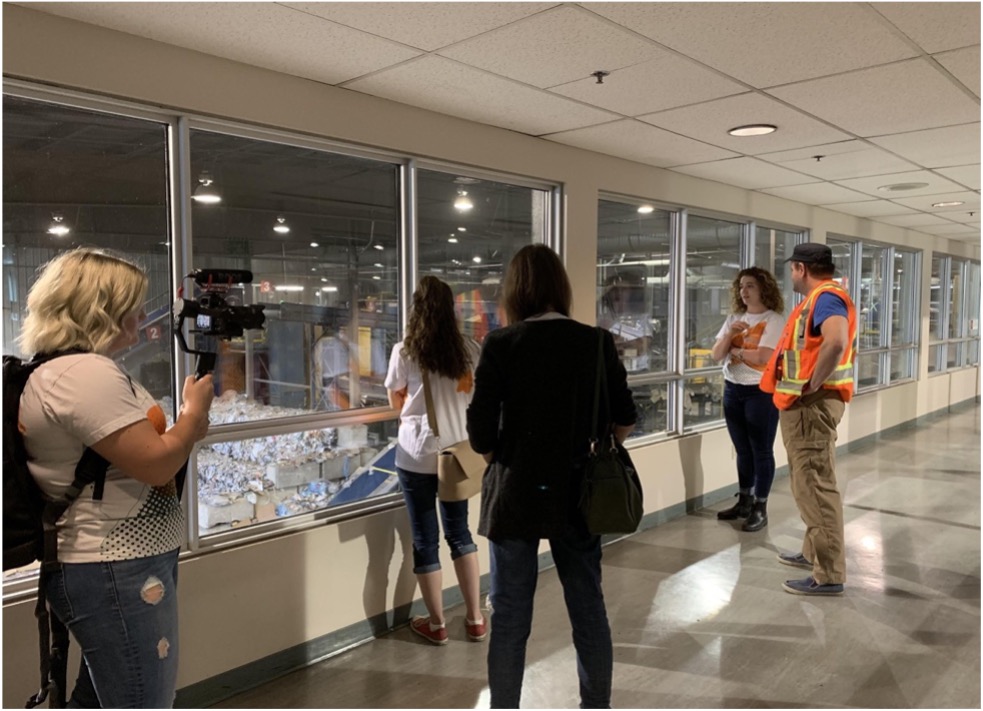 With this new knowledge in mind, our team decided to further mobilize this knowledge into the community, illustrating how products such as clamshells can lead to devastating consequences for our environment. To do this, we created an educational stop motion video about how the current production of clamshells prevents them from being recyclable and developed our campaign mascot, "Clancy the Clamshell". By incorporating a mascot character within our video, we hoped to attract further interest and maintain the awareness of the public with a lasting impression. From storyboarding, scriptwriting, to building a full filming set largely out of recyclable products, we strove to capture our sustainability mission through every piece of our project. Ultimately, our goal was to target consumers and producers through a relatable story and encourage them to make more sustainable decisions.
This stop motion video captures "Clancy the Clamshell" at the end of their product life cycle where they are awaiting to be sorted at the "Blue Bag Community" (recycling center). Unfortunately, Clancy is told that as a clamshell, they are not recyclable and will need to be transferred to the biofuel center to be destroyed or dumped with other garbage. Clancy is told that perhaps one day their fate as clamshells will be different if EPR policies are introduced into the community's waste management protocols. This video is a call to action for the need of EPR polices in our communities.
Alongside the production of our videos urging for a call to action on climate change, we connected with our public audience via social media. We posted weekly posts surrounding the topic of sustainability and provided concrete methods as to how the general public can easily contribute to the cause. For example, we encouraged the community to use reusable bags when shopping to reduce plastic waste and followed up with a separate post emphasizing on the devastating effects plastic waste can have on our oceanic ecosystem. Our sustainability social media series successfully garnered attention and increased our social media engagement.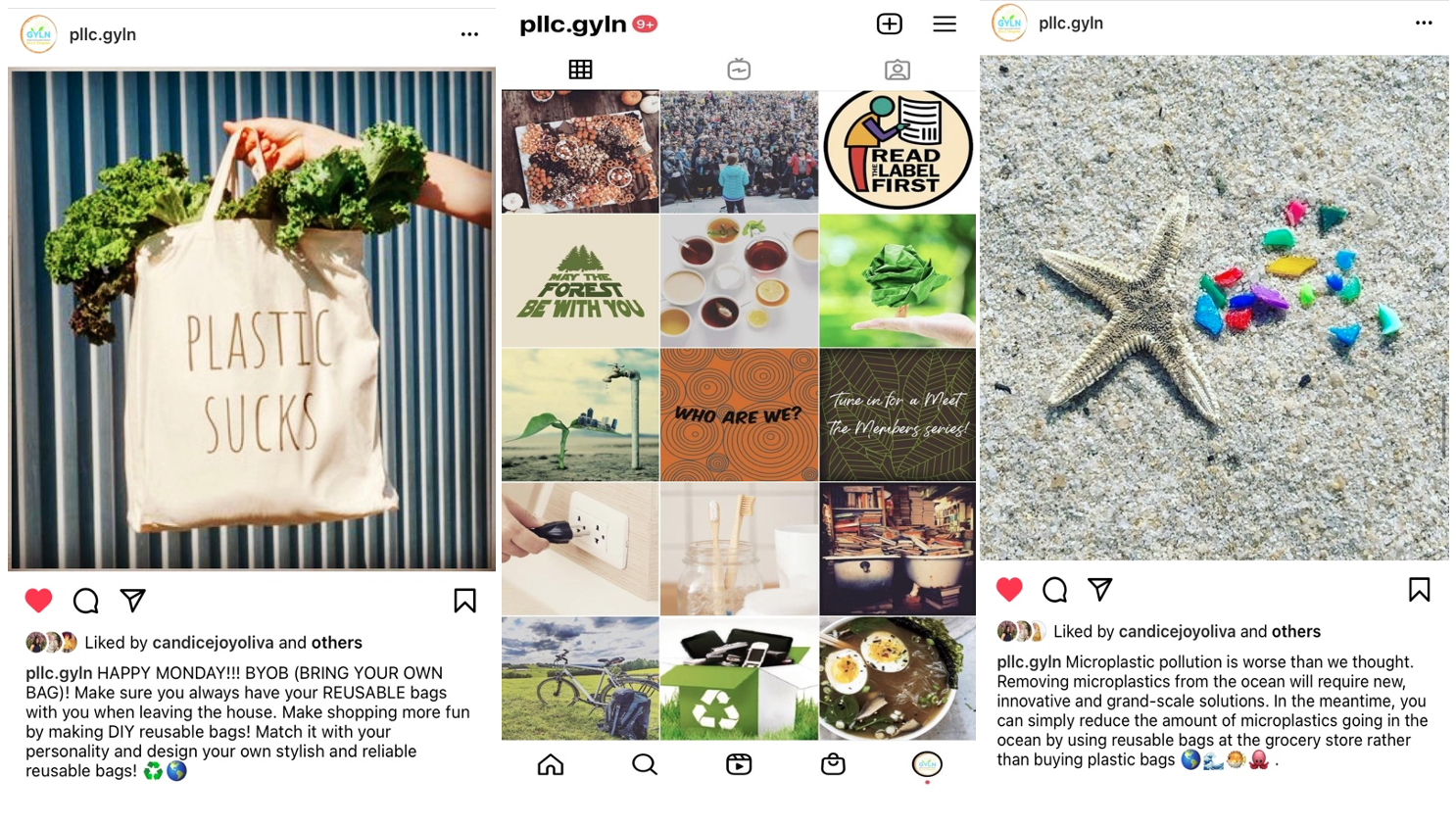 We hope our work here is only the start that sparks a movement leading to lasting change in the form of government implemented EPR legislation in Canada, and eventually, around the world.
— Reported by GYLN PLLC Canada Chapter members