Description: The Dream Garden Project is the winner of last year's internal project debate contest to become the main-SCA project of the HCMC chapter in 2017. The project aims at nurturing children's mindset of loving and protecting the natural environment, at the same time, educating them about the ecosystem, biological system and gaining knowledge through hands-on experiencing sessions of tree planting and natural science experiments in the garden. Children also learn how to grow vegetables and later use them to improve their healthy diet.
Duration: The project has been implemented in 2.5 months (10 weeks), from late July 2017 to Mid-October 2017
Location:  Vinh Son Child Center, Binh Thanh District, HCMC, Vietnam
Target group: 35 children from 8 to 12 year old
Activities
Week 1:
– Every child chose a nickname and participated in activities.
– Show kids how to use terrestrial globe. Learning about solar system forming
– Kids play game "carnivore and herbivore"
Week 2-3:
– Learn about the food chain
– Get to know all kinds of climate and related habitats
– Learn about water cycle and energy
Week 4-5:
– Decorate bottles for planting
– Learning how to grow plants
Week 6-7:
– Kids divided into 3 groups to plant seeds and put the soil into the designed bottles and wheels.
– Dye the flower to know how the root and the trunk for a tree, stem for flowers work.
Week 8-9:
– Do gardening together
– Clean the rooms and school yard
Week 10:
– Visit Vegi – an organic farm
– Play at Kiz citi – give gifts and notebooks with all wishes to the children.
Inspired by an idea of helping children learn about nature, "Dream Garden" project was planned and implemented by the GYLN HCMC Chapter. This social project aims at bringing opportunities for disadvantaged children to learn more about the ecosystem, environment and planting technique.
During the project, many challenges arose. The first challenge was that most orphanages in Ho Chi Minh City lack needed space for running the program, including teaching and practicing space. We had to spend more than 3 weeks on looking for the most suitable place. The chosen place was Vinh Son Orphanage located in the city suburbs. That is the charity school providing free education for more than 100 children aged from 7 to 12 who have not had opportunities to go to public school.
On the first day of the project, despite careful preparation, we had to confront some difficulties. We found it hard to deal with hyperactivity and the lack of general knowledge in most of those children. At that time, patience was the key we had to have. In the first two weeks, we tried to teach them some basic knowledge about biology combined with interesting learning activities in order to make the lessons easily understood. Our little students started to show more curiosity after each lesson, many questions were raised concentrating on knowledge such as the growth of the plants, food chains in nature, the energy cycle and so on. We also motivated them to engage in lessons by giving little gifts for hardworking individuals and preparing lunch for them every week.
With the vision to raise their awareness about the environment, we used recyclable and eco-friendly materials during the project. In practice time, children were encouraged to design their own pots from recyclable bottles. They showed their enthusiasm and great creativity when practicing. We divided the garden into two parts. One part was cultivated for vegetables planting. The other was used to plant bonsai trees. The previous abandoned land now became a colorful and lush garden built with love, dreams and hope of all participants.
The last lesson was not held at school as usual. We took the children to an organic farm in Tan Binh District to provide them with an opportunity to learn outdoors and engage with nature. They were instructed to distinguish various kinds of vegetables, seeding, using organic fertilizers, watching nursery garden, observing sprinkler system. In the afternoon, we went to Kiz Citi – an entertainment center associated with vocational education for youngsters. They enjoyed the games available in the center. Then, the project team summarized the whole program, complemented those who had good improvement, gave presents and took a lot of photos.
The project was implemented in two months, including 16 lessons relating to the ecosystem, environment and planting techniques and 8 planting activities. The garden was created with 6 various kinds of vegetables and 12 kinds of bonsai. During the project, we received many positive feedback from the headmaster and children at the orphanage as well as the teaching staff. Especially, there is one autistic child who participated in our project. His parents shared that they took their child to many hospitals and disabled centers in town, but his condition did not improve. After participating in the Dream Garden project, he showed signs of being open with his family members and being more sociable and friendly to make friends.
We will attach the importance of improving so that our lessons will provoke the curiosity of children more and more. In the next stage, the target is to bring this project to more 250 kids in HCMC. Moreover, we hope that our dedication will contribute a better future to a young generation.
Photos
Teaching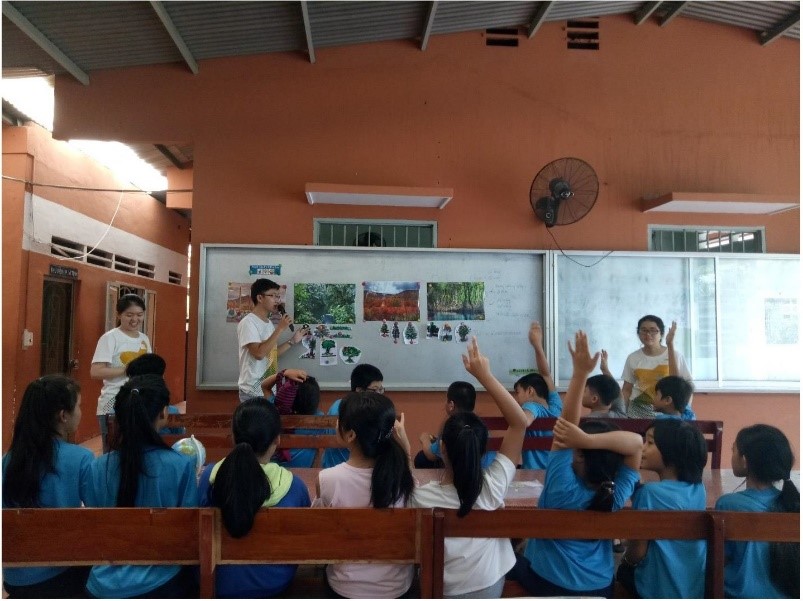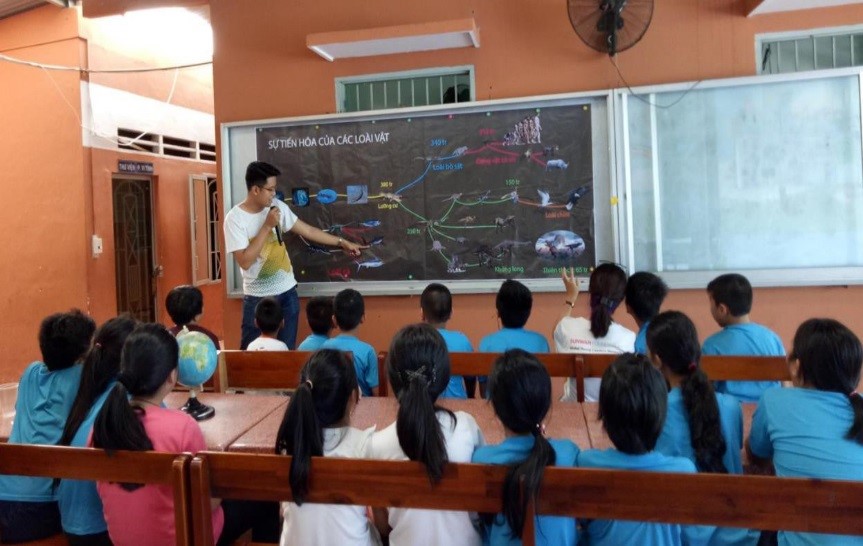 Painting bottles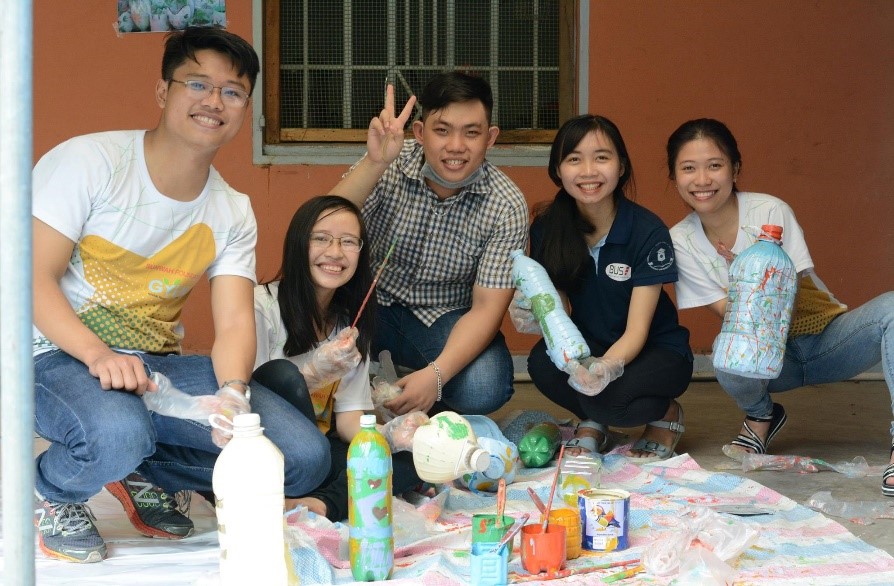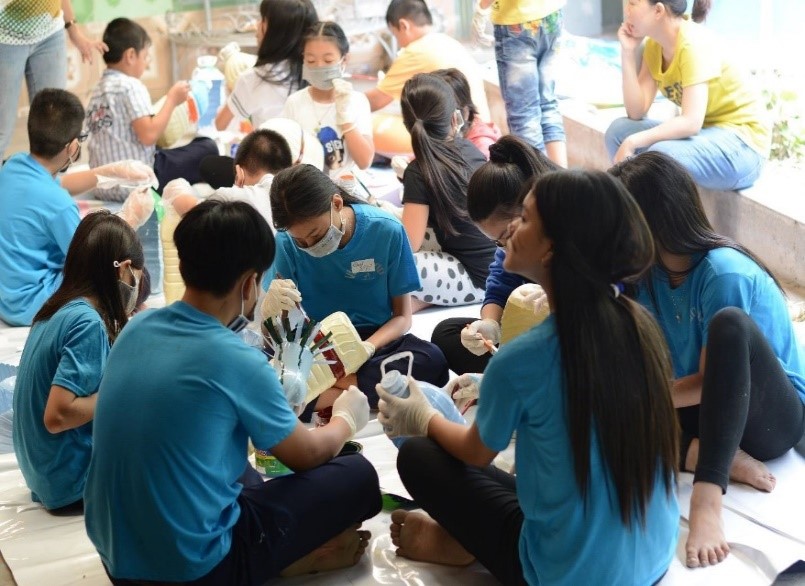 Gardening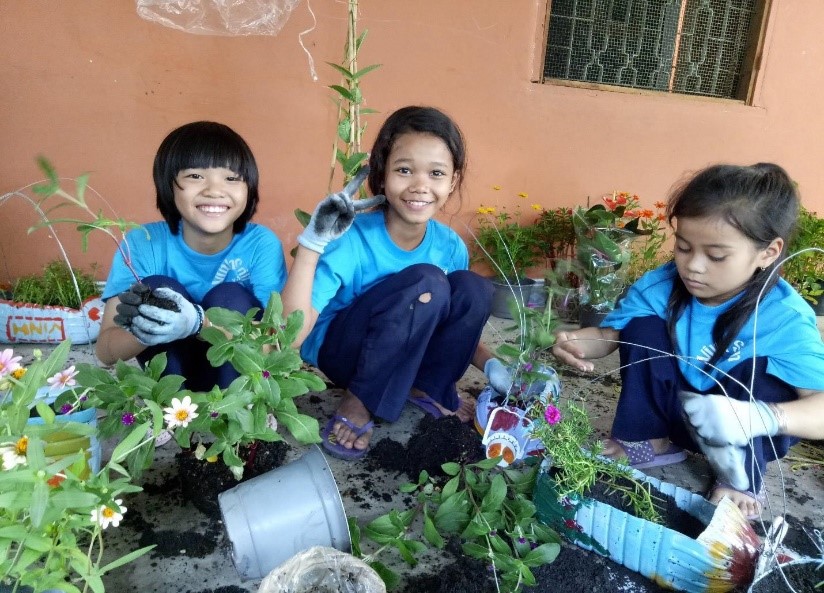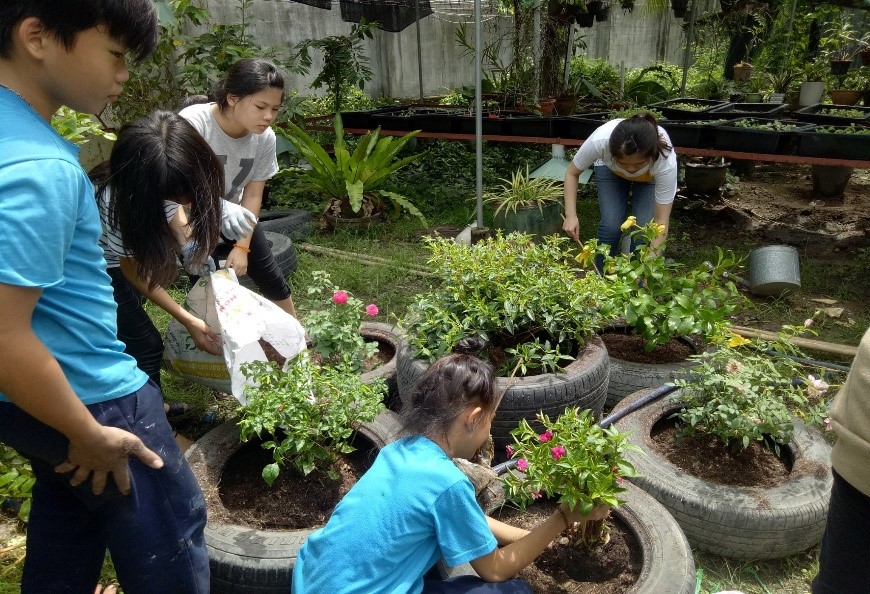 Field trip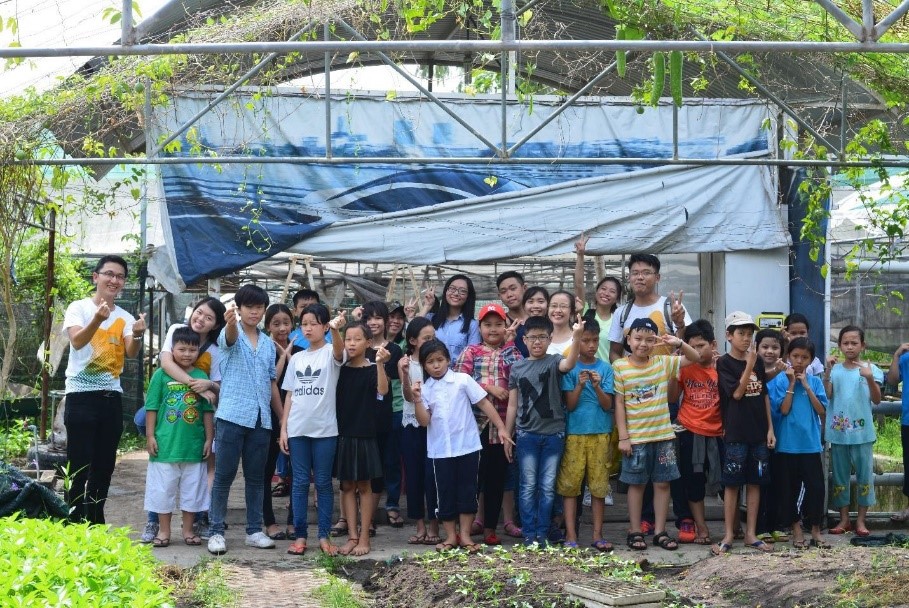 Anh Tuan [HCMC Chapter]