About OneSky
Half the Sky (now OneSky) was founded by Jenny Bowen in 1998 to enrich the lives and enhance the prospects for orphaned children in China. Today, Half the Sky has become OneSky, a global NGO that has transformed the lives of many thousands of marginalized children and helped a nation to rethink its entire child welfare system. OneSky has directly transformed the lives of more than 138,000 orphaned and abandoned children and trained over 19,000 caregivers. After 18 years of working to understand the best way to give orphaned and abandoned children a second chance during their childhood, OneSky is taking what they have learned and expanded their mission to help children of factory workers in Vietnam.
About OneSky Early Learning Center
OneSky Early Learning Center Danang is a new and sustainable model center which aims at approximately 250 at-risk children who live in the Hoa Khanh Industrial Zone in Da Nang to provide a safe place to play and learn for small children. The center is designed to transform the lives of vulnerable children near factory zones whose parents labor in factories. This model can be scaled to serve more and more children across the entire country.
Date: 9 September 2017
Venue:  OneSky Early Learning Center, Le Cong Kieu Street, Hoa Khanh Bac Commune, Lien Chieu District, Danang, Vietnam
Participants: Government officials, representatives from local authority, parents who labor in factories and children
Rundown
7:45am: Registration & Welcome performance
8:15am: Ceremony starts
8:25am: Speech by a representative from the People's Committee of Danang
8:35am: Speech by a representative from the Department of Education and Training of Danang
8:50am: Speech by the Global Chairman of Half the Sky Foundation
9:00am: Speech by the Consul General of the United States Consulate General in Ho Chi Minh City
9:10am: Speech by a representative from factories
9:20am: Ribbon-cutting ceremony
9:35am: Lion dance performance
10:30am: Opening of OneSky Early Learning Center Danang
10:40am: Guests visiting the Center
Thoughts by Phan Tuong Yen and Tran Thi Thanh Huong, representatives of Sunwah GYLN – HCMC and Hanoi Chapters
On 9 September 2017, Ms Katie Nguyen, Assistant to Sunwah Chairman, and two representatives of Sunwah GYLN Hanoi and Ho Chi Minh City Chapters, Ms. Tran Thi Thanh Huong and Ms. Phan Tuong Yen, attended the Opening Ceremony of OneSky Early Learning Center in Danang.
The Ceremony was conducted in a warm and friendly atmosphere. Attendees were strongly impressed by the choir of nurses/ teachers and children of the center. Everyone was so excited to see this wonderful place providing early learning and care for vulnerable young children of the poor factory workers.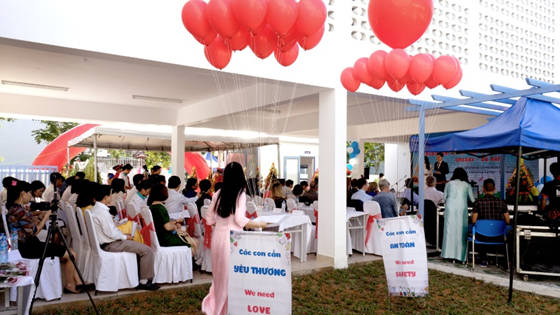 After the ceremony, the GYLN representatives paid a visit to the center which is effectively designed to utilize natural lights and maximize the space usage for facilities and leave sufficient room for a children's playground. Children at the Center were very nice and so adorable; they behaved very well and always greeted teachers and adults with smiles.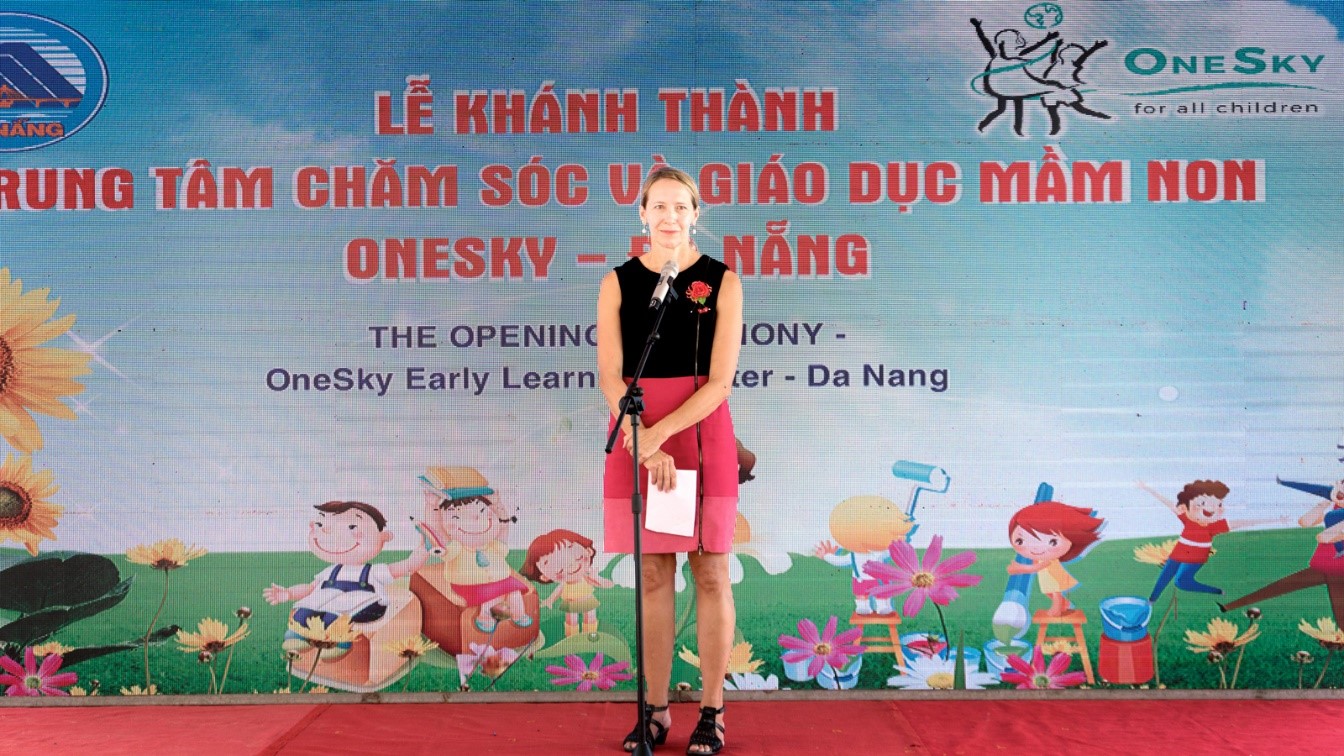 Mrs. Mary Tarnowka, United States Consul General in HCMC, delivered a speech
There, we had a chance to meet and talk with Ms. Carol Kemble, Chief of Global Partnerships of Half the Sky Foundation. Ms. Carol Kemble was so impressed and excited to listen to our sharing about Sunwah GYLN and its 9 chapters at all corners of the world, especially the HCMC and Hanoi Chapters, with the projects that have been conducted such as Social Services Days in 2013 and 2015, the Photo Contest & Exhibition for students across Vietnam in 2015, GYLN-HCMC Chapter's latest project namely "Dream Garden", and especially the project to build kindergarten in mountainous areas done by Sunwah some years ago. Ms. Carol Kemble also shared many wonderful thoughts and stories about creating positive values and spreading those values to the community, about the responsibility of everyone in the society. We were really inspired by this spirit.
The Guests of Honor and the children of the OneSky Early Learning Center performed "We are the world" song
Not only talking with Ms. Carol Kemble, the Sunwah team also had the opportunity to talk with Mr. Guy Russo, Global Chairman of Half the Sky Foundation and Ms. Natalie Campion, Chief Development Officer of Half the Sky Foundation. Mr. Guy Russo was interested in and very impressed at the projects on children and youth that Sunwah GYLN has done over the years. He shared the reason why OneSky has developed and implemented nurture and education programs that help to change the lives of vulnerable children. The Sunwah GYLN representatives also talked about its mission to exercise community activities and suggested the possibility of collaborating with OneSky on future projects, especially those involving children and youth. The conversation was extremely interesting and opened opportunities for potential cooperation between the two sides.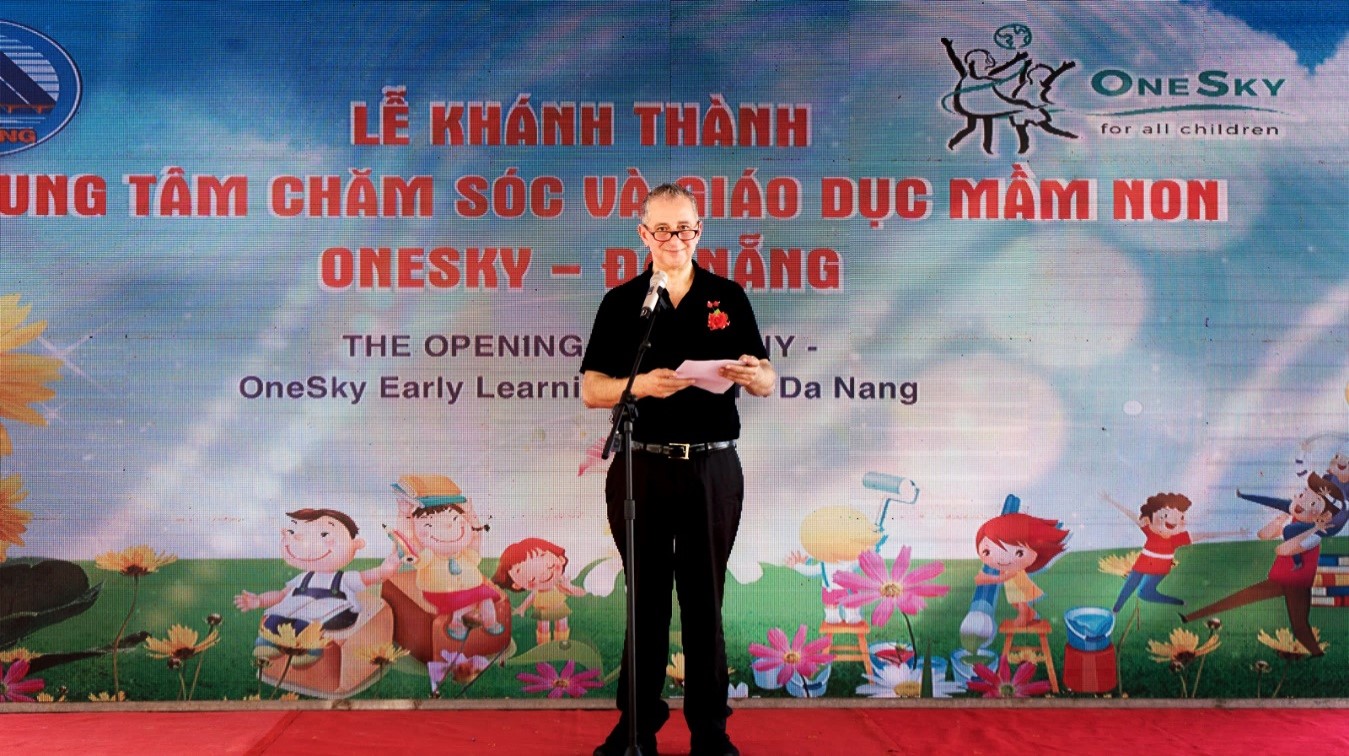 Mr. Guy Russo, OneSky Foundation Board Chair, delivered a speech
After the Danang trip, we were very impressed at the organization of the Opening Ceremony which was simple but effective and touching. We found out that the OneSky organization has many projects on early education and education for children with special needs. Moreover, they have a quick approach to arrive at projects providing daycare for children of workers in industrial zones – which is in high demand but not yet much in existence in Vietnam. Additionally, we were inspired and learnt a lot how they turned their ideas into a project and implemented it effectively. We will share our experience with our fellows in Sunwah GYLN.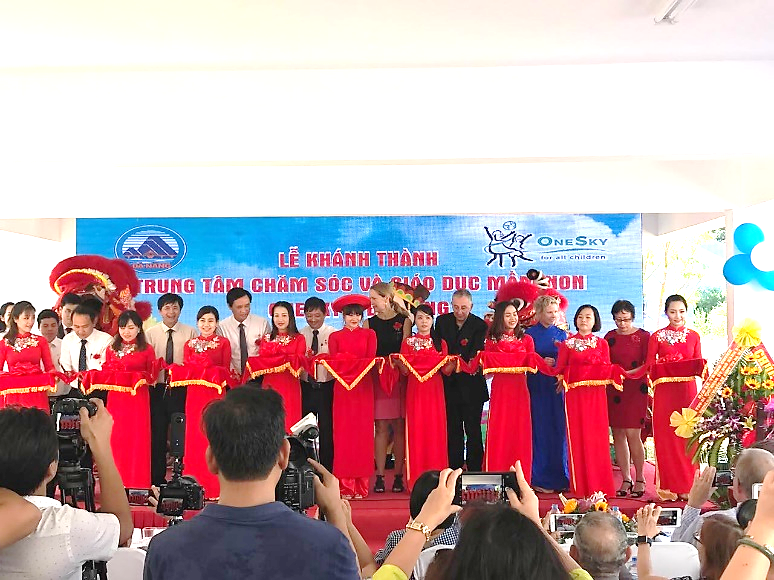 Guests at Honor at the Ribbon-cutting Ceremony
The OneSky Early Learning Center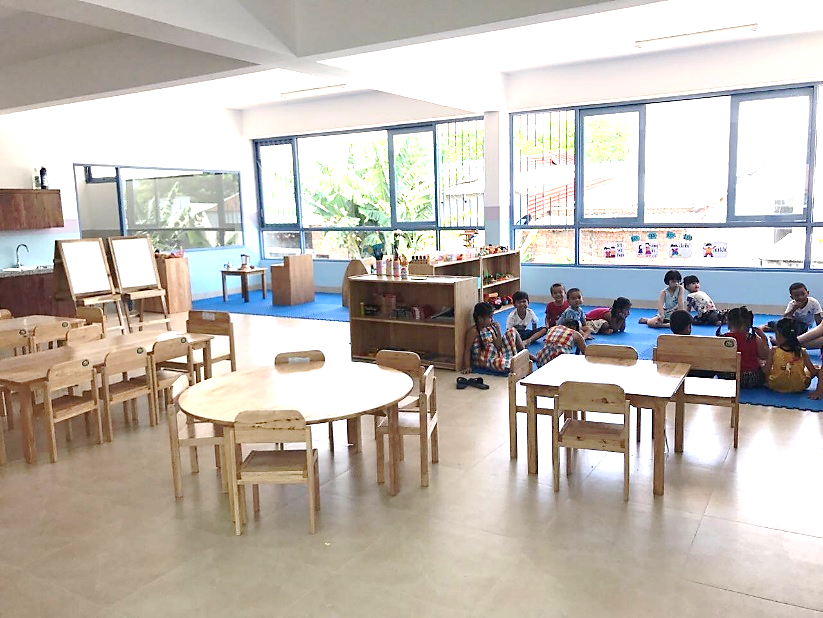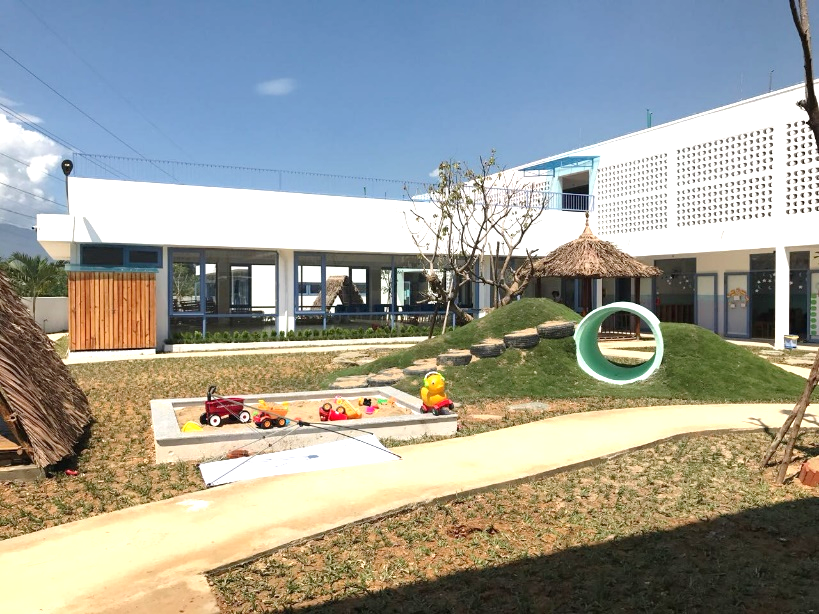 Tran Thi Thanh Huong (GYLN Hanoi) & Phan Tuong Yen (GYLN HCMC)