Date: 7th May 2016 – 8th May 2016
Venue: 2nd floor – ULIS – Jonathan KS Choi Culture Center, 144 Xuan Thuy, Cau Giay, Hanoi
In order to raise the awareness and responsibilities of students who will soon be the masters of the future to understand about the United Nations (UN) in general as well as to get acquainted with the ways and means this Organization is willing to solve the current problems of the world, Sunwah GYLN Hanoi Chapter organized the Sunwah-VNU Model United Nations (MUN) 2016 on the second floor of ULIS-Jonathan KS Choi Cultural Centre within two days on 7th and 8th May 2016 with the participation of more than 60 students from a wide range of universities in Hanoi.
To well prepare for the two-day meeting, an experience sharing session was held for potential delegates to understand more about rules of the program and to get inspired by distinguished guests, that were, Madame Nguyen Thi Nha – Ambassador of Vietnam, Ministry of Foreign Affairs, presently Honorary Consultant of Sunwah Foundation in Vietnam; and Mr Ngo Quang Xuan – a Member of the National Assembly and Ambassador to the Permanent Mission of Vietnam to the UN Office in Geneve and New York. Attending the sharing session were all potential delegates and observers. They raised various interesting and critical questions to both the organizers and the guest speakers. Importantly, after the event, they said that they got much more in-depth knowledge about the MUN, including diplomatic terminology to be used in and the rules of UN conference.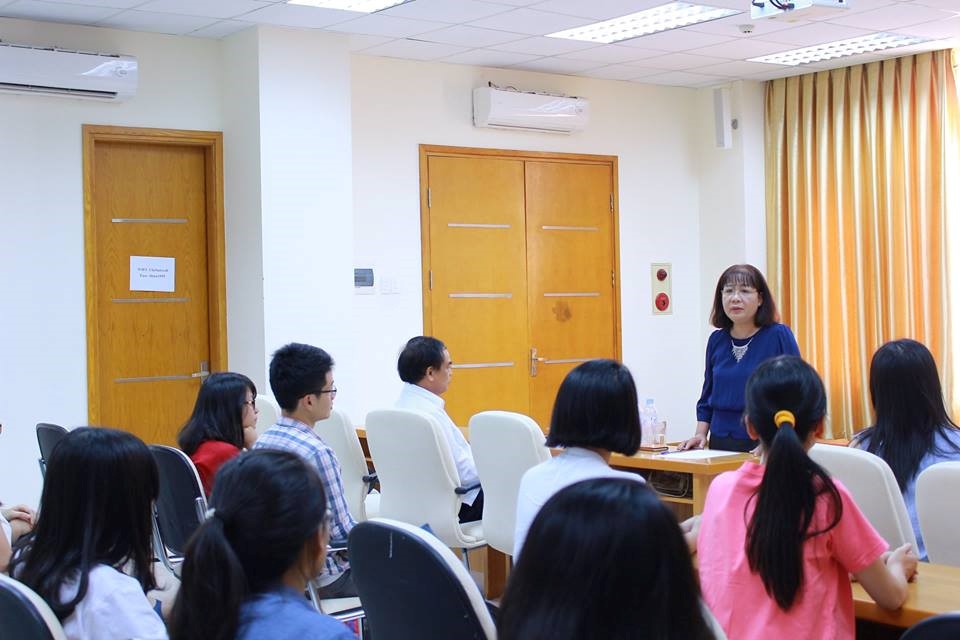 The sharing session led by Madame Nguyen Thi Nha, Ambassador of Vietnam, presently Honorary Consultant of Sunwah Foundation in Vietnam
A week later, the Sunwah-VNU Model United Nations officially took place at the ULIS – Jonathan KS Choi Cultural Centre. The simulation of UN conferences was divided into three meetings of sub-Committee United Nations Security Council, Economic and Financial Committee, and WHO Organization, held in three different meeting rooms.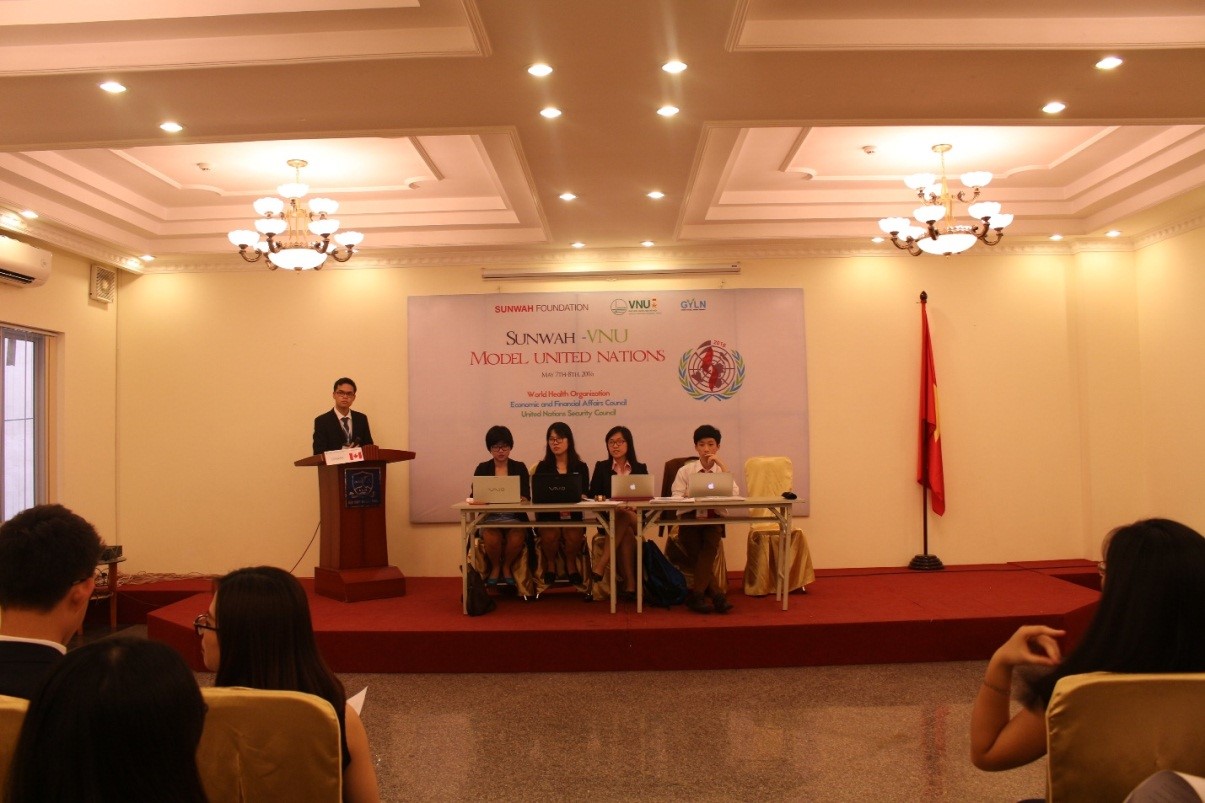 The opening ceremony of the grand plenary session
At the United Nations Security Council forum, the delegates discussed and made decisions on prevalent issues the world had been facing such as Immigration & Migration, Military Intervention for Humanitarian Aids, etc. Chairing this council were Mr. Le Thanh Trung and Mr. Nguyen Quoc Anh.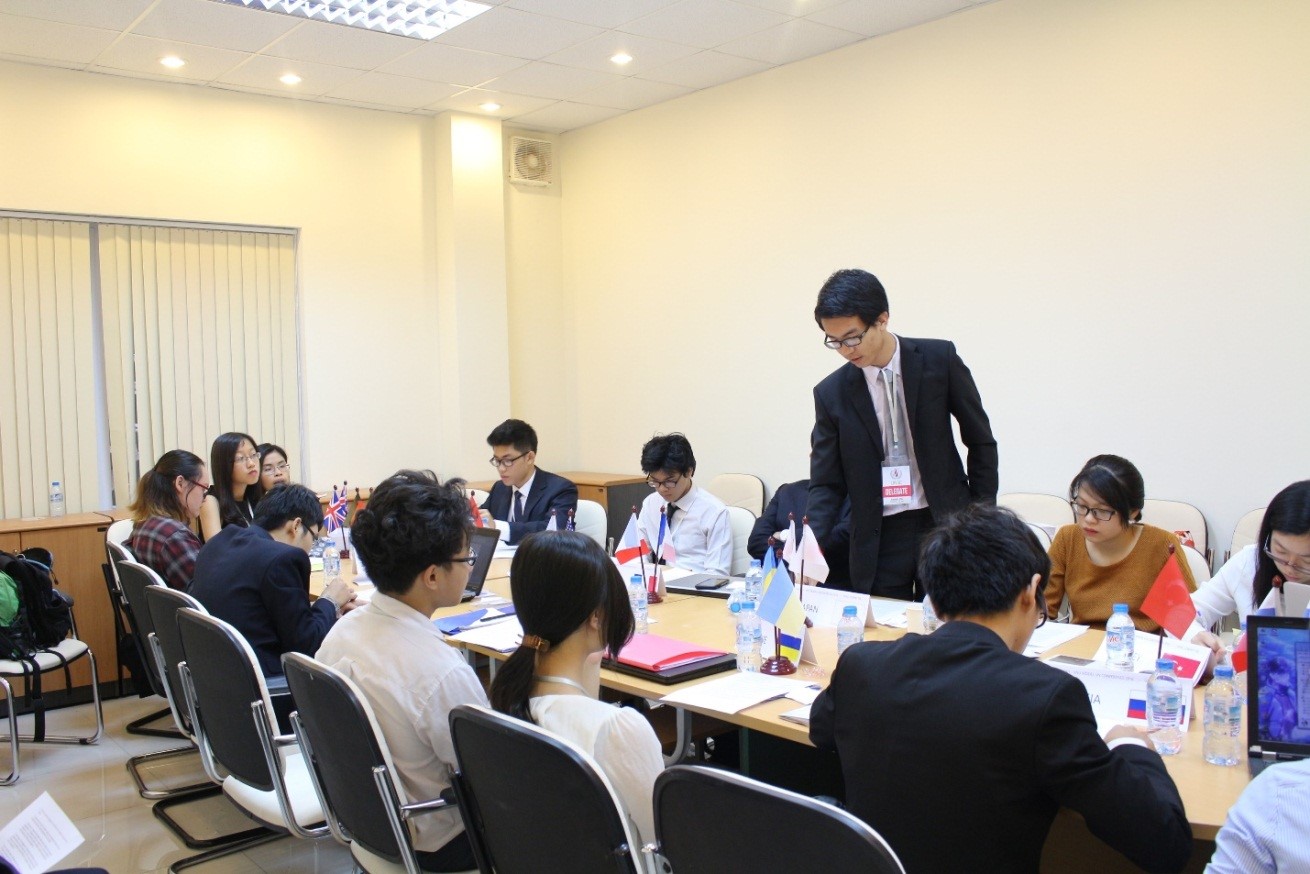 United Nations Security Council
During the meeting of the Economic and Financial Committee, 20 delegates representing 20 nations jointly discussed about 'Equal, Socially Cohesive, and Sustainable Urbanization' and 'Youth employment and entrepreneurship for sustainable development'. This council, chaired by Ms. To Minh Ngoc and Ms. Soya Bui, was nominated to be the best of Sunwah-VNU MUN since all delegates showed their efforts and close relationships with all others. In particular, some of Sunwah GYLN Hanoi Chapter members joined as delegates in this Council and competed and gained recognition for their performance.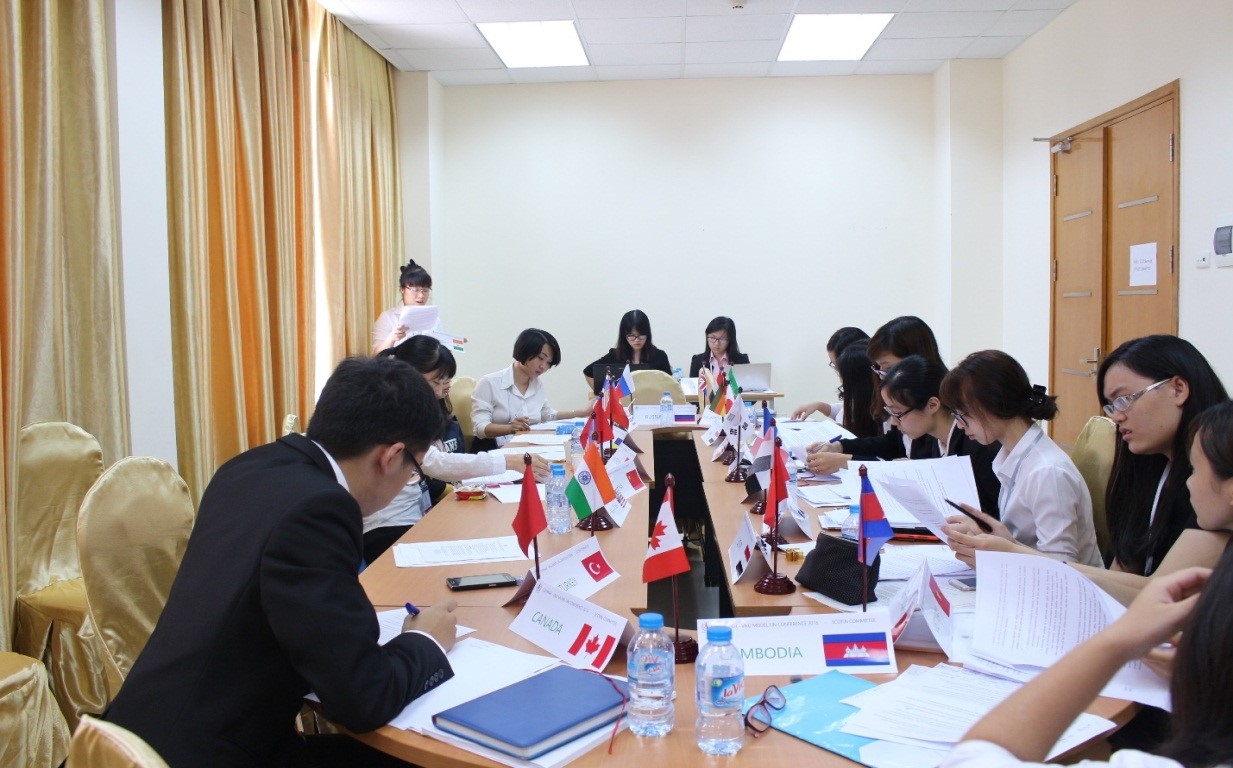 Economic and Financial Committee
The last council was World Health Organization whose topic was about 'Control and prevention of Non-communicable diseases' and 'Access to Universal Health Coverage'. WHO Organization was the only committee whose medium language of discussion and statements was Vietnamese. Because this council hosted the largest number of delegates in comparison with the other two, all topics and ideas were impressively and energetically brought to the table with good solutions. The delegates of this council still stayed in touch after the event through gatherings and various meaningful activities together.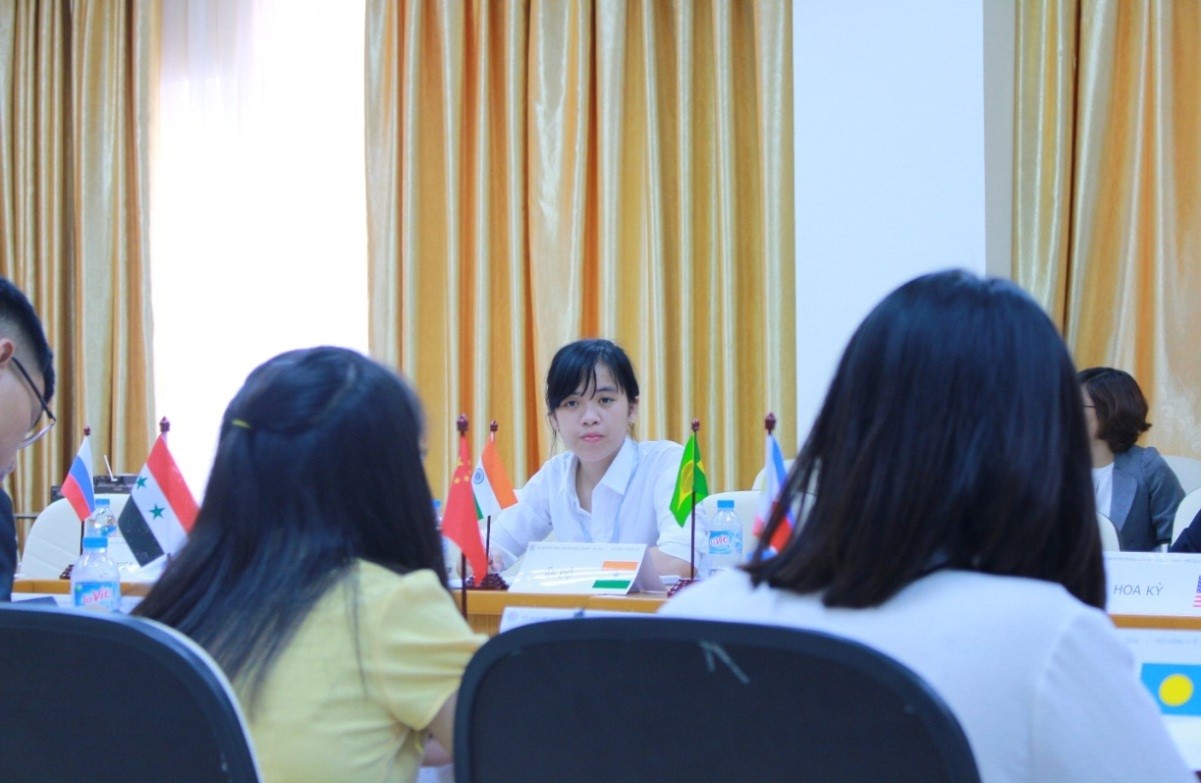 World Health Organization
Many journalists from different online newspapers such as Zing.vn and VTV broadcasting came to the event to gather information for news entries. The GYLN itself reported this program to the Media Department of VNU and got publicity in the official website of VNU. Generally, this program succeeded far beyond expectation of the organizers for a networking event and a platform for students to practice leadership, public speaking and debating skills.
For the organizers, this program has been a strong drive for Sunwah GYLN Hanoi Chapter to continue its efforts and missions to build and uphold students' leadership skills. We truly hope that under the support and sponsorship of Sunwah Foundation as well as Sunwah Group, we will be able to continue to conduct similar programs in the future.
[Hanoi Chapter]