Dear fellow GYLN Hong Kong Chapter members,
Last week, three members from the Hong Kong chapter, Jacky, Jocelyn and I, we participated in the Hanoi International Gathering trip 2015. We met a diverse and enthusiastic team of members from Japan, Korea, Canada, Beijing, Macau, Ho Chi Minh City and Hanoi. I would like to share with you some highlights of our trip in Hanoi.
On 20 Dec, the members from Hong Kong and Canadian Chapter successfully collaborated on a dancing performance in the opening ceremony of the Celebration of 45th Anniversary of Sunwah Group – Sunwah Project 45. The ceremony also kicked off the Sunwah VNU Social Services Day,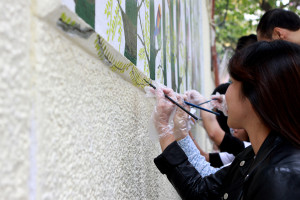 involving street-cleaning and wall-painting by 500 local students. We contributed in the event through painting colorful murals on walls. Not only did we brighten up the exterior of the school, but also built up connections and friendships with the local students. This shows that community projects can be powerful vehicles for making positive changes in the city.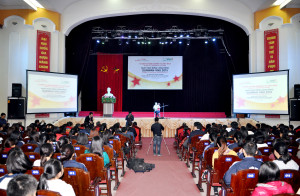 In the afternoon, we attended a session on leadership with Dr. Jonathan Choi, two professors from the University of Alberta, Canada and the University of Melbourne, Australia, and the Dean of Kyushu University. In the session, Dr. Choi addressed the importance of cross-cultural understanding and international cooperation to promote mankind's peace and development. Members from each chapter also shared their commitment towards community building in their home countries and personal views on leadership. The session had been illuminating. As global young leaders, we must grapple with the challenges arise from cultural diversities to create a more integrated and open world. On 21 Dec, we had a GYLN meeting with members across chapters and discussed three main topics: the insights on leadership gained from the two videos (featuring Dominic Shellard, Vice Chancellor of De Montfort University, and Prof. C. N. Yang, Nobel Prize Winner in Physics), the management of each chapter, and the establishment of the GYLN website. In particular, there are some ideas about the management of each chapter and the GYLN website I find worth-sharing with you as follows:
About Chapter Management:
To draft and implement a constitution that best suits each chapter with regard to their distinctive characteristics;
To share the management strategies used in Sunwah Group;
To organize workshops and training for members in leading an organization;
To increase information-sharing and transparency across chapters;
To devise recruitment strategies that attract talented students across disciplines;
To improve alumni retention.
About GYLN Website:
To build an external website which includes the newest updates and information of the project.
To set up an internal portal for all members:
To facilitate better 

Communication (Forum+Chat room);
To facilitate Project Management (Virtual office, e.g Slack);
To provide Internal Training (Workshop videos of different places);
To showcase voluntary/ internship opportunities in different chapters.
At night, we were privileged to have a dinner with a successful Vietnamese woman leader Ms. Le Hoang Uyen Vy, who has been elected as one of the successful people under 30 by Forbes Vietnam. She founded Chon.vn, a leading fashion e-commence company in the country, and Aiya Limited Company, a restaurant chain which serves Vietnamese street food in a fine-dining atmosphere. Throughout the dinner, she shared with us her experience and gave us valuable advice. I greatly admired her confidence, foresight and undaunted pursuit of excellence as one of the pioneering female leaders in the business sector of Vietnam.
GYLN has served as an international platform for distinguished individuals to conduct multi-cultural perspective and meaningful dialogues.The Hanoi International Gathering trip 2015 was an extremely rewarding and interesting experience for me to engage with so many talented leaders. Wendy, a fellow member from Ho Chi Minh City chapter, has produced a video which captures some of our best moments in Hanoi.
I look forward to meeting all of you in January to share with you my fruitful exchange and work on our project "Hidden Gems in Hong Kong".
Wishing you and your family a Happy New Year!
With warm Regards,
Sharon Ho