In the first month of 2020, all the members of Sunwah GYLN, Hanoi Chapter had such a great opportunity to celebrate our 5th year anniversary combined with Internal Communication Training and Contest. Founded in 2014, Sunwah – GYLN Hanoi Chapter has successfully operated for 5 years with numerous outstanding and meaningful projects. Five years is not a long period of time, but thanks to the last 5 years, what we gained is not only precious experience but also good friends and unforgettable life lessons.
We would like to pay sincere tribute to Sunwah at large and the alumni who had laid the foundation of our network and have been very supportive to later generations. By organizing the communication contest with the theme of "Sunwah in my heart", we hope that all members can better understand and appreciate the role of Sunwah-GYLN, Sunwah Group and Sunwah Foundation in our projects and our self-development. Specifically, the contest desires to encourage current members to express their gratitude and contribute back to these institutions.
We also expected to deliver the communication-related knowledge to all current Sunwah-GYLN members. Acknowledging the significance of communication in the project's success, we hope that all members are well-equipped with vital knowledge and skills, then if needed, willingly to make full use of these skills to support other Sunwah-GYLN's projects in the future and facilitate their working and studying as well.
Internal Communication Training and Contest
Firstly, Internal Communication Contest was run in 3 weeks with 3 rounds. On 29 December, 2019, we invited Ms. Dinh Thi Thu Ha, an expert on Communication from Vinschool Education System to deliver a one-day lesson on designing various communication tools such as powerpoint, video and photoshop. At first, most of Sunwah-GYLN Hanoi Chapter members could only handle to create few products based on very basic knowledge about designing, but then after the training course with thorough preparation by Ms. Ha, we all managed to use Adobe Photoshop, Microsoft PowerPoint and Filmora.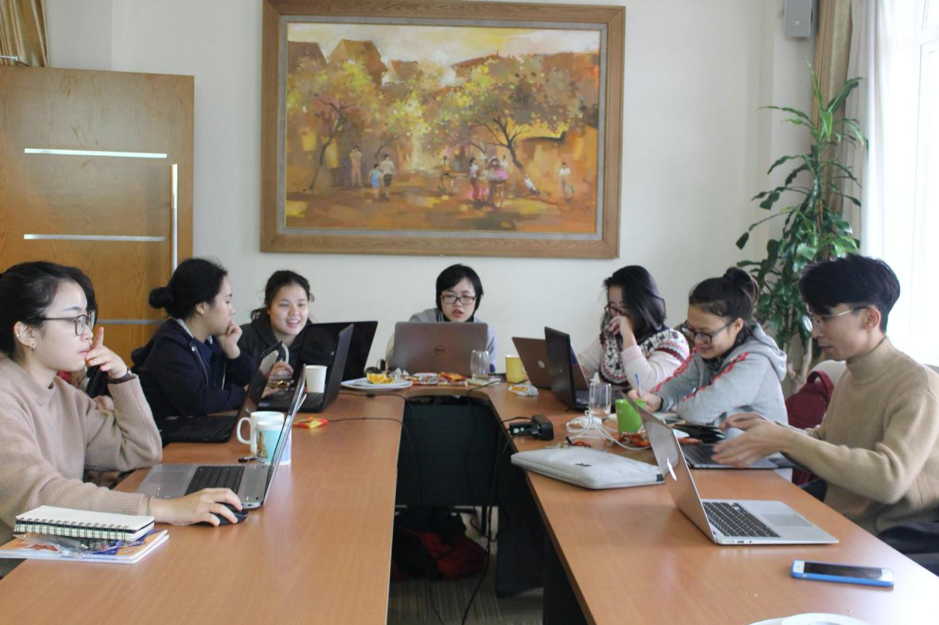 We believe that anyone in Sunwah should know about designing and acquire background knowledge about communication tools in the context of the 4.0 revolution and being on the doorstep of the 5th revolution. These skills can be applicable to enhance the coverage of Sunwah-GYLN in terms of media and among the youth in Vietnam as well as in the world. In addition, all members can also leverage their work ability and self-development.
In order to apply all the skills and knowledge that we learnt on that day, we also held a communication contest to find out the best learners and celebrate the 5th year anniversary of Sunwah-GYLN, Hanoi Chapter under the theme of ''Sunwah in my heart''. Ms. Ha and Chairman of Sunwah-GYLN, Hanoi Chapter, Ms. Nhung had announced the best performers out of many excellent designing products made by Sunwah-GYLN members in the event of this anniversary.
The best performer prize was given to Truc – a member of Communication Department with her unique book cover design. She said that she wanted to publish a book of history of people in Sunwah-GYLN as all the alumni of Sunwah-GYLN were outstanding participants and contributed greatly to the development of Sunwah-GYLN.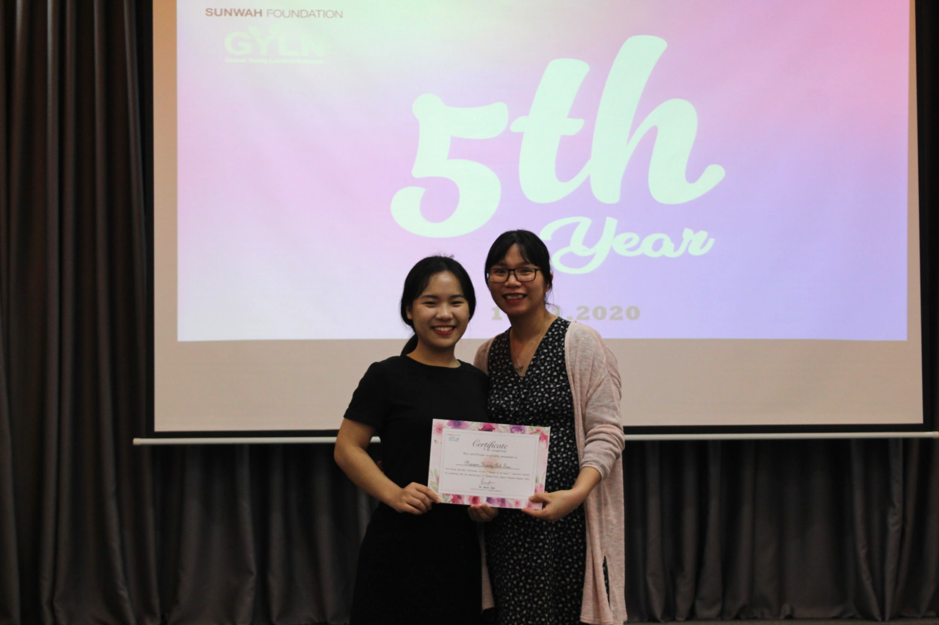 The runner-up winner and top 3 prizes were given to Mai, a member of Logistics Department and Huyen, a member of Communication Department.
The 5th Anniversary of Sunwah GYLN – Hanoi Chapter
As Sunwah-GYLN, Hanoi Chapter had turned to the 5th year of operation, we wanted to mark this turning-point with a memorable event which is the 5th year anniversary taken place on the 10th of January, 2020. We also invited the alumni to participate the Year-end party and then gave advice on the operation of the whole project, which would be a good opportunity for everyone to connect and share.
A recap video was prepared to rewind what we have achieved so far. Through each project, we grew up a little, learnt a lot. Seeing our 5 years together with many laughs, lessons and familiar faces brought many of us to tears.
Video link: https://v.youku.com/v_show/id_XNDUxNjQ3MzY0OA==.html
The 5th anniversary was also an occasion for us to hear valued shares from Ms. Le Thi Thu Lua – Manager, representative from Sunwah Foundation. Ms. Lua was the one who accompanied us from the first day until now. She has been with Sunwah GYLN Hanoi Chapter from the first step, guided us through many projects with valued advices. Not only reminded us about what we have committed to do, but Ms. Lua also encouraged us to keep up the spirit and continue to contribute to the society development in general and to focus on self-growth in particular.
During this event, we presented Leader of the year (Ms. Dong, member of Logistics Department), Outstanding member of the year (Ly, member of Logistics Department and Truc, member of Communication Department) and Promising member of the year (Nghia, member of Communication Department and Trang, member of Logistics Department) awards to commend and reward the contribution of these members during the period of 2019. Some takes double degrees at college, some is working and studying at the same time and some comes from other provinces. In spite of all these difficulties, they are fully committed with Sunwah-GYLN and made 2019 a great year of meaningful and successful projects.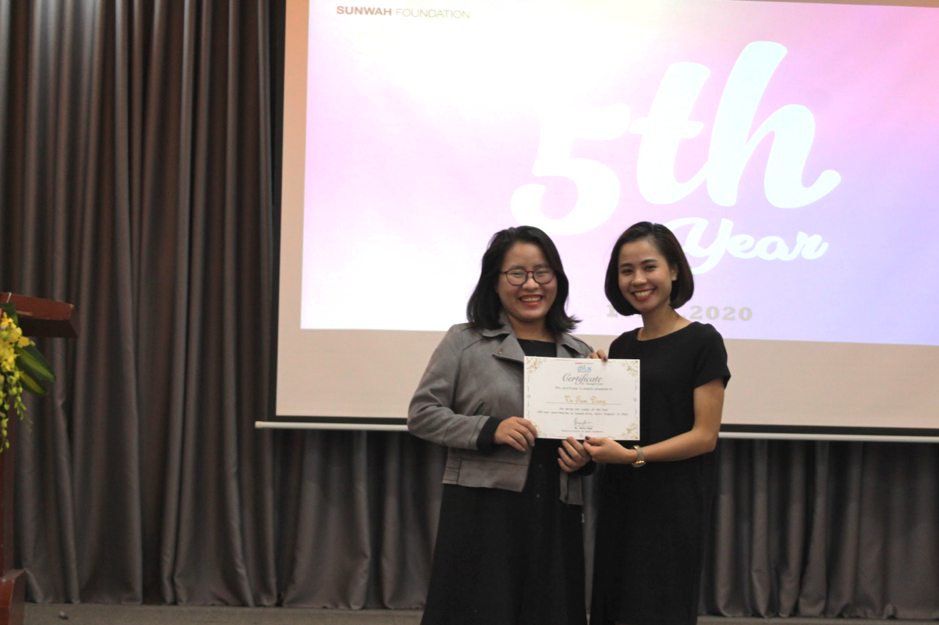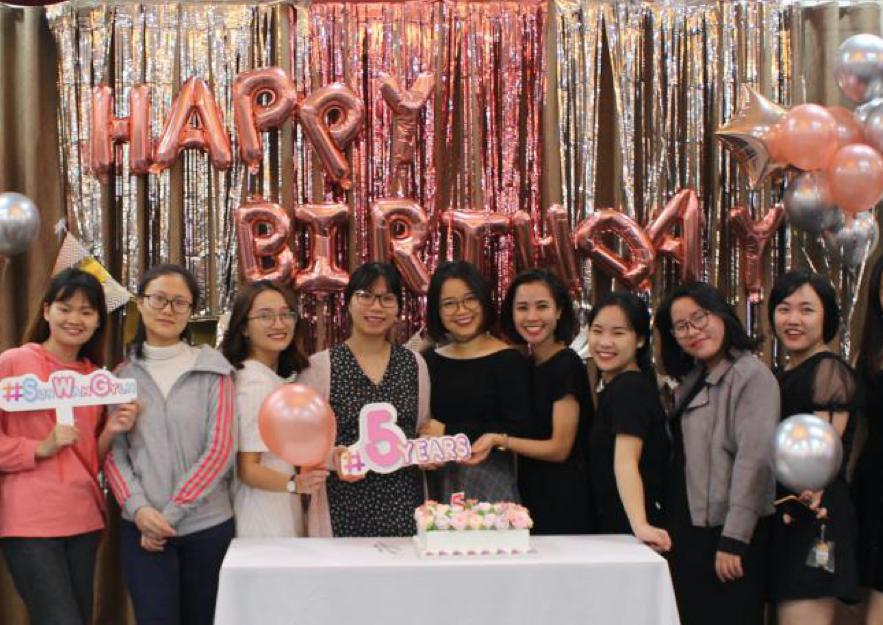 On the threshold of a new year, we – all active members and alumni of Sunwah-GYLN, Hanoi Chapter celebrated our 5th year birthday together. It was such a honor for us to gather together and share our own stories in Sunwah-GYLN. We had spent our youth, our college time and our passion here with Sunwah-GYLN which means that Sunwah-GYLN is always in our heart, as the name of the celebration ''Sunwah in my heart''.
There is no doubt that Sunwah-GYLN, Sunwah Group, and Sunwah Foundation provides a lot of precious opportunities for its members. Without the support of these in every aspect, the projects would not have been implemented successfully and achieved public recognition. In addition, thanks to the success of previous projects run by the alumni, the 4th and 5th generation of Sunwah-GYLN have gained many benefits such as operating experiences, media networking to run upcoming ones. Therefore, not only is it an opportunity for all current members to gather together and strengthen relationships within the network but also a chance for new members of 2019 to express gratitude for the alumni and flashback our network's former events and projects.
We promise to keep pursuing our goals, implementing practical projects and delivering our messages to more young people to build a better world.
Five years and to be continued, we cherished every single moment.
A year full of hope and possibility is waiting for us, ''bold and young'' souls of Sunwah-GYLN.
Sunwah-GYLN Hanoi Chapter