Deeply concerned with the difficult conditions that pupils of Ngoc Phai elementary school have experienced and acknowledging the importance of physical training in the development of children, Sunwah-GYLN Hanoi Chapter decided to hold the philanthropic event here with a variety of team activities. The two-day Warm Tet 2020, which aimed to bring joy and happiness during the new year to underprivileged children in Bac Kan province, was successfully implemented. This meaningful activity demonstrates not only the remarkable efforts of our members but also their great dedication in community-based projects.
Before our departure
We spent seven days on logistical preparation. By spreading out information and the meaning of the projects on multiple social media chanels, we have received lots of support from friends and other charity organizations. After our call for donation, we received more than 100 children books in very good condition and in diverse themes (from tales, novels to science books). In our last day of preparation, we have got a call from a charity partner who heard about our trip and decided to donate 32 boxes of biscuits to Ngoc Phai school. What a wonderful news! We are so thrilled that our projects have reached so many kind people who shared our concern and helped us to carry out our mission. A large number of plants, notebooks, color pencils, pens and other items were prepared as well.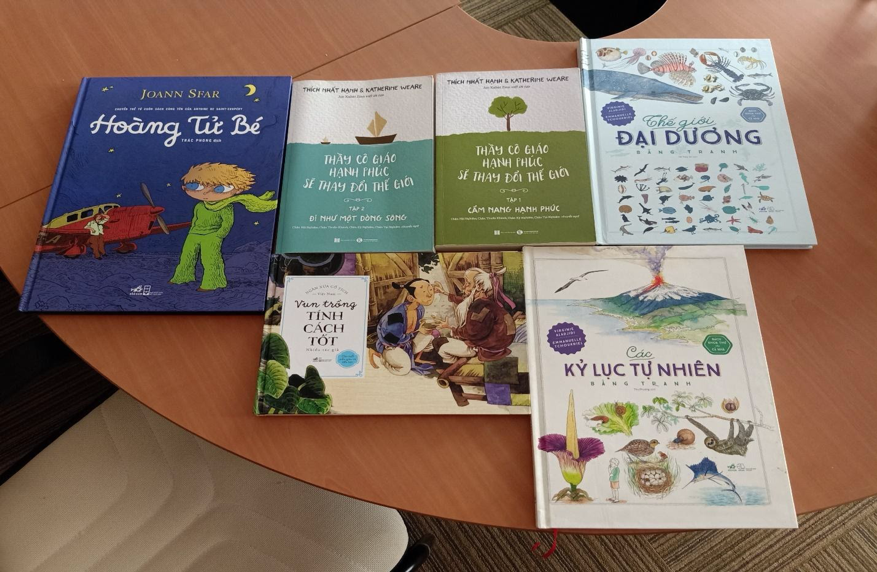 Departing from Hanoi in the early afternoon, we were extremely excited about the trip ahead. This year, besides 10 core members from Sunwah GYLN Hanoi Chapters, we also warmly welcomed 9 volunteers from different universities and companies in Hanoi to participate. We all shared the concern about doing something for the children in Ngoc Phai School, to bring joy and to make their new year more memorable. They are not only volunteers for one trip but also precious friends that we truly appreciate!
After doing the inventory and packing up all the items, we are ready to go to Bac Kan at around 1.50PM.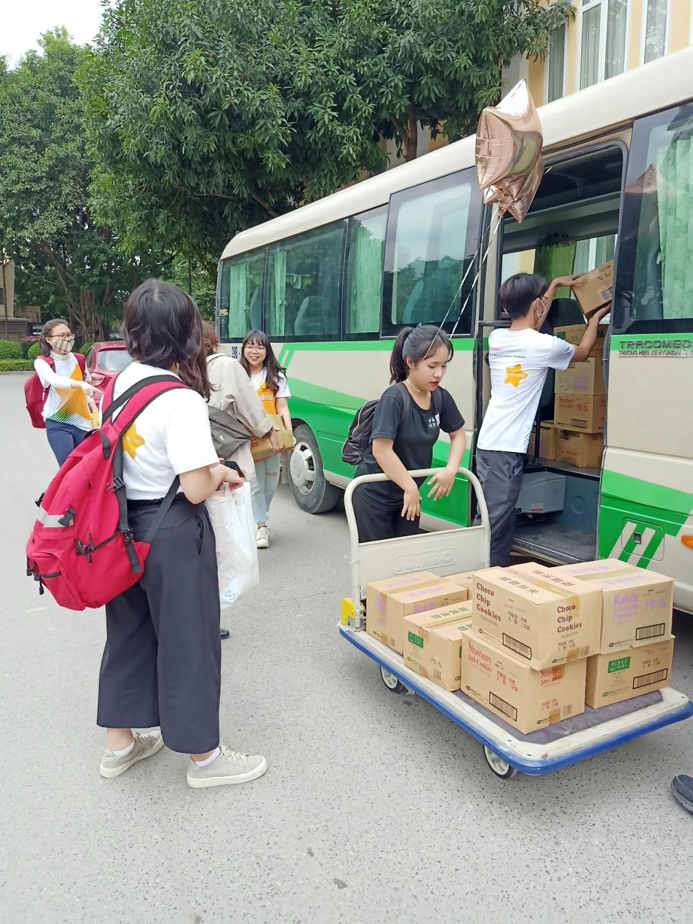 Evening show
We reached the school at about 6PM. Welcoming us were teachers of Ngoc Phai Primary School. Their warm hospitality received us all and we noticed the cheerful looks and smiles of them when we got off the coach.
Then, we quickly prepared for the evening show featuring the music performance by local students and GYLN members. This festive activity was an occasion for Sunwah – GYLN Hanoi Chapter members to get to know children from ethnic minority, their life and their culture.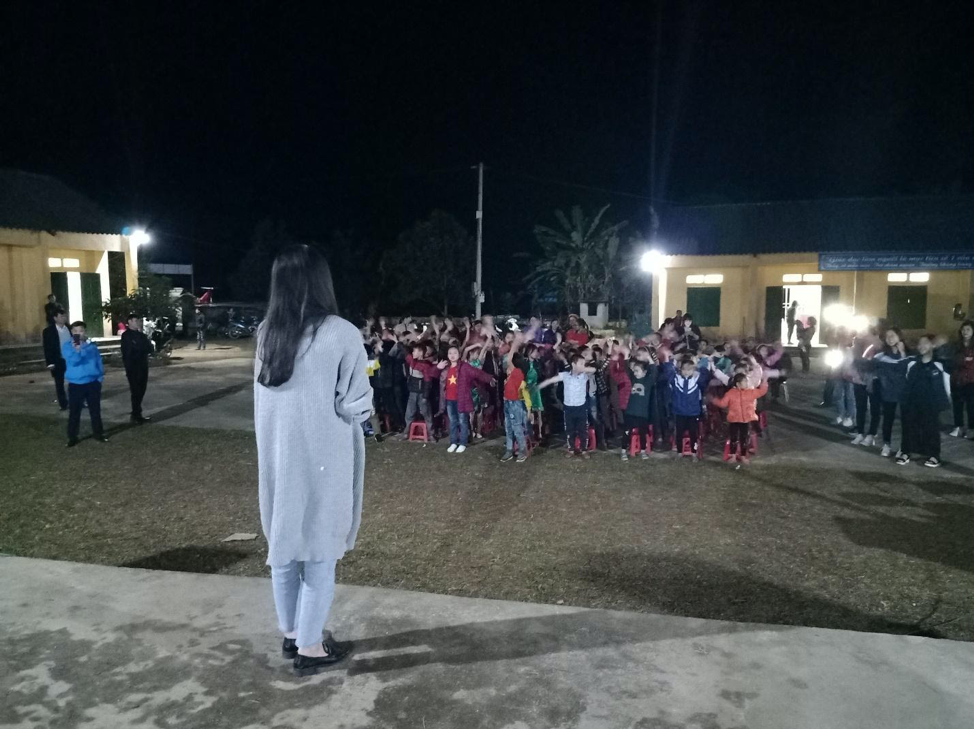 We also organized some games with a lot of small gifts, which undoubtedly sparked their interest in the show. They enthusiastically engaged in the game, had good laugh and great fun. In this activity, two MCs (Trong Nghia & Vo Trang) successfully fulfilled their task. Although it was the first time they had taken this role, they made it naturally and professionally, which was shown clearly through the students' reaction.
Morning activities
When we returned to the school the following day, students seemed so thrilled and happy. The very first activity was to grow plants at the schoolyard in the hope that the school atmosphere could be more attractive and always full of vitality. We planted Poinsettia or Trang nguyen flower in Vietnamese (means the person who was ranked first in the palace examination) as we did expect that students could be more motivated by the meaning of this flower, then study hard and achieve academic success. We assigned each class with a number of flowers to grow in the areas their class in charge of during the school year. The students really enjoyed this activity as they willingly helped teachers and the volunteers to dig and hoe the soil.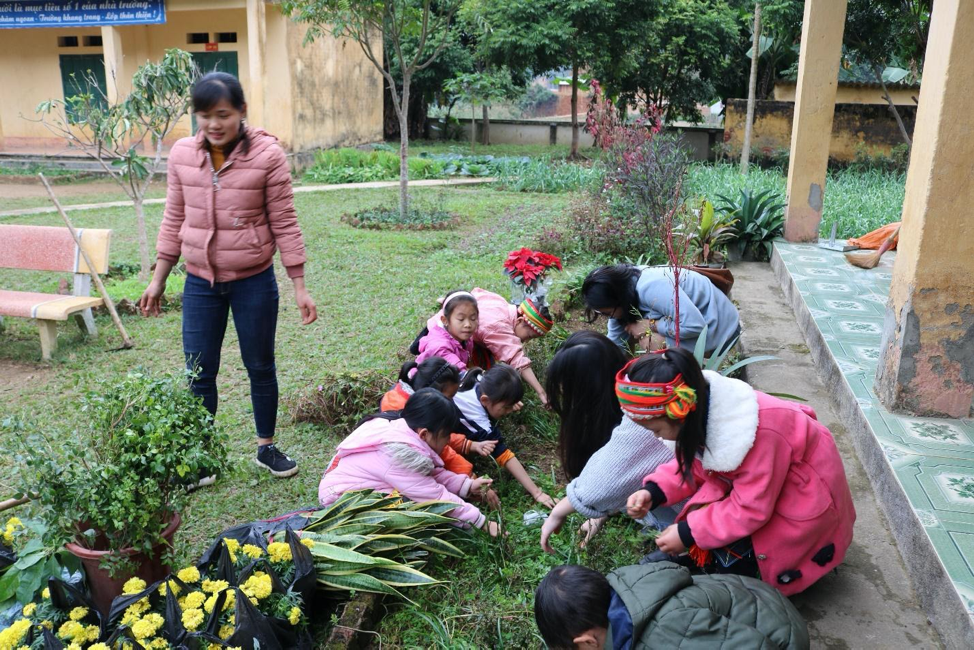 Knowing the irreplaceable role of physical development in a child's growth, we decided to set up a soccer field in the schoolyard, with aim to motivate the pupils to have more physical activities, at the same time, to learn team work and cooperate with others. We were all so glad to see the smile of all the students when everything was completed.
After setting up the soccer field, we gathered all the children and discuss with them about the importance of sport in particular and of physical development in general. Besides numbers and facts, we also shared about our own thoughts and experiences that we gained in our life. The children were all very attentive and we hoped that our sharing could touch them and leave some down-to-earth lessons.
As with any sport, skill and fun levels increase with more opportunity for children to play and practice. Therefore, we invited all teachers at Ngoc Phai school to continue to encourage the pupils to play. There are so many creative ways to introduce children to the game and to continue lifelong learning of it through activities which focus on the most fundamental skills in soccer: passing, receiving and controlling the ball, shooting, and dribbling. The new set up at the schoolyard hopefully will bring excitement and motivation to the children each day going to school. With all activities, the focus should be on encouragement, enthusiasm, team work, and enjoyment. The more a child grows in their knowledge and love of the game, the greater the chances that they will become lifelong enthusiasts of wellness and physical activity.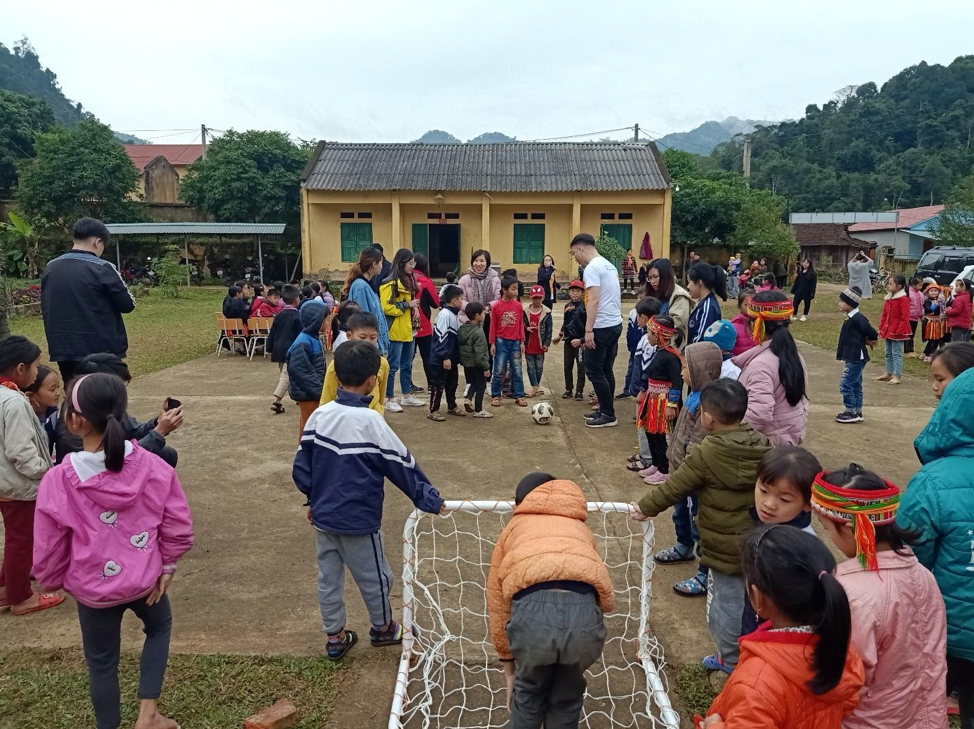 The game starts
After that, we organized a competition of making calendar of the year 2020 among 5 classes with the aim of developing cultural exchange, helping Sunwah-GYLN members get closer to local pupils and building friendship between the children and us. We prepared 12 papers for 12 months of 2020 and leave some spaces for the students to draw up anything they love to do in each month.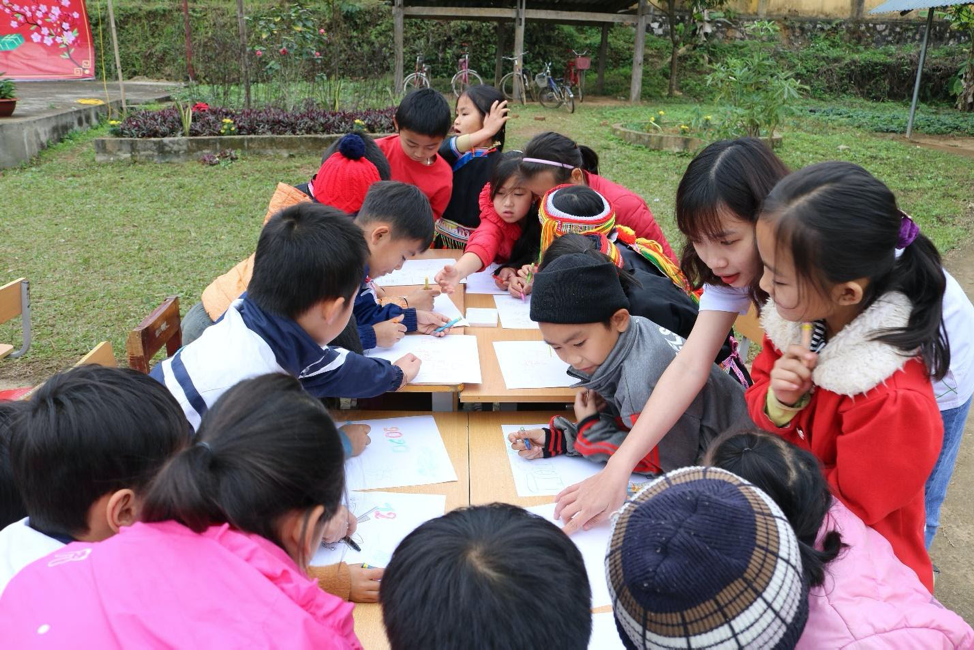 As it was a teamwork activity, students collaborated with each other enthusiastically and effectively in an attempt to win the competition. After the time allocated, we saw five different but creative calendars and were deeply moved by their sharing of their drawings. These little angels showed us their dreams of having a warm and fulfilling Tet holiday with their family or their expectations for next semester. Simple as these drawings might seem, they were the most beautiful souls we ever met.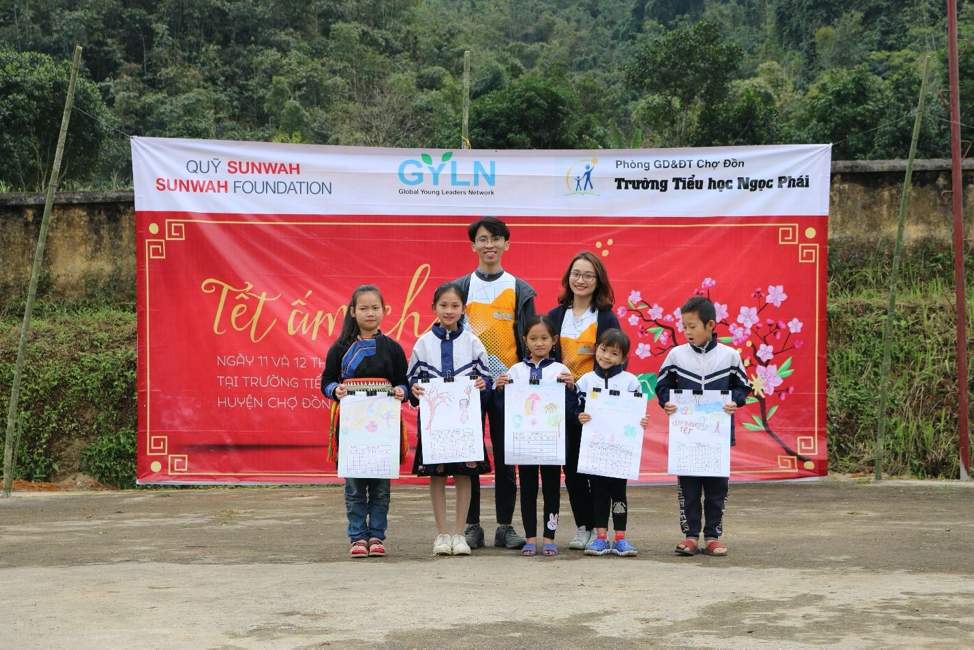 Fun was not yet over. We expanded the activities by organizing a competitive game – bag jumping. The students were divided into 8 groups to compete and undoubtedly, this game amazed them a great deal although they might have played it before. We could see the delight in their eyes and bright faces with beautiful smile. Not only that, what means the most was their solidarity, their efforts and the way they enjoyed it.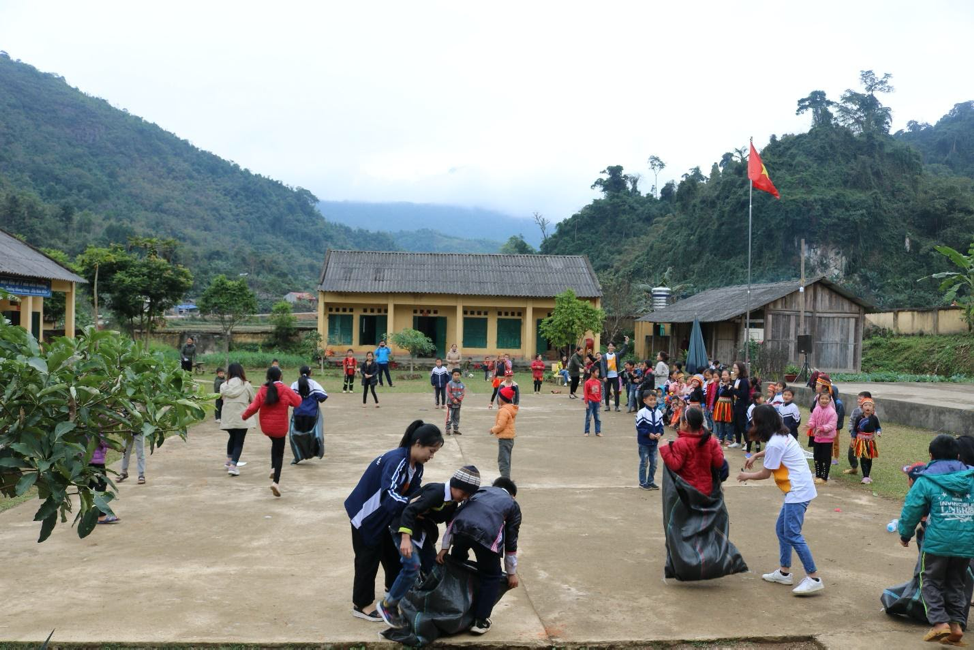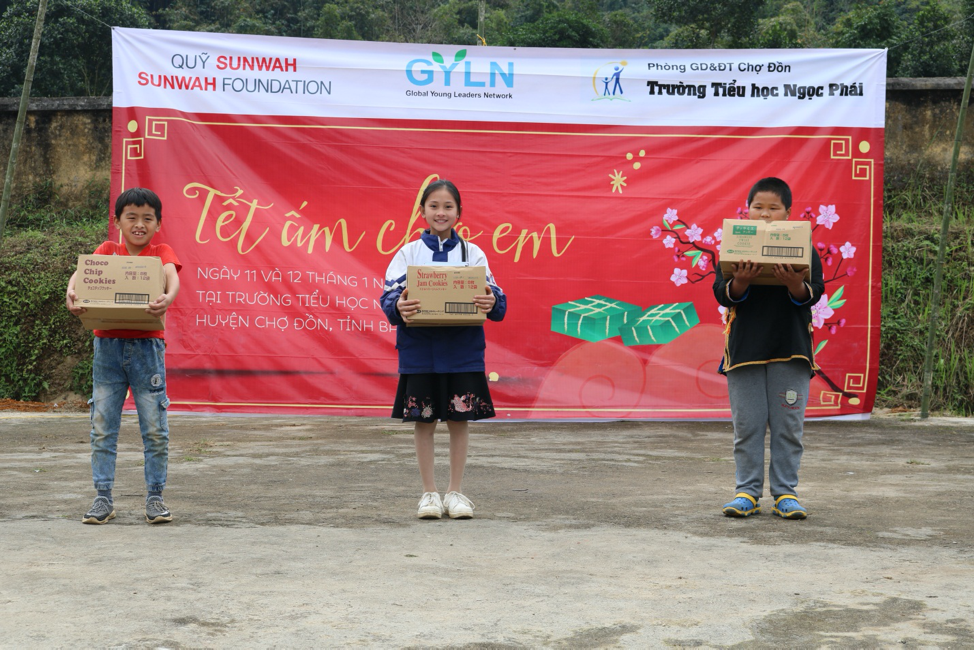 For the last part of the morning, we handed over gifts to all students and teachers as well. The children were thrilled to be given cookies, books and color pencils. The gift set for teacher staffs includes a pen, a notebook and packs of biscuit. In addition, we also granted 5 scholarships to disadvantaged students with excellent academic performance. We hoped that these scholarships would financially and emotionally support them and motivate their further learning to become good citizens and overcome the difficulties. Furthermore, the books donated as well as those selected and bought by Sunwah-GYLN Hanoi team were handed to teachers to establish a mini-sized library for each class. Even though we did not have a chance to see how the bookshelves are set-up by our donation, we could feel their enjoyment to receive those precious gifts. Needless to say, our gifts warm up their Tet holiday, and their joy warms our hearts!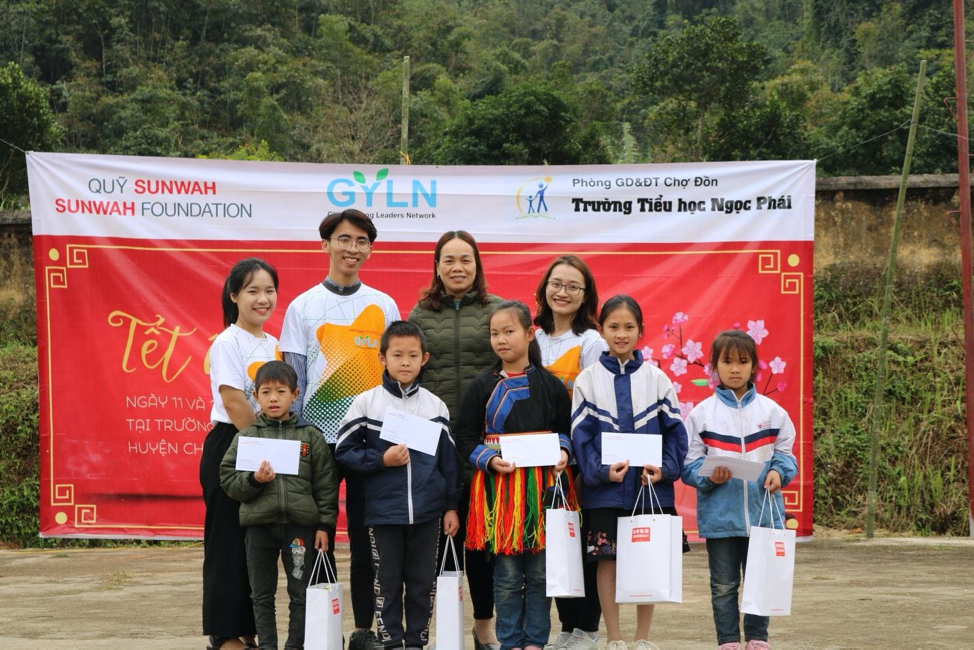 What's behind?
At noon, we set out to leave Ngoc Phai Elementary School. The morning program ended reluctantly. Even though this was truly a productive experience for us all, but we had to leave too soon. There was still more we wanted to do for the children, to be with them and fully understand them. The children wanted us to stay longer. They wished us to return next year. They gazed ardently at us when we were prepared to leave. We knew they wanted to express hundreds of words of love.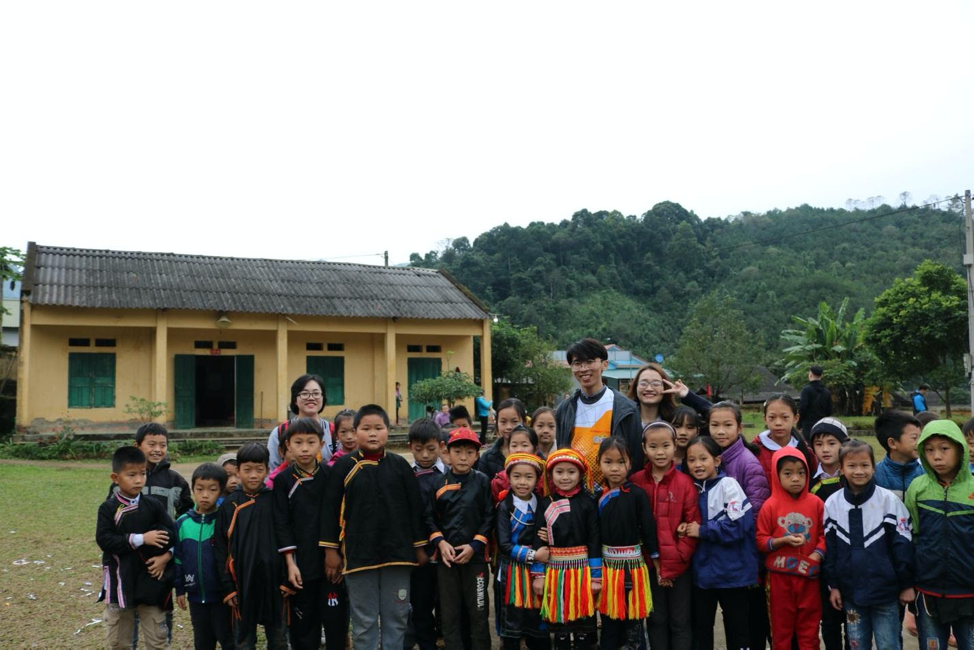 We left the school, promising the students and teachers to come back. What we proudly left behind is the students' great affection for us and the unforgettable time we had together. We really appreciate that!
The very last few words
After all, it was not vital skills, such as organizing and management are acquired by Sunwah-GYLN members that matter the most, but the emotions that we had after the journey. We feel the changes inside us after interacting with them. We experienced new things; we stepped out of our comfort zone to make others happy. We learnt how to empathize, to assist, to bring happiness and joy to the other. Of course, we also discovered exotic aspects of ethnic people's lives to better understand and respect. This occasion may offer each member different experiences, but one thing we all share in common is that we have already created real impacts, made great contribution to the project's success and we are glad to be part of it!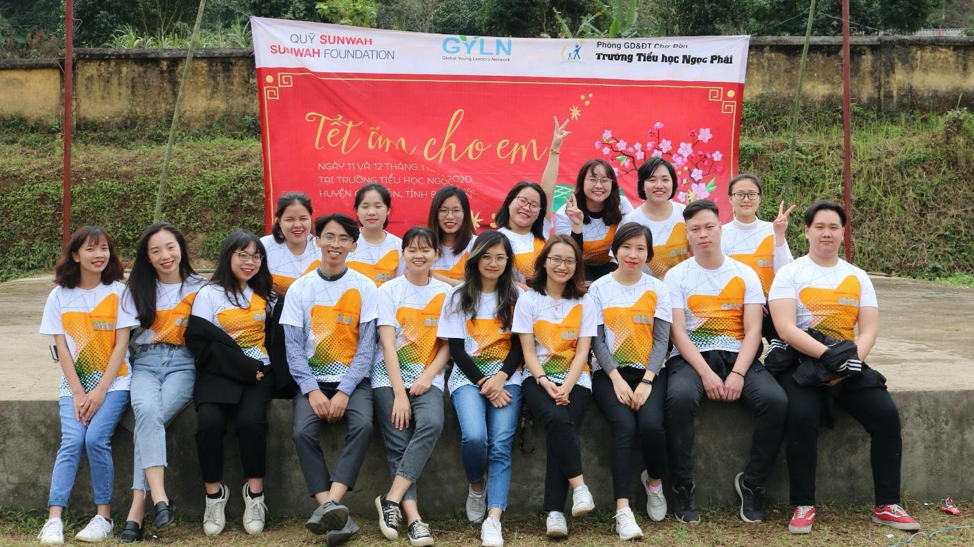 Sunwah-GYLN Hanoi Chapter