In November 2019, our Sunwah Global Young Leaders Network (Sunwah GYLN)- Vietnam Chapter members were invited to Macao to participate in the "Macau Sunwah GYLN International Summit 2019" organized by Sunwah Group at University of Macau. The trip not only leaves memorable experiences for all GYLN chapters from various countries and regions, including Hong Kong, Macao, China, Japan, UK, Canada, Cambodia and Vietnam but also creates valuable opportunity for us to strengthen our international outlook, friendship and leadership skills.
Innovation Network Seminar by Sunwah and Innovation Center of University of Macau
On the very first day (31 October) when we just arrived at Macau, we had a great opportunity to learn about the world's latest innovations in various fields such as education, business, medicine, technology, etc. at the Innovation Center of University of Macau.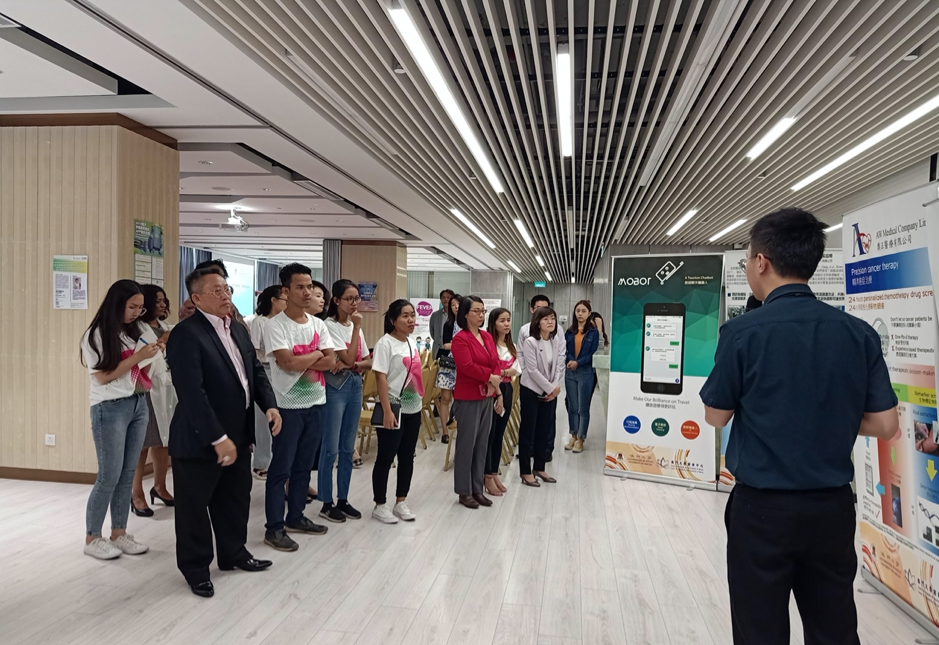 In the afternoon, several representatives of Sunwah-GYLN attended an Innovation Network Seminar organized by Sunwah Group and the Center, in which Sunwah's key partners from Canada, Hong Kong, Macau, Mainland China and Vietnam shared their experiences and achievement of working on innovation in their own regions; among all, Vietnam left a strong impression for all the attendees for not only its rapid integration, but also its dynamic startup ecosystem.
After the seminar, we were invited to a welcome dinner with all other GYLN members. It was a great honor to greet Ms. Betty Chan, Executive Director of Sunwah Foundation, Sunwah Group and many other professors, experts from Canada, US and China to join the dinner with us. During the dinner, we also have the chance to listen to inspiring sharings delivered by representatives of Canada Chapter,Vietnam Chapter and Japan Chapter. Even though the dinner was the very first time that we met each other, we were so impressed by the enthusiasm and confidence of all GYLN members.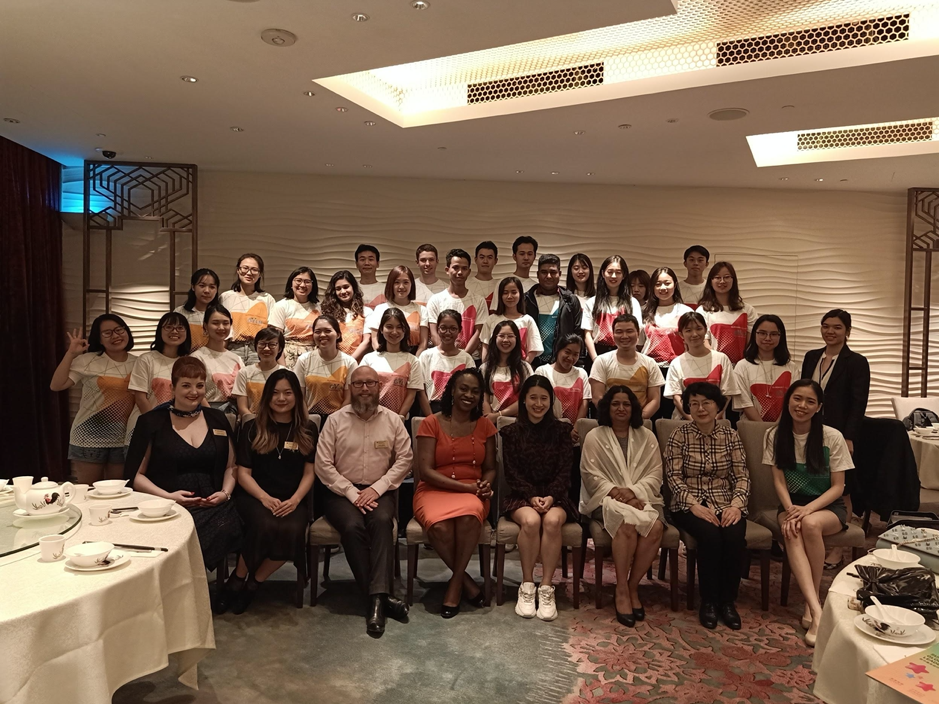 "Sunwah Group: From Macau to the World 62 Years" event
To celebrate the 70th Anniversary of the Founding of the PRC, the 20th Anniversary of the Return of Macau to Mainland China and the 5th Anniversary of Choi Kai Yau College in the University of Macau, Sunwah Group has organized the event "Sunwah Group: From Macau to the World 62 Years" at University of Macau. On the 1st of November, all GYLN members were invited to join the International Conference "New Trend in Education and International Exchange", one of the main activity of the "Sunwah: From Macau to the World 62 Years" event at Mr. and Mrs. Lau Chor Tak Lecture Theatre.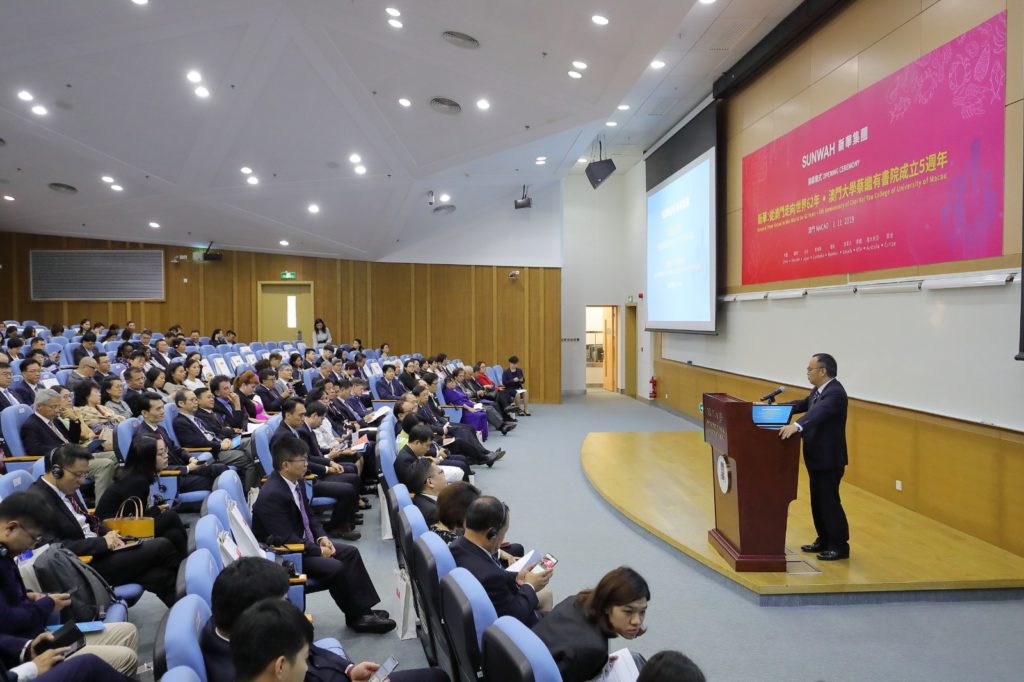 The conference started with the welcome remarks delivered by Dr Jonathan Choi, Chairman of Sunwah Group and Sunwah Foundation. His remarks was so inspiring and touching, allowing us to learn more about the connection of Sunwah Group with Macau as well as his committment to promoting educational and cultural development, as well as to facilitating the international exchanges among various countries and regions. During the Plenary Session, there were many speeches given by professors from prestigious educational institutions and universities around the world. The conference gave us a variety of new ideas and terminologies about education and innovation. Listening to these fruitful speeches kept us questioning ourselves how to keep up with the fast-moving world out there and how to be a global citizen as well as a leader in our own community.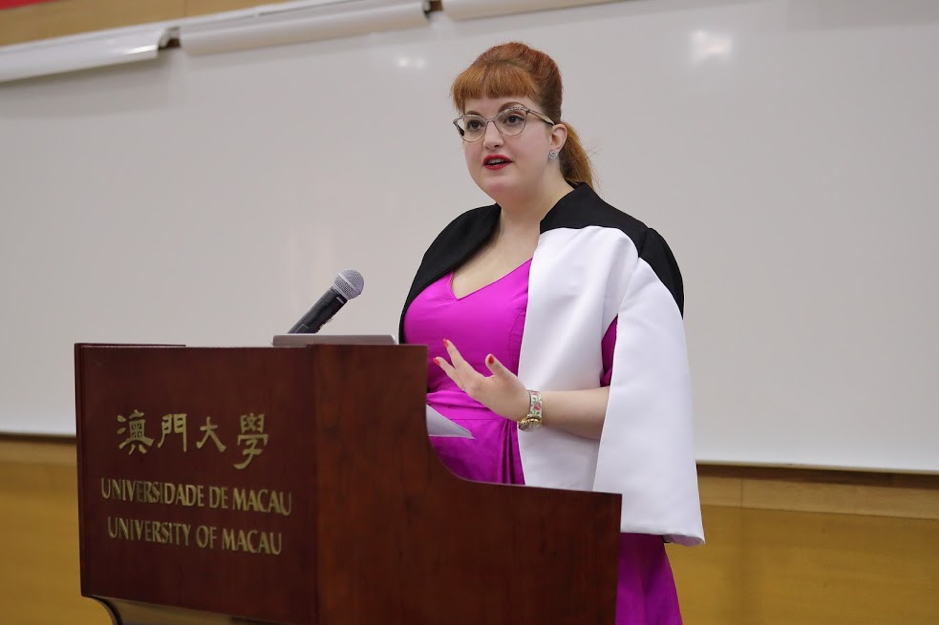 In the afternoon, we attended the "Choi Kai Yau College 5th Anniversary Celebration'' and the photo exhibition by the college students named "The Hidden Beauty of Macau", provoking our interest in beautiful antique streets to hustle Macau by night. It is widely known that Macau is "City of the Name of God, there is none more loyal'', but after visiting the exhibition, we got to know the fact that Macau also had its own cultural identity with a long continuous history. The glamour of casinos and starred hotels was overshadowed with the unembellished beauty of the original people living outside the city centre.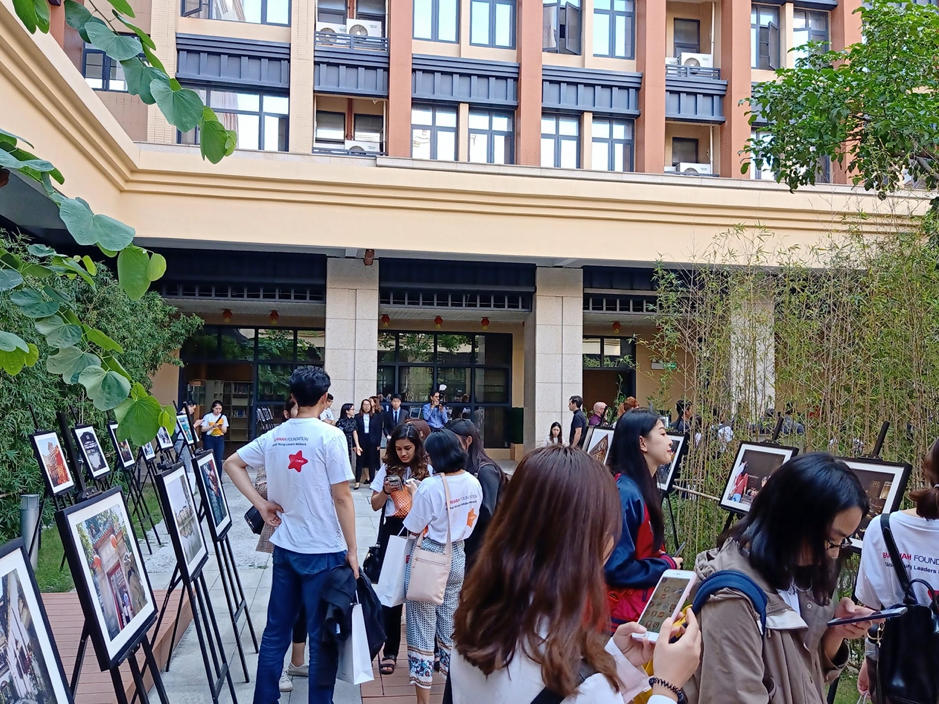 Cultural Show
The Cultural Show evening brought various performances from China, Japan, Cambodia, Hong Kong and Vietnam under the theme of "Sunwah: From Macau to the World for 62 years". The countries and regions represented in this show are places where Sunwah Group has established its business, education and culture networks. It is a precious opportunity for all GYLN members to learn about cultural diversity to broaden our horizons.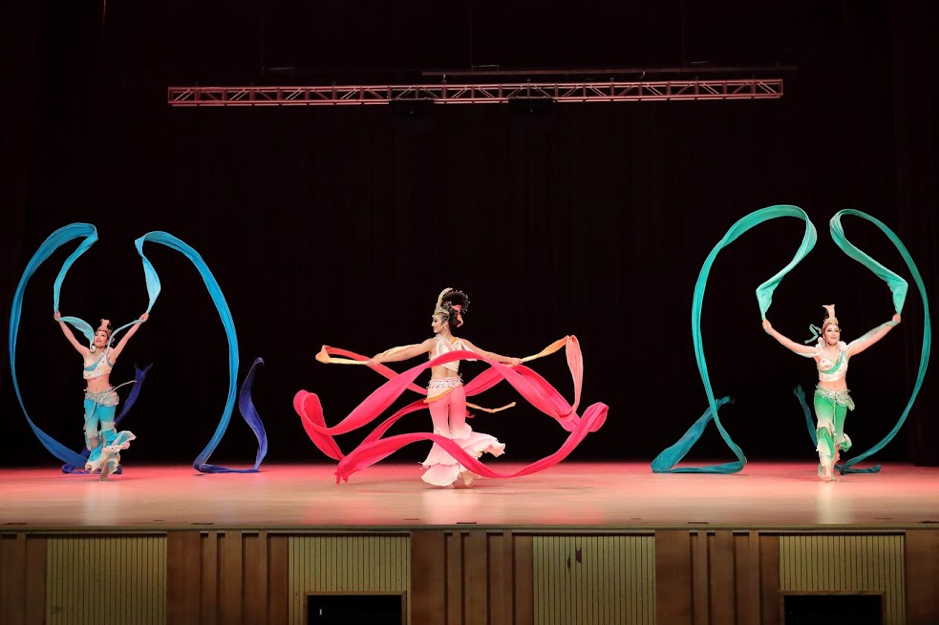 The China's Dun Huang Dance performed by the Beijing Dance Academy brought us beautiful feelings about human's passion and emotions; the Japanese's traditional dance expressed Japanese elegance through the eternal property of their country; the Cambodian's Apsara performances showed a classic dance for pleasing gods and humankind, to keep the harmony of the universe. The "Habanera from Bizet's Carmen" was inspirationally performed by Ms Carol Lin via her powerful, light, and high voice to send a love message.
The Cultural Show ended with Vietnam Chapter performing their traditional song "Rice Drum" and a choir of all GYLN members singing the song "Fly". After only one day rehearsing together, we became friends and partners, shared every moment of joy, happiness and above all – unity. Everyone put all their heart and soul into the performance, sang along together and held each other's hand tightly as friends. All of us will always keep in our mind the beauty of that night, the cheerful smiles of our friends, and the intimate friendship of GYLN.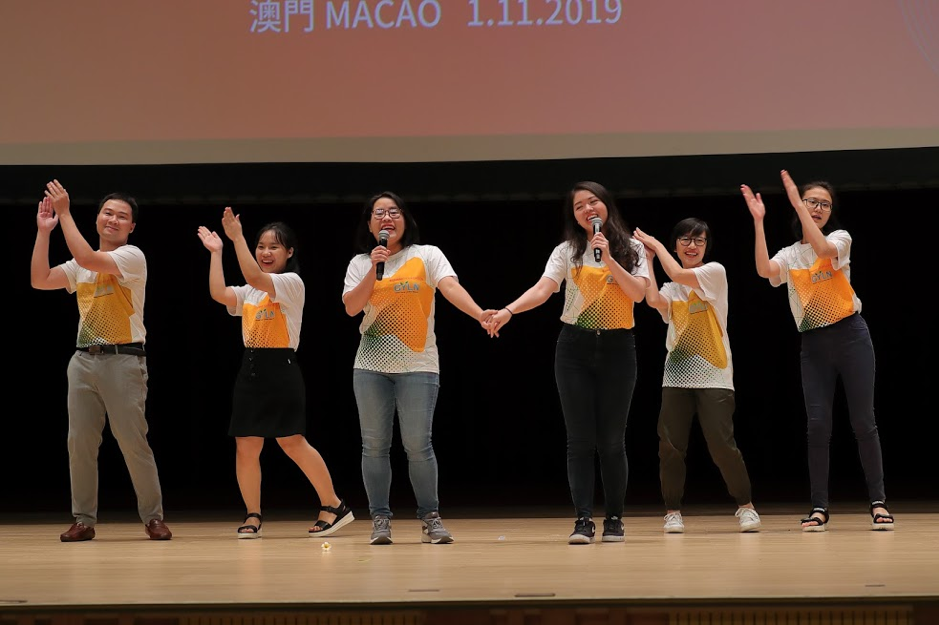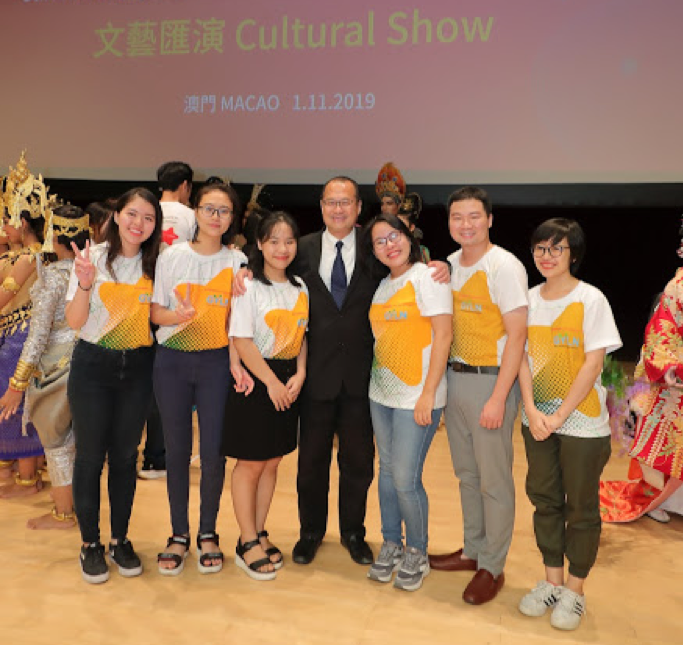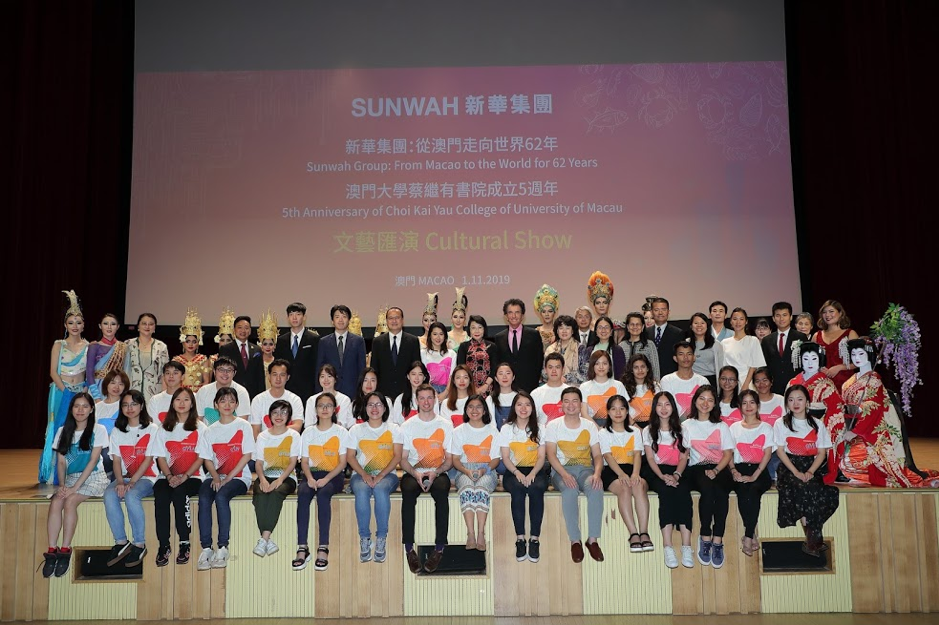 Workshop of the dance groups from China, Cambodia, Japan and Hong Kong
With the aim of helping GYLN members have a good grasp of the meaning of the performances in the Cultural Show, Sunwah Group held this workshop on the following day at Choi Kai Yau College. It was the first time we had met such incredible people from different parts of the world working in performing arts and learned about their career as well as the hidden messages conveyed in every performance. Some were hard to comprehend but for us, all the performers had done an admirable job of not only preserving their traditional cultural values but also soothing other people's souls through their elegant movements on the stage.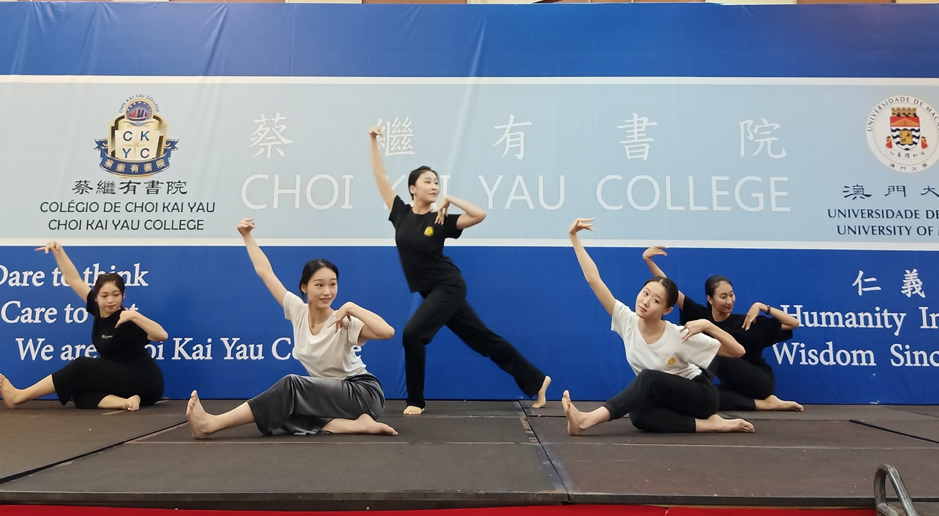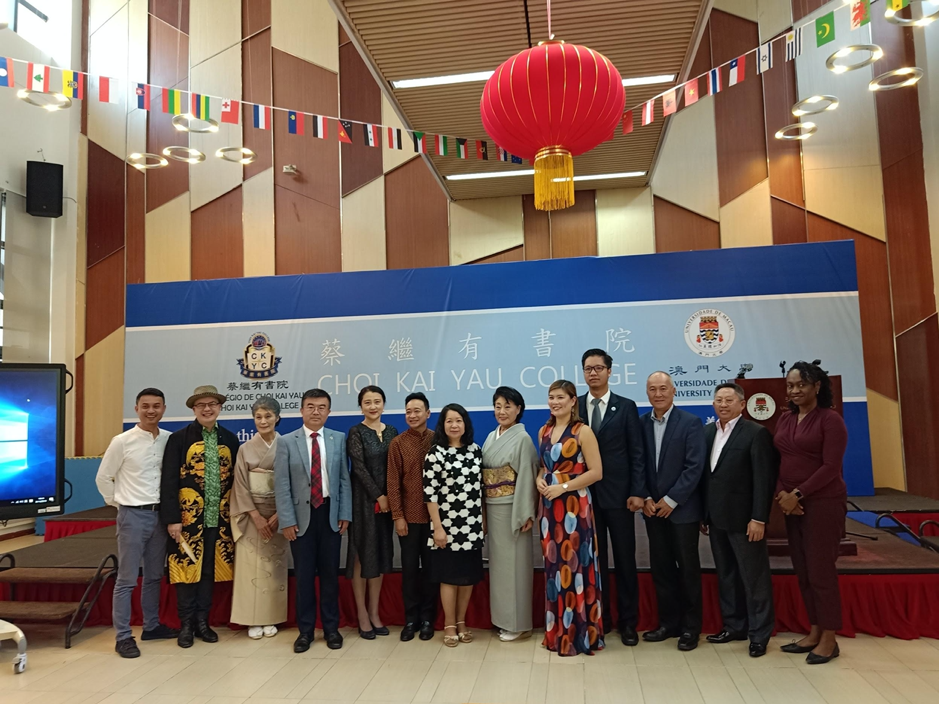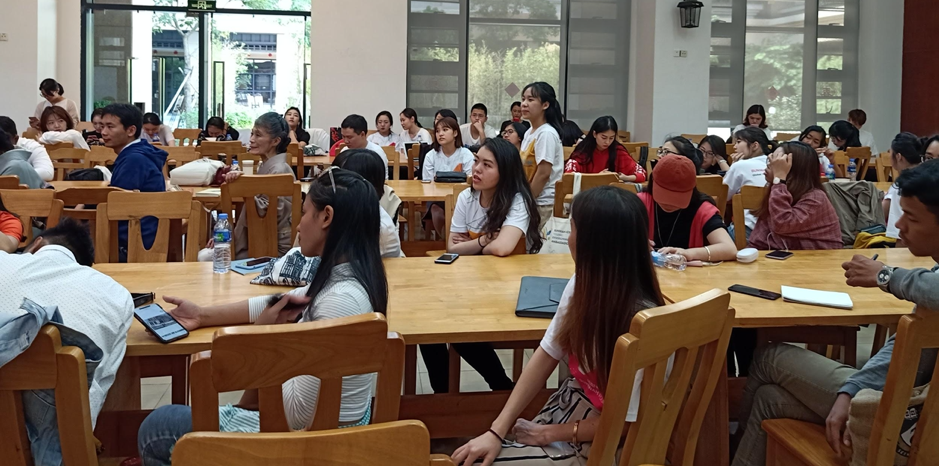 The Leadership training workshop by Peter Lougheed Leadership College, University of Alberta, Canada
The leadership training workshop prepared by Dr Stasia, Director of Instruction, Peter Lougheed Leadership College, University of Alberta, helped GYLN members learn a myriad of things relating to leadership. In detail, we learned about different leadership styles, formal versus informal authority, charismatic leadership, followership and how to build purpose statement. We were all interested in the teaching method of Dr Cristina Stasia and her teaching fellows. To us, they are more than a lecturer, they are also heartfelt inspirers. They motivated us to step outside our comfort zone, voice our opinions and learn from each other. Activities held during the workshop were extremely delightful, engaging all GYLN members to join energetically.
This not only enabled us to understand the lessons at a greater extent but also created a chance for us to build mutual understanding within the network. On the second day of the workshop, we were all touched when Panha – the Cambodian member carefully held our precious possession, attentively listened to us sharing our personal stories related to the thing and in the end, she burst into tears. That emotional moment made us feel much closer to each other.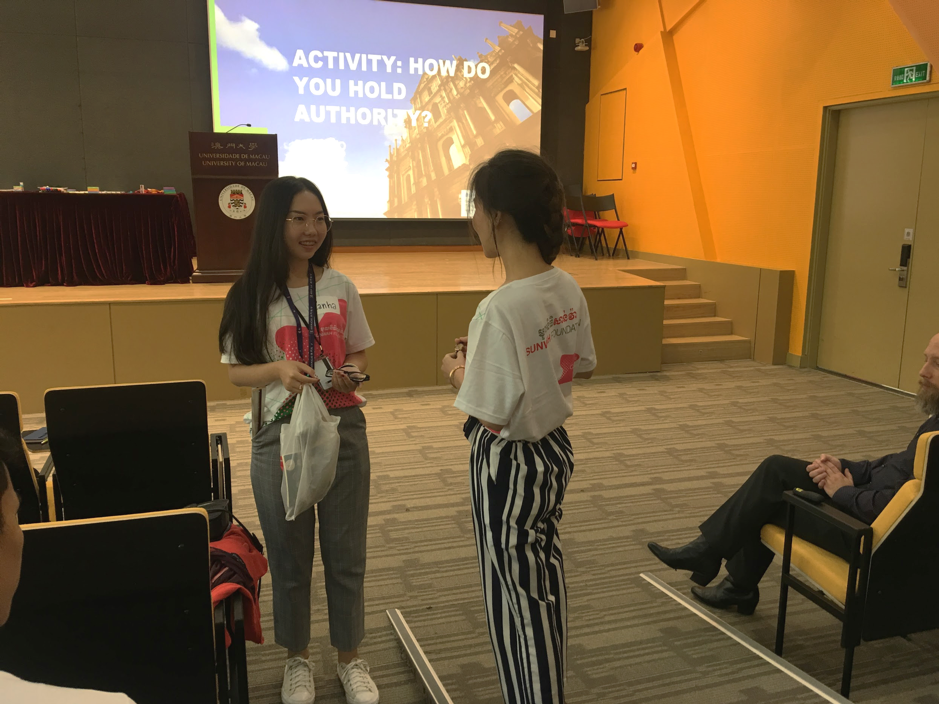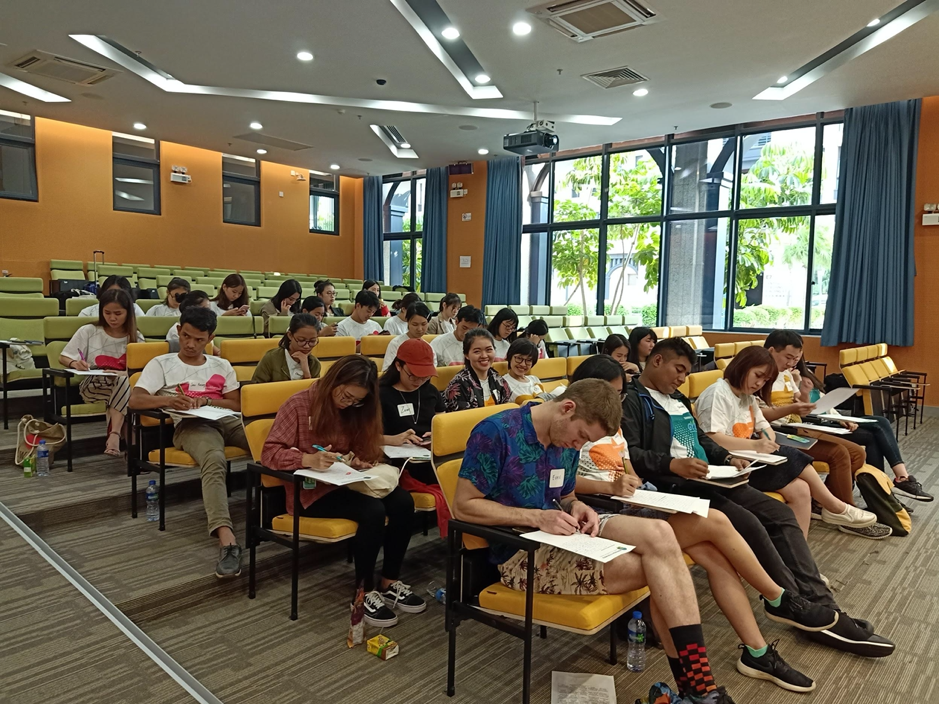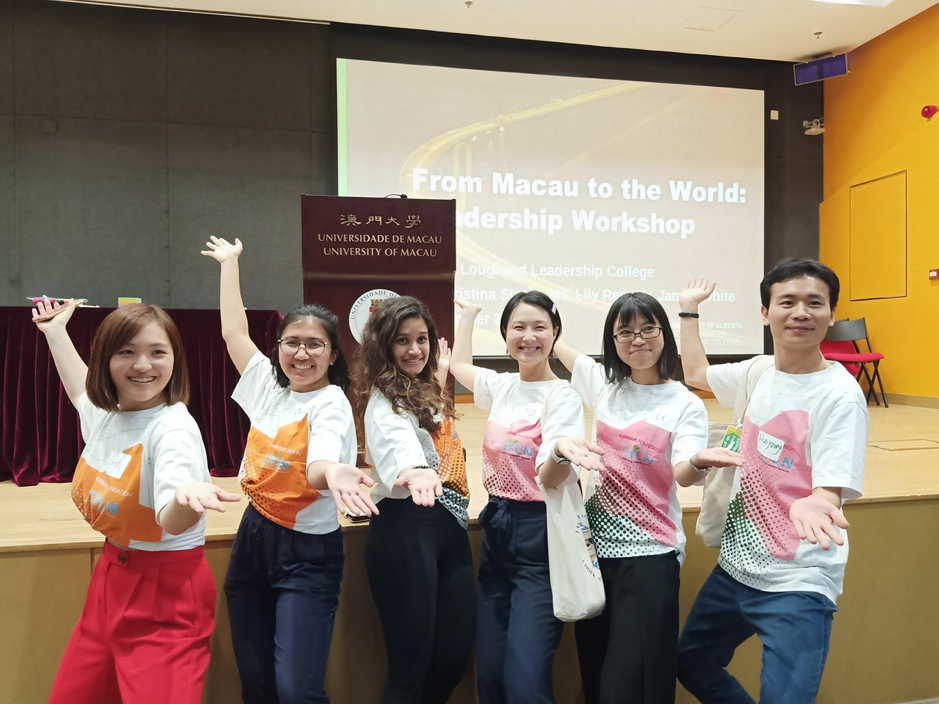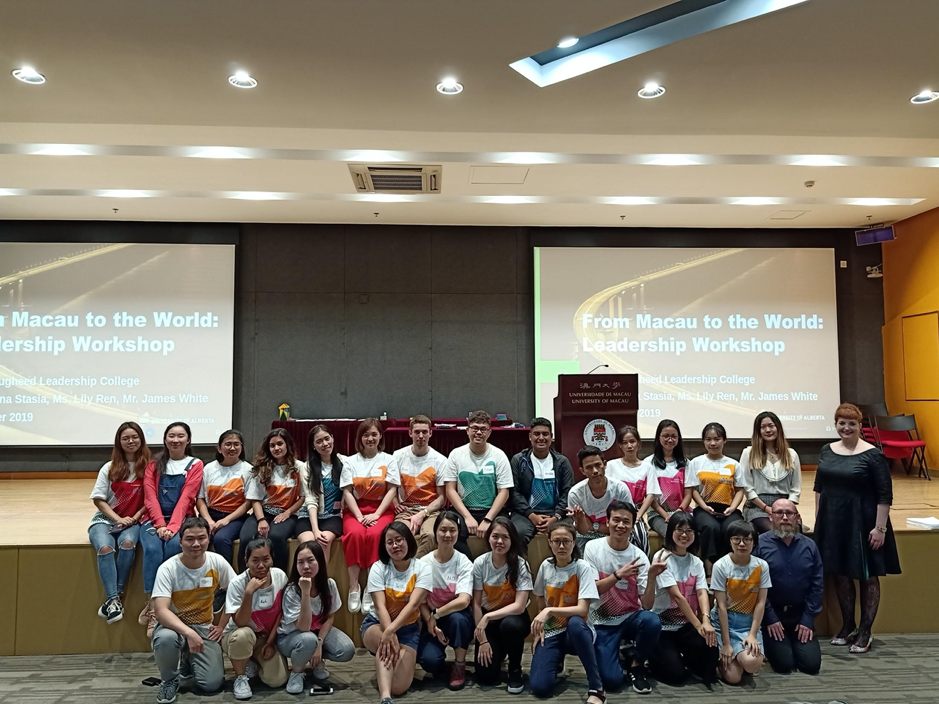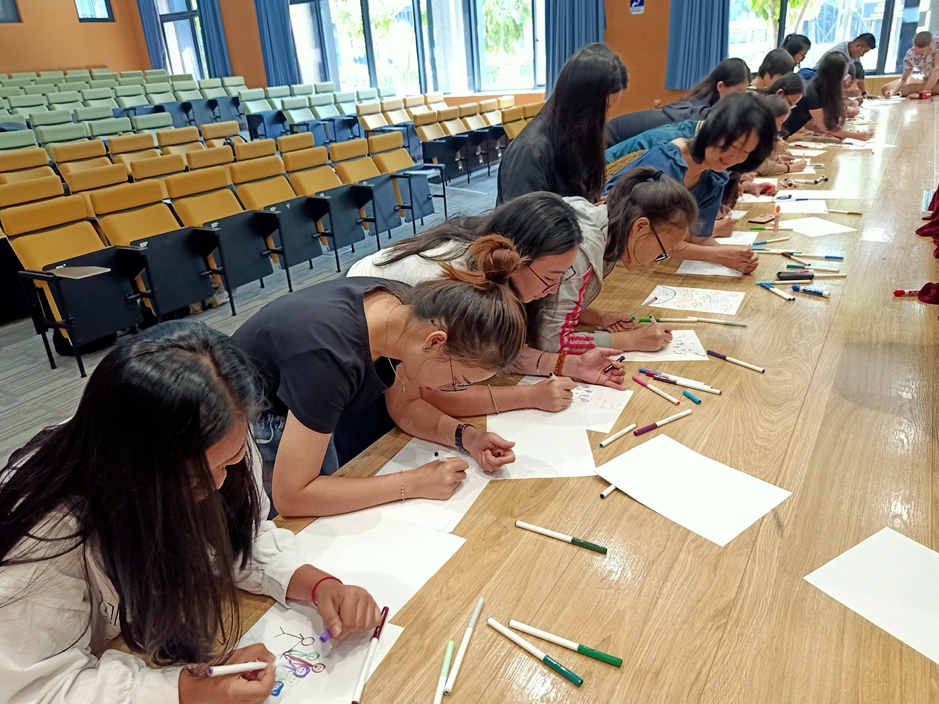 We truly appreciate the opportunity of attending this wonderful workshop. Although it just lasted for a few days, it undeniably supported us to perform our leadership role more effectively in a long time.
Sightseeing in Macau
Since the day we arrived in Macau, we had been impressed by the beauty of this city. Despite having searched for the famous destinations in Macau beforehand, we still could not imagine how modern and gorgeous Macau actually is.
GYLN members in Macau Chapter took us to many places where we could explore the breathtaking scenes of European and Asian culture mingled in every corner of this city. We never forget the charming sunset when we climbed up the Museum of Macau and other impressive structures such as Eiffel Tower or the magnificent Venetian. Besides being the largest gambling center in the world, Macau took us by surprise with the ancient beauty of the China town and other historical and cultural heritages such as the Ruins of St. Paul's and Monte Fort.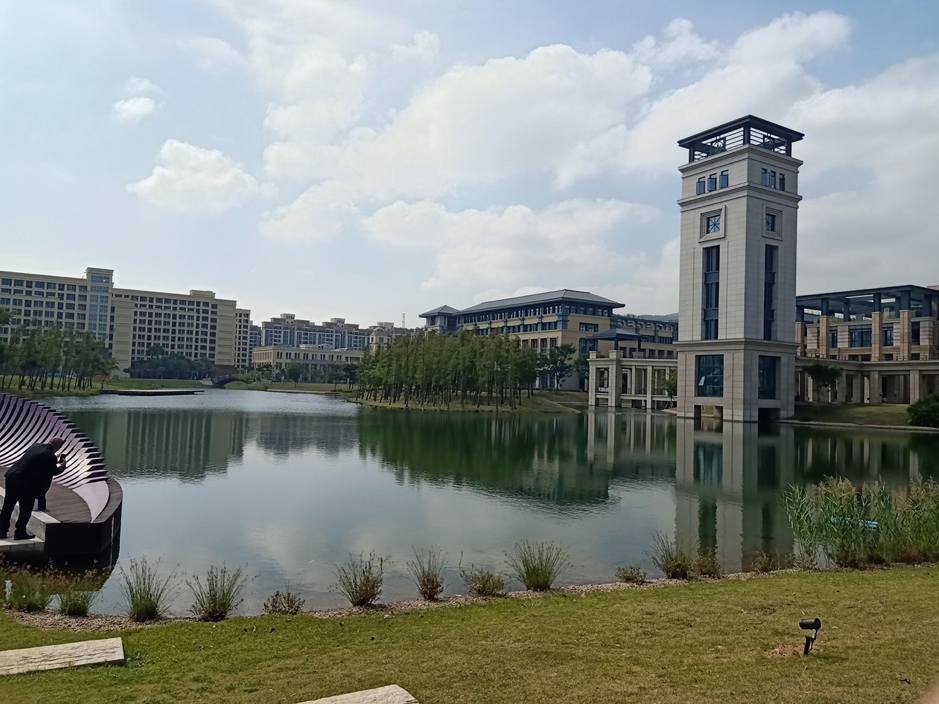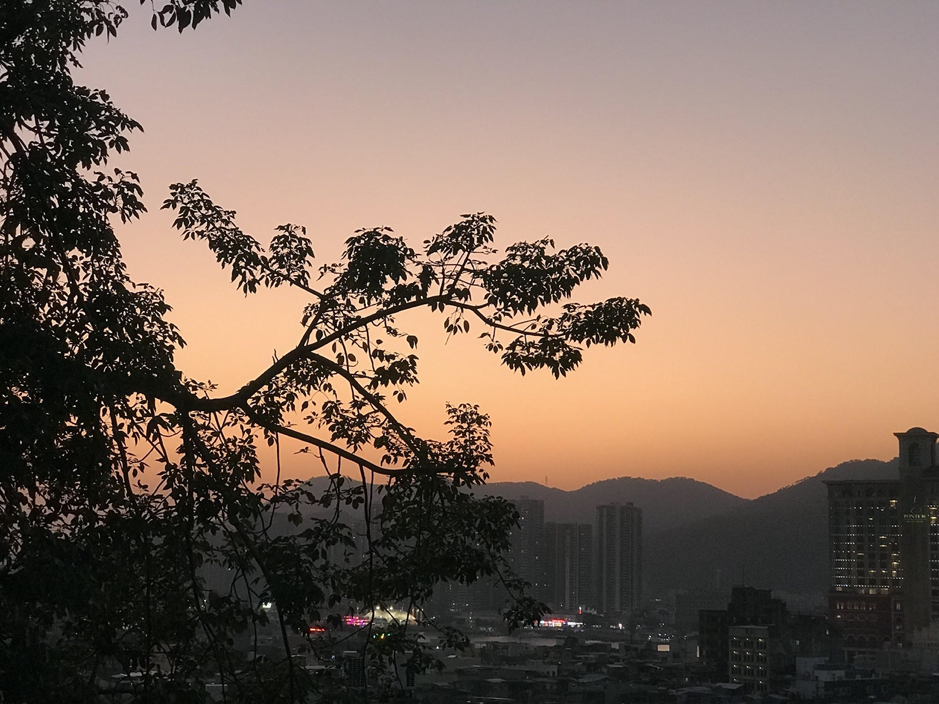 All members have been able to enjoy this trip so much with a lot of unforgettable memories thanks to Macau chapter. Despite being busy with their own jobs, Angel, Adam and Shakhawat of Macau Chapter still spent their time taking care of other members and introducing to us many beautiful places and various delicious dishes at local restaurants.
This was an amazing chance for all members to learn more about the tradition and culture of Macau.
What we experienced from the first day until the last moment in Macau will always stay in our memory, motivating us to perform better and build the network stronger in the long term.
Sunwah GYLN Hanoi and Ho Chi Minh Chapter