On 17 August 2016, on the occasion of Mrs Carrie Lam, Chief Secretary for Administration of Hong Kong SAR Government's visit to Hanoi, the Asian Youth Orchestra had staged a concert at Vietnam National Academy of Music.  As a member of Sunwah Global Young Leaders Network, I had the honor to attend the concert and met with Mrs Carrie Lam. For me, it was not only an ordinary concert but I also learnt a valuable lesson in terms of international relations.
Being invited by the Hong Kong Economic and Trade Office (HKETO), our Sunwah GYLN members arrived early for the pre-event meeting with Mrs Carrie Lam. In spite of her glamorous and powerful appearance, our feelings when talking to her was somehow like talking to a family member. She had such a gentle voice that we felt being respected, which encouraged us to develop ourselves as the young generation of the country and opened up to opportunities for youth development between Vietnam and Hong Kong.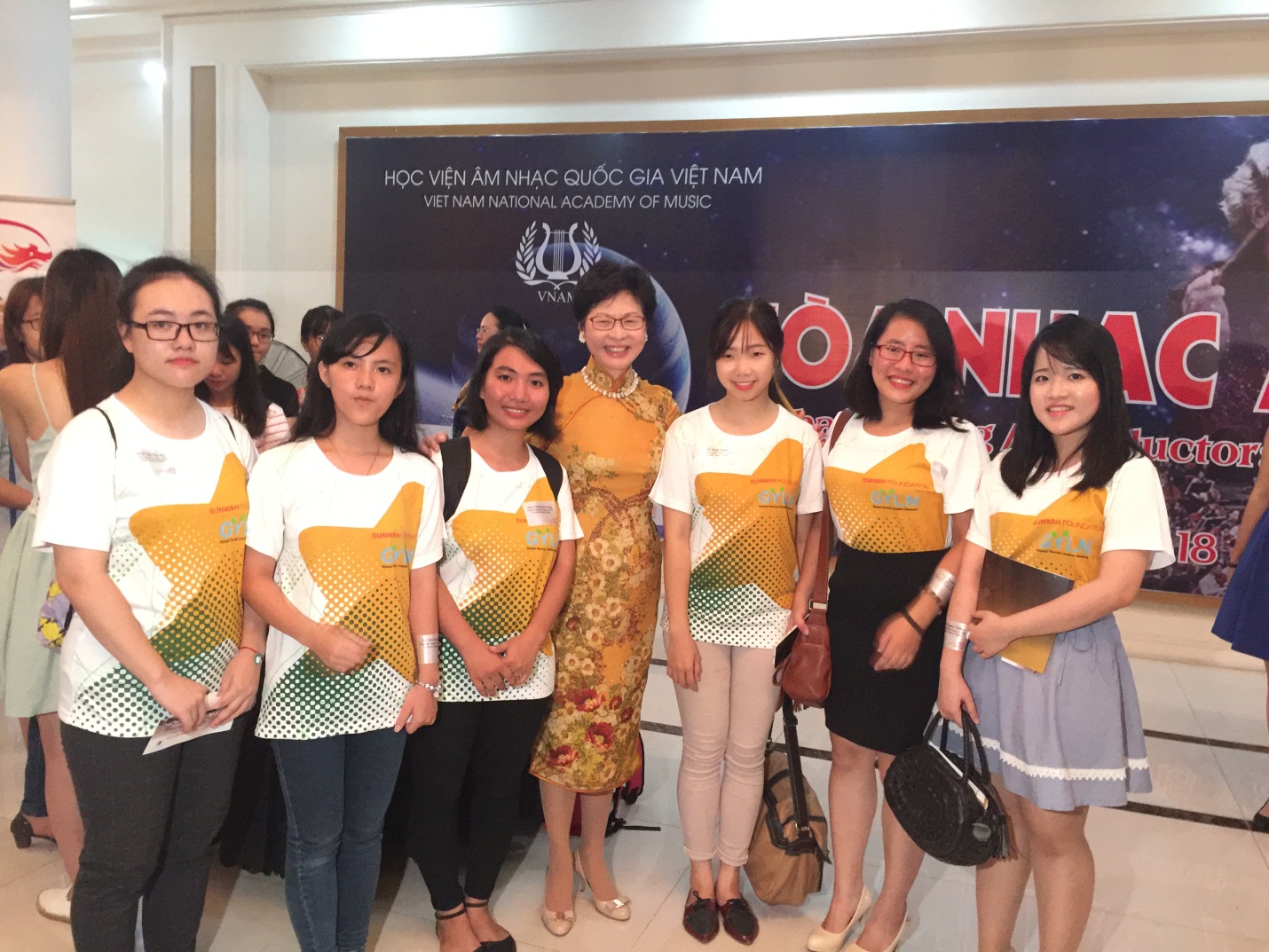 Mrs Carrie Lam met with Sunwah GYLN Hanoi members before the Concert
After the meeting, we moved to the Grand Hall where the concert took place. The concert's conductor – James Judd greeted the audience and they started with Symphony No.8 by Dvorak and Symphony No.6, Pathétique by Tchaikovsky. It was not the first time I went to a classical music concert but I still regarded it as a surprising fortune to be there. The audience gradually fell into the rhythm played by the youth from Hong Kong, China, Taiwan, Macau, Japan, Korea, Indonesia and Vietnam.
After the performance, the conductor and the orchestra introduced themselves, which was the most interesting part of the night to me. Mr. Judd asked the only one member from Vietnam to stand up beside him as a translator to help him introduce other members.
The concert was over, everybody headed to the gate. I asked some Sunwah GYLN members to stay behind as I would like them to have a talk with the AYO member from Vietnam – Do Ngoc Thao My, whom I know personally. It was a long time since I last saw her, she had really grown up!
I think, apart from organizing events on our own, we also need to attend the events professionally organized by others to learn from them and help ours to be more successful. The Asian Youth Orchestra Tour 2016 is one of the lessons like that and we want to thank Sunwah Foundation for this precious opportunity.