As the winner of GYLN 50 Student Environmental Ambassadors in Vietnam 2020, GYLN Ho Chi Minh City Chapter members, who founded I CAN project, had an exceptional study trip to improve our knowledge in environmental studies and sustainability in Alberta, Canada, organized by Sunwah Foundation and the Jonathan KS Choi Cultural Centre of Canada, the University of Alberta from September 25 to October 1, 2022. The study trip not only provided theoretical knowledge about sustainability but also gave us a chance to observe and practice our understanding in the local context.
The study trip began with the lecture of Prof. John Acorn on Nature Park Conservation with the attendance of Mr. Jackson Choi – Director of Sunwah Group; Ms. Betty Chan – Director of International Relations of Sunwah Group; Prof. Ngo Phuong Lan – President of the University of Social Sciences and Humanity, Vietnam National University Ho Chi Minh City; Dr. Truong Ngoc Kiem, Vice Director of Development and Cooperation Department, Vietnam National University, Hanoi; Ms. Phan Tuong Yen – Vice-Chairlady of GYLN Ho Chi Minh City Chapter; representatives of the University of Alberta and I CAN Project team members includes Le Thi Xuan Mai, Doan Thi Linh Chi and Vu Duc Huy. With his experience in Agricultural, Life, and Environmental Sciences, Prof. Acorn presented an overall picture of the conservative action of Canada National Park in the whole nation and Alberta in particular. From the history of national parks worldwide, Prof. Acorn introduced the establishment of Canada's national park and how it impacted the infrastructure development in surrounding areas, such as the railway system, the Banff Spring Hotel, and the whole town later. We also discussed the invisibility of indigenous people in the territories and how they came back with the change of governmental policy. The relationship between the authority and the indigenous community is our interest as the target beneficiary of our environmental education project is the ethnic minority groups in the Central Highlands of Vietnam. Another highlight of the lecture is the impact of infrastructure on wildlife. The Canadian government has several effective innovations to encourage biodiversity preservation, but they also struggle with bad consequences from touristy buildings and have to find an alternative to reduce the negative impact on nature. Hence, the team has a multi-dimensional perspective on environmental conservation programs in Alberta and Canada in general.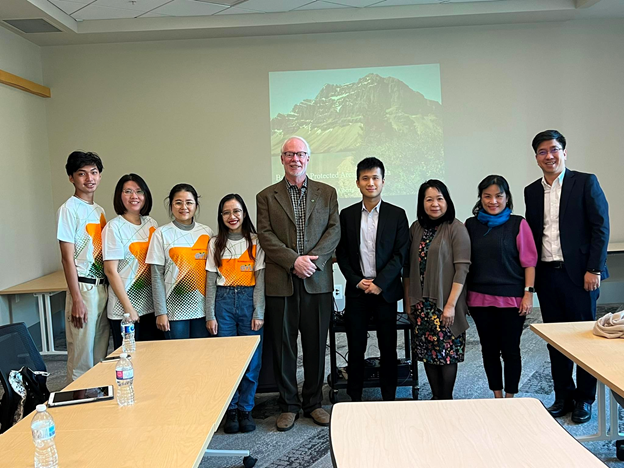 In the afternoon, the Energy & Climate Action (E&CA) team gives us a green building tour to learn how institutions as an enabling factor for environmental protection. In 2021, The University of Alberta was one of Canada's top 100 greenest employers; this is the 13th straight year the university got this record. Sustainability is one of the main pillars of the University of Alberta, and they have implemented multiple innovative programs to reduce waste and utilize green energy for buildings. The Centennial Centre for Interdisciplinary Science (CCIS) is a vibrant example of the University of Alberta's commitment to operating green buildings on its campus. The facility received a LEED certificate for improving efficiency, lowering carbon emissions, and creating healthier places for people. During the tour, we observed the lighting and electricity efficiency system, the building floor made from mining waste products, the solar panel system, and the garbage disposal system to understand how the building costs less energy for daily use.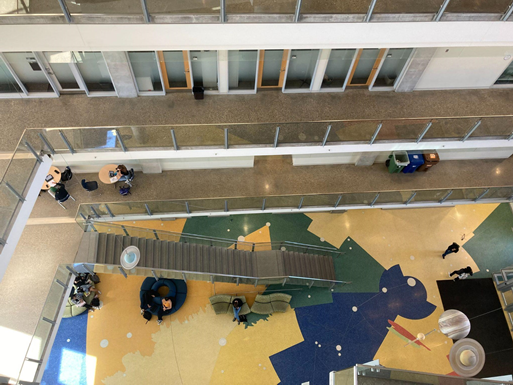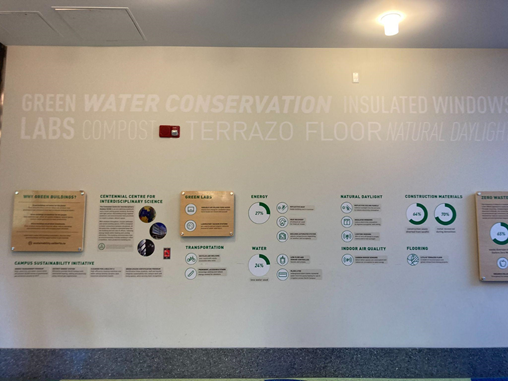 The last section is Prof. Jasmine Farahbakhsh's presentation on the Sustainability Council and Sustainability at the University of Alberta. The council is operated as an academic leadership to integrate sustainability into academia and campus life and foster the active citizenship role of faculty and students. In the academic curriculum, the council offers sustainability studies and provides the Certificate in Sustainability to encourage students to study across disciplines to understand human and environmental issues in today's world. Till now, more than 200 students have gotten the Certificate in Sustainability, and there are 891 faculty involved in this academic initiative to offer around 300 courses integrating sustainability at undergraduate and graduate levels. They also provide sustainability and sustainable development courses across all faculties, such as Introduction to Sustainability and Global Sustainable Development. They also implement Experiential and Work-integrated learning by funding Sustainability Scholars to work with Edmonton-area corporate, institutional, and government partners for six months. After completing the program, graduates have a substantial shift to pursue their careers in sustainability-related fields. The internship and volunteer program for Student Council are executed, and some of them become staff for the Council after graduation. The Sustainability Council also provides research funding, leaders' awards, and an academic network for staff to foster communication and collaboration in academia toward sustainability.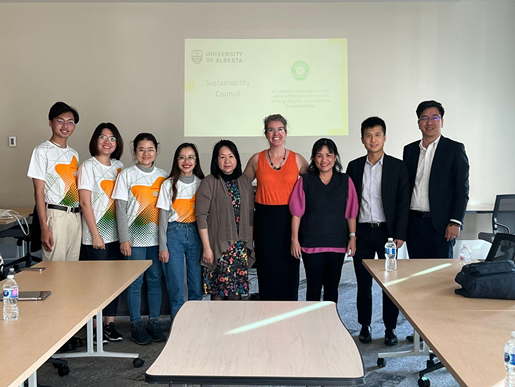 On the second day, the team joined a Hybrid Meeting entitled "Environmental Innovation & Green Technology" organized by Sunwah Foundation and Jonathan KS Choi Cultural Center. Prof. Ngo Phuong Lan gave an opening remark emphasizing the importance of sustainability and the necessity of raising awareness of environmental issues in the community and fostering innovative technology to solve these problems. She also shared her vision to change VNU's University of Social Sciences and Humanity in Ho Chi Minh City to become a green university in Vietnam. The meeting had six presentations from distinguished professors from the University of Alberta, The Hong Kong University of Science and Technology (HKUST), and Fudan University in China. Dr. Scott Chang from the Department of Renewable Resources, Faculty of Agricultural, Life & Environmental Sciences, presented his finding on developing biochars for climate change mitigation and environmental remediation of contaminated soil and water. His colleague, Dr. Miles Dyck, focused on sustainable agriculture and researched the soil carbon and nitrogen balance on improving soil health and crop productivity in long-term rotations at the Breton Plots. Prof. Guillermo Hernandez Ramirez conducted research on greenhouse gas and their sources in agriculture to mitigate them in long-term agroecology. Dr. Lexuan Zhong shifted to a new topic, infrastructure, and green technology, with her presentation on green and healthy built environments. Prof. Hong K. Lo followed up on the topic with his presentation on HKUST's sustainable, innovative campus. The presentation showed HKUST's effort in building a green and technology-enabled campus to mitigate harmful effects on the environment. Finally, Prof. Wang Zimeng introduced the Applied Geochemistry journal and several topics that the journal focuses on. The meeting is an excellent opportunity for I CAN project to present our actions and results in providing a biodiversity education program in Mang Den, Kon Tum province, Vietnam, with middle high school students.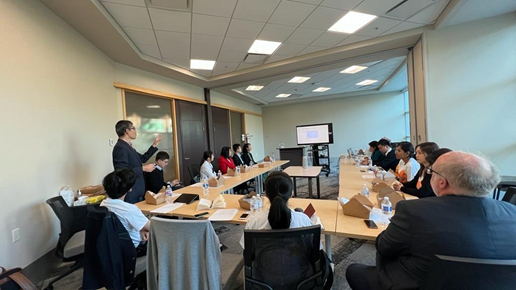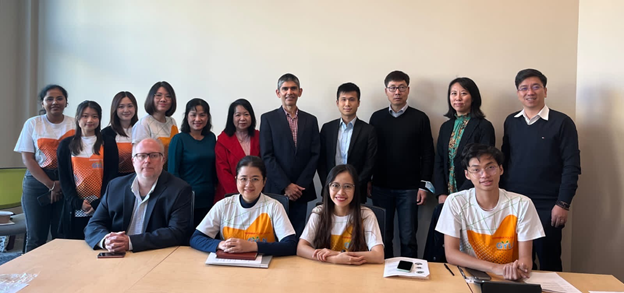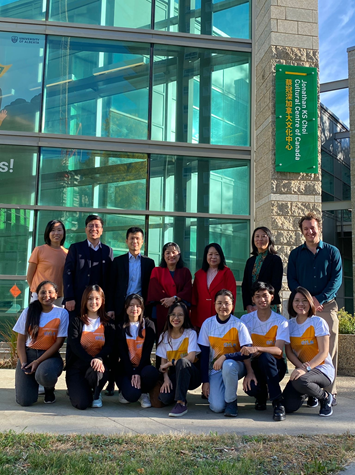 In the afternoon, the team went to Elk Island Park with staff from Canada Park to listen to their history of conserving the bison in North America. The park is named after the Elk to honor the discovery of this native animal. However, this park is better known for its care and conservation activities for the bison, which were almost extinct in the 20th century. Currently, more than 800 bison are cared for and taken care of in various conservation areas across Canada, including the Banff National Park, which we had the opportunity to visit afterward. The guide also introduced us to the area for care, medical examination, and bison grazing. We learn about the herd structure, behavior, and habits of bison. Fortunately, we witnessed a herd of female bison resting in the meadow.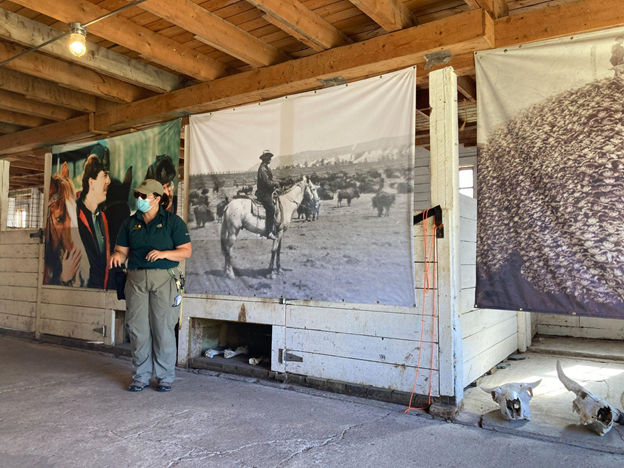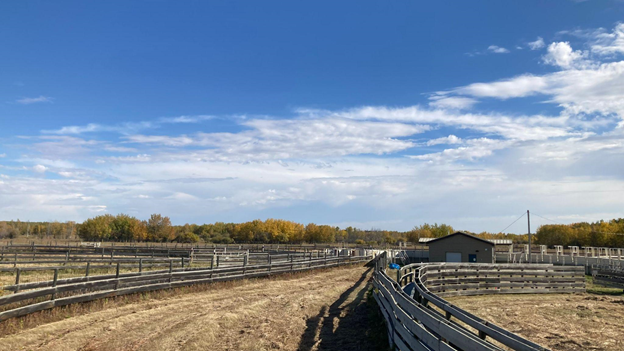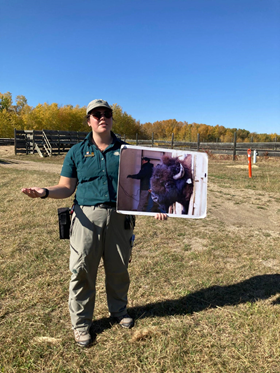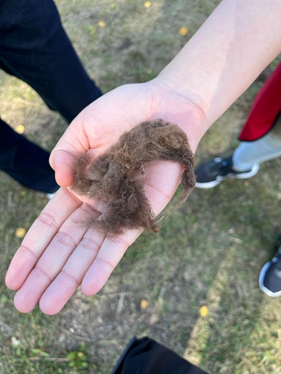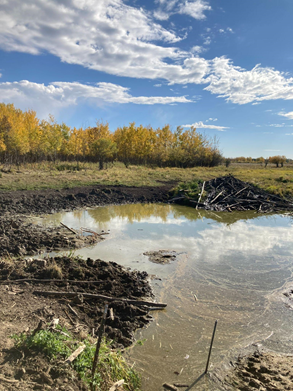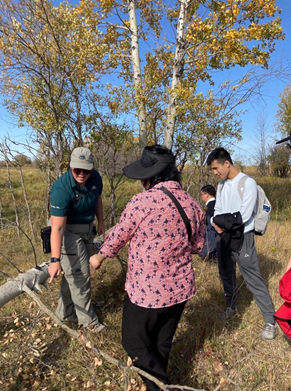 From the 4th day until the end of the trip, we moved to Banff National Park, which is Canada's first national park, established in 1885, and had a chance to explore the impressive natural beauty of Banff.
It was an honor for us to have a nature walk and talk with Mr. Harvey Locke, who is well-known as the global leader in the fields of parks, wilderness, wildlife, and large landscape conservation. Throughout the trip, he introduced us to the diversity of Banff National Park, including wildlife, animals, and plants, as well as how Canadians interact with nature in this park. One of the most interesting parts was how the river works through the seasons of the year at the Bow River. We could see the river at one certain place with the water flow. However, the water also flows strongly under the land surface. In the springtime, the snow is melted and provides a huge amount of water into the river to expand its flow and might cause a flood.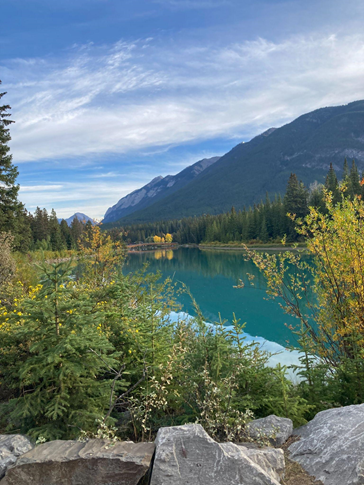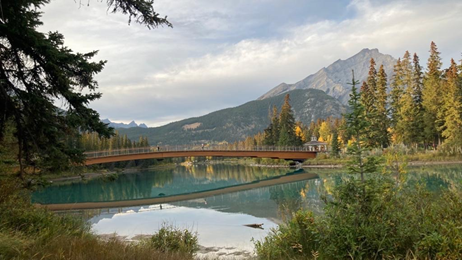 In addition, we also visited the Banff Park Museum, Western Canada's oldest natural history museum. It allowed us to peruse a lot of historic items, including stuffed animals, minerals, and plants. We believed that visiting this museum was a fantastic way to get to know Banff animals up close and to learn about how natural history was seen a century ago.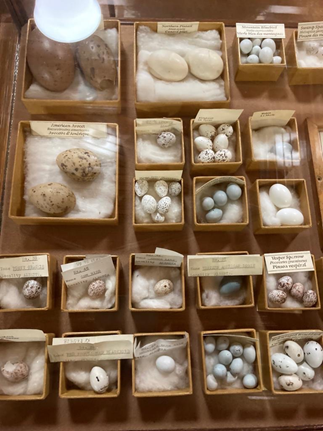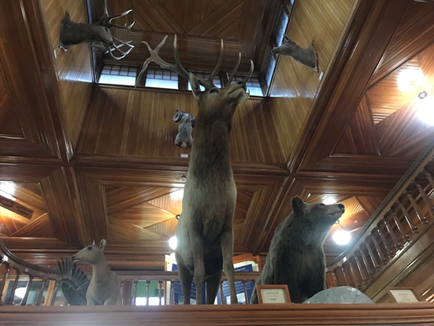 Besides, Barb Johnston, a wildlife ecologist in Parks Canada, gave us a unique lecture about protecting Banff National Park. We were astounded to learn of the challenges facing conservationists in Banff, including wildlife movement, aquatic restoration, climate change, and fire management – rekindling the flame. In Banff, man-made wildlife underpasses and overpasses have been constructed along a key transportation corridor to reduce the negative effects of wildlife crossing the road on people and to prevent them from being hit by cars.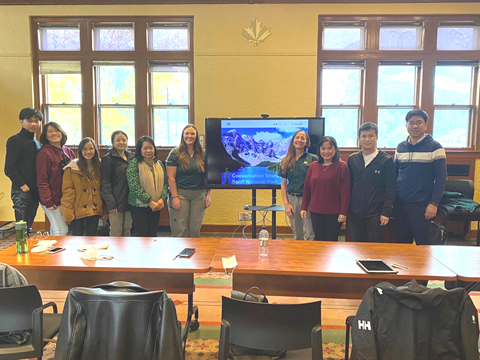 In addition, the Columbia Icefield – the largest ice field in North America's Rocky Mountains – was also a wonderful landscape in that we had a chance to step into it. Besides the beauty of nature at this icefield, we saw the landmark displaying an area of ice year after year, and this indicates that the ice in the Columbia icefield has melted due to climate change.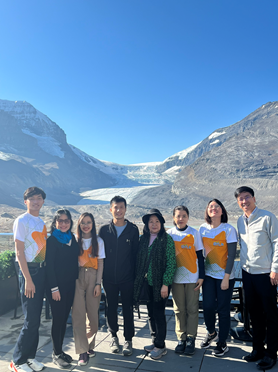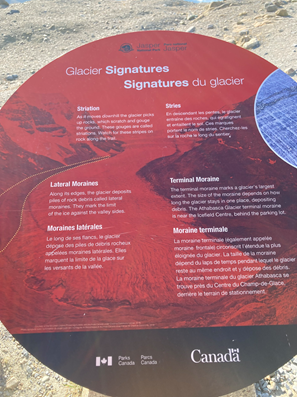 Also belonging to Banff, Lake Louise has a long history of being one of the most breathtaking mountain destinations in the world. We quickly learned about the local fauna and how we could contribute to their protection. Even though this location receives a lot of tourists, they did a great job managing the terrain and protecting the species.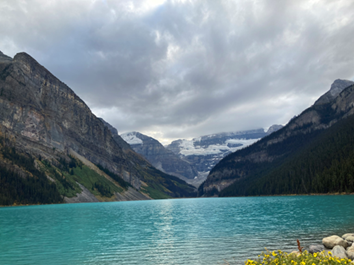 Last but not least, one essential part of the study trip was our opportunity to connect with other GYLN from the chapter of Peter Lougheed Leadership College, University of Alberta. We joined the hybrid meeting together and later had a cozy dinner where we got to know more about each other.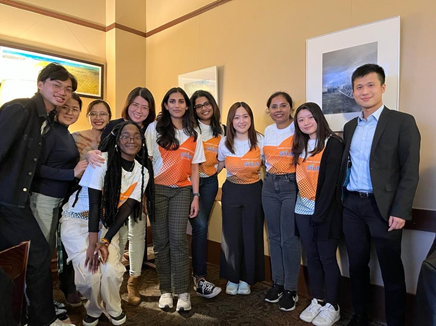 We have different backgrounds in culture and also education nevertheless we do share mutual care for fostering a better world through our leadership competence and the power of the leadership network. During the dinner, we likewise talked about culture, academic learning and our career path to name but a few.
It was also a reunion occasion for members who took part in the "Macau Sunwah GYLN International Summit 2019". Chi from GYLN HCMC Chapter, Christy and Candice from GYLN PLLC (University of Alberta) Chapter, were extremely happy to see each other again with madam Betty Chan. Though the three-year period is such a long time, we still hold a strong connection with each other and miss the trip to Macau very much. We saw ourselves have been going a long way in our development as a GYLN member.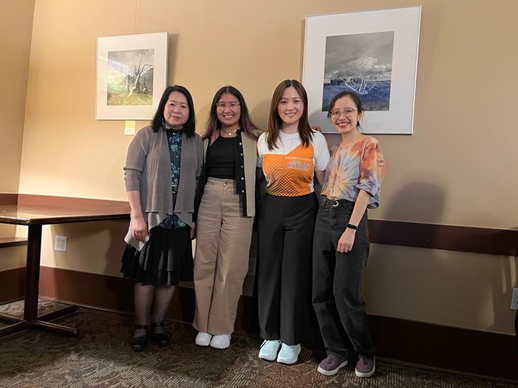 The study trip ended with myriad lessons learned, connections established and promising steps towards optimizing the team's project in the near future. "It's a chance of a lifetime" – said GYLN HCMC Chapter members.
Reported by GYLN HCMC Chapter I CAN Project Team | October 27, 2022