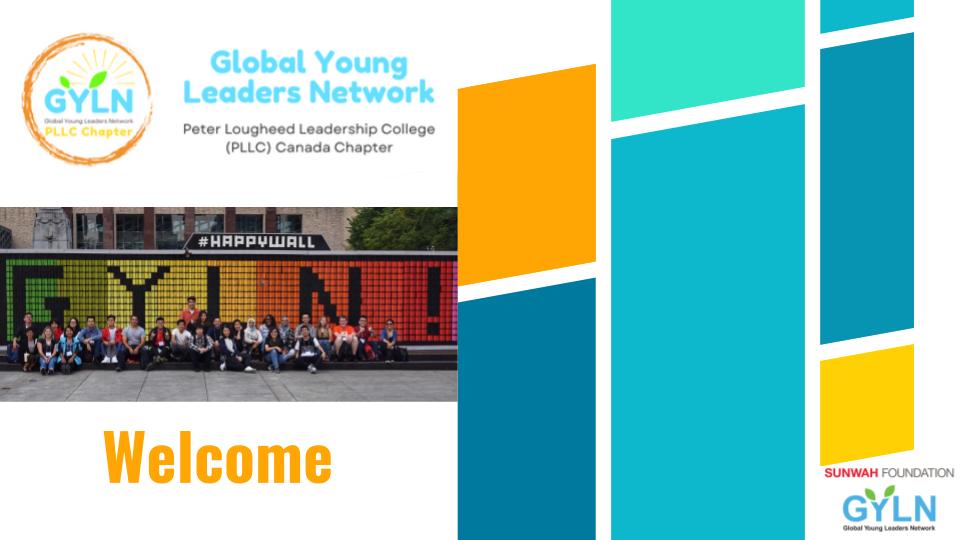 Hello fellow GYLN members from around the world! We are the GYLN Peter Lougheed Leadership College (PLLC) chapter located in Edmonton, Canada and we are here to bring you a recap of our latest internal team bonding events and to tell you the story of how we went started from a humble team of 5 to now, a multifaceted team of 25!
Onset of COVID-19, Dwindling Down in Numbers, and Reorganization 2020 was not an easy year for anyone, and it was no exception for GYLN PLLC. Shortly after our members, Christy, Reshma, and Candice came back from their fantastic experience at the GYLN Macau Summit at the end of 2019, the pandemic hit. Many of our old members were deeply affected and some had to step away from the team to refocus their goals in life. For next year, our chapter reoriented our priorities as a team of 5 members working virtually in the midst of the pandemic. During this time, our small team learned to be more effective by becoming a Jack of all trades – from project planning to research, marketing to outreach – everyone did a bit of everything. Resultingly, each of the members were able to tap into their greatest strengths, teach each other, and as a whole, we became more well-rounded. While it was a challenge to navigate a virtual team during the pandemic, our team seized the challenges as an opportunity to give back to the local community.
In the Christmas of 2020 and throughout the New Year of 2021, our chapter launched the "Turning the Spotlight to Local Businesses and Non-Profits" project in Edmonton. Our project promoted local businesses and featured non-profits who struggled during the unprecedented times, in accordance with the City of Edmonton's recommendations on supporting the community during COVID-19. Our goal was to raise awareness on the importance of shopping local to help small businesses cope through this hardship and to recognize the tireless efforts of unsung heroes in non-profits who are working especially hard to support vulnerable populations.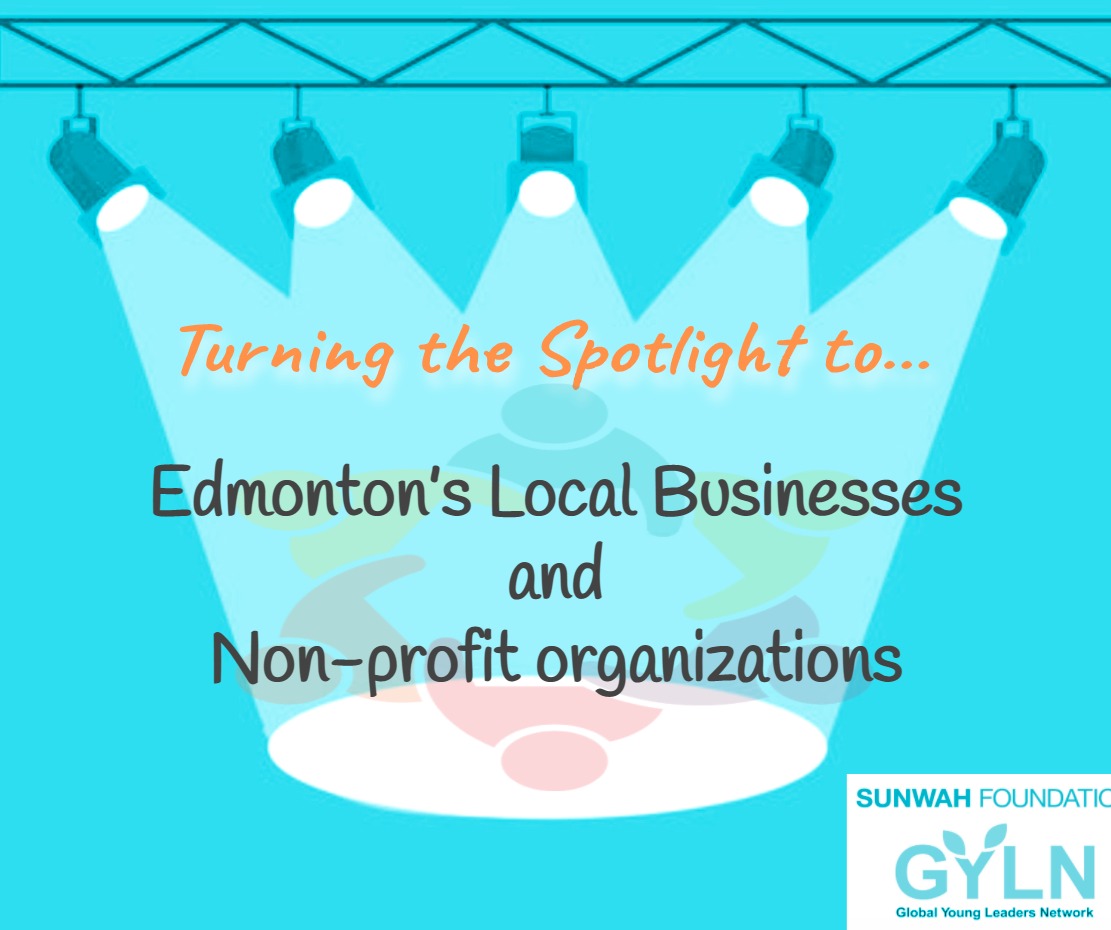 Recruitment (August-September 2021, February 2022) and Full Team Onboarding (October 23, 2021, Zoom)
With the success of our projects in 2021, our small team of 5 was able to build a strong foundation and raise awareness on the GYLN PLLC brand in the community. With more collaborations and project opportunities in line for the future, we wanted to realize our team's potential by recruiting more talent, ideas, and passionate youth members to join us on our leadership journey. To get a headstart on the 2021-22 school year, the GYLN PLLC Chapter did its largest onboarding to date since its establishment in August 2018. Our chapter welcomed fifteen passionate and eager members into our External, Internal, Marketing, and Project teams, as well as some new general members.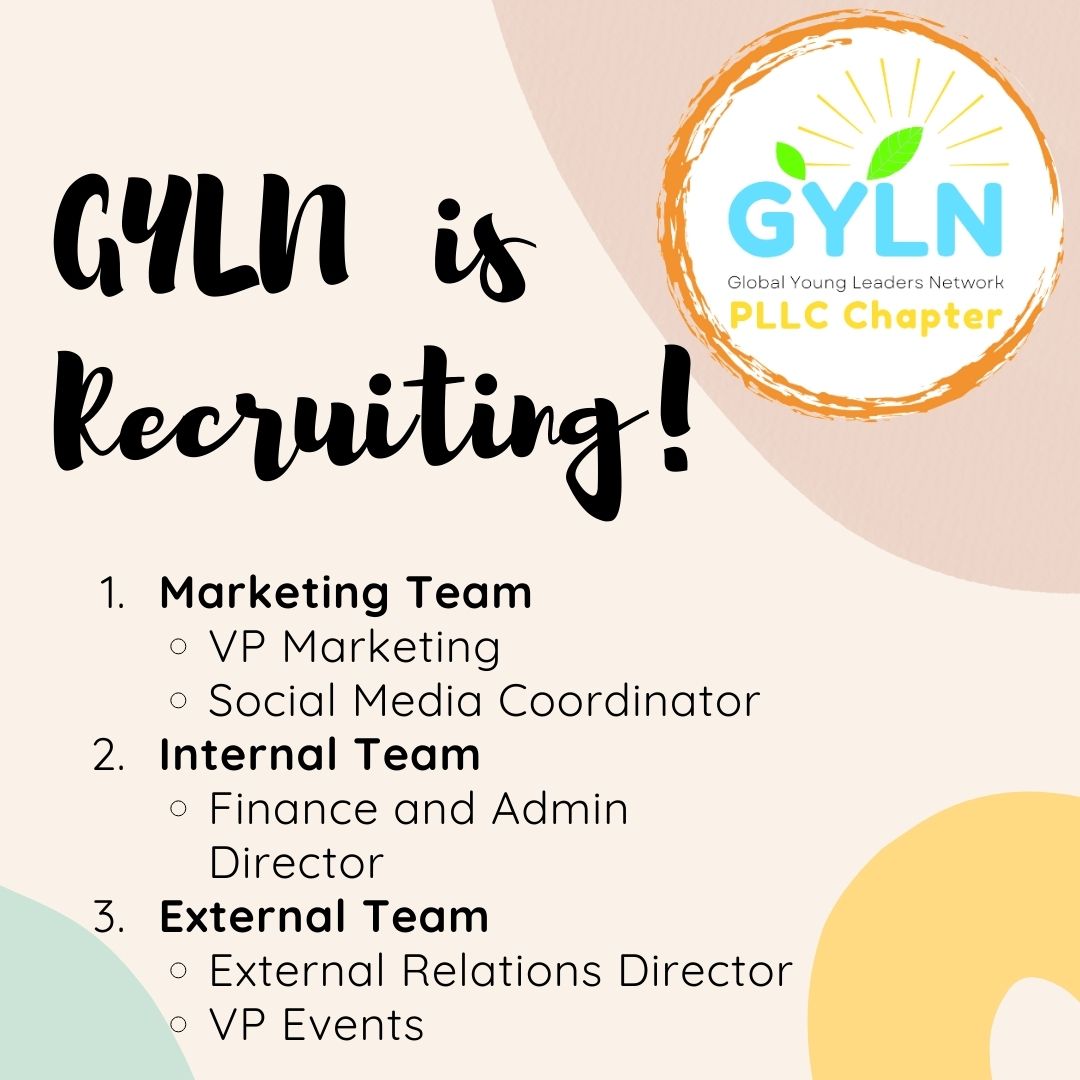 New GYLN members were invited to an onboarding event where they got the chance to familiarize with the SUNWAH Foundation and the GYLN, network with existing/other new members, identify their self-development goals, settle into their position, and forecast their contributions to the team. In February 2022, our chapter recruited six more members to complete our team.
During one of our full team meetings shortly after our onboarding, the GYLN PLLC Canada Chapter collaborated to come up with our GYLN PLLC Team Charter. This team charter served as a useful tool for us to set boundaries and collective goals as a team, while also laying the grounds for how we wanted to measure our success and hold each other accountable. A particularly meaningful activity we did was creating the word cloud below, which is a collage of the team values we each valued the most. The bigger the word in the word cloud, the more important that value was to our members. As a team, our most defining values were: Communication, Respect, Diversity, and Teamwork!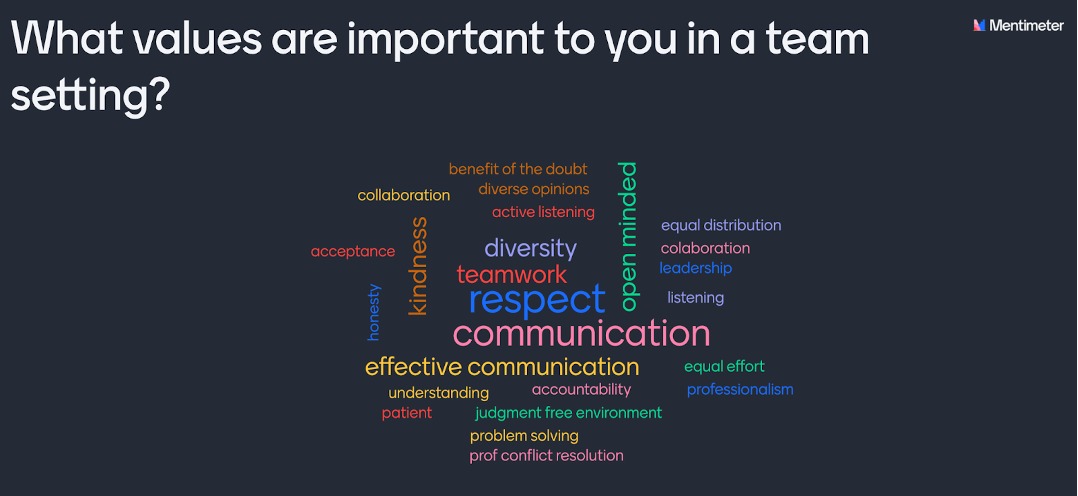 Winter Gala (December 2021, Discord)
In order to strengthen the connection between the team members and uplift team morale, the Internal Team has planned a holiday-themed team bonding event: The Winter Gala! All GYLN PLLC members are invited to the event where they will get the chance to network with existing/other new members, enjoy fun games, and win amazing prizes in the spirit of TEAMWORK and HOLIDAYS for the first time!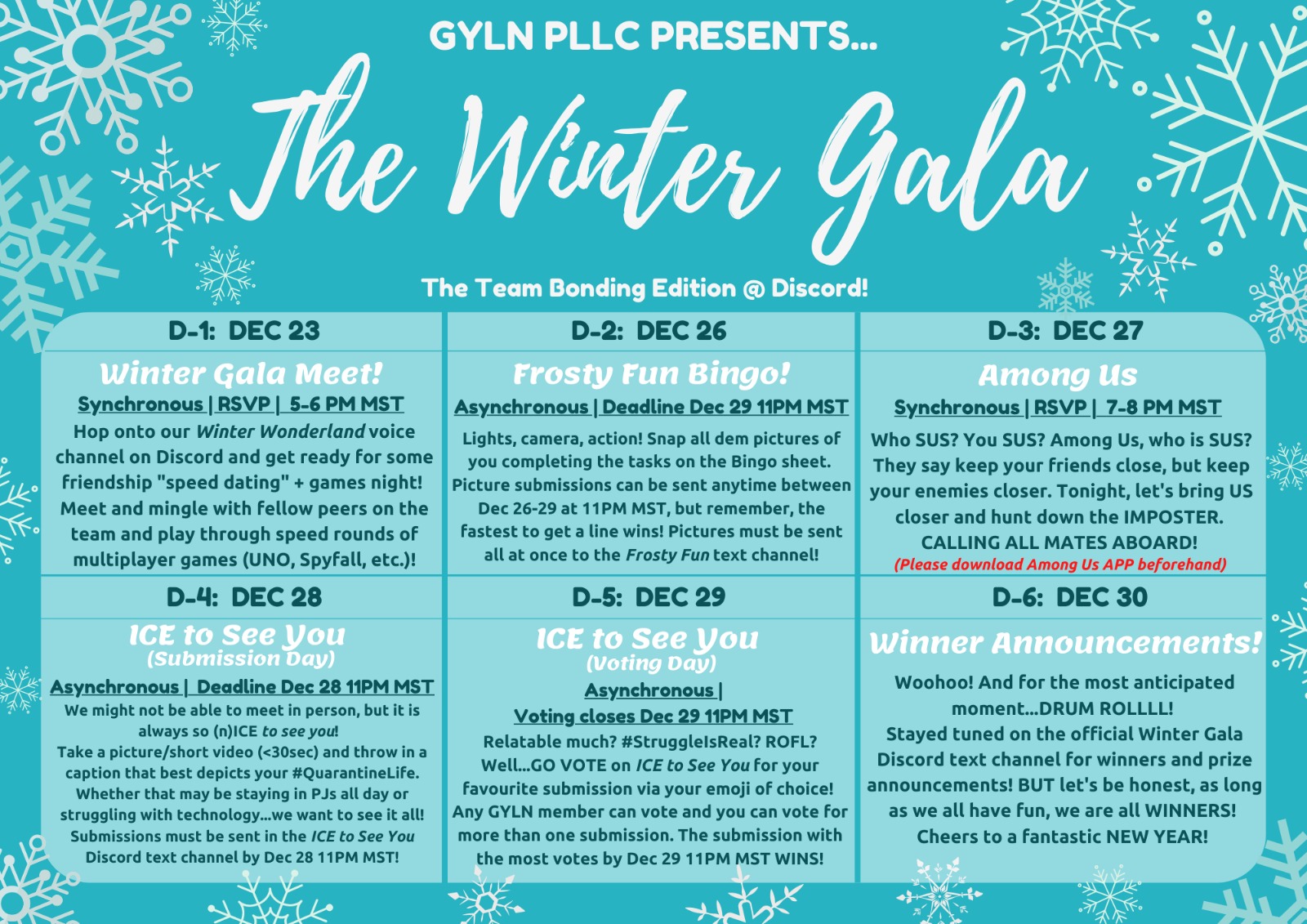 The Winter Gala consisted of both synchronous and asynchronous virtual activities, including: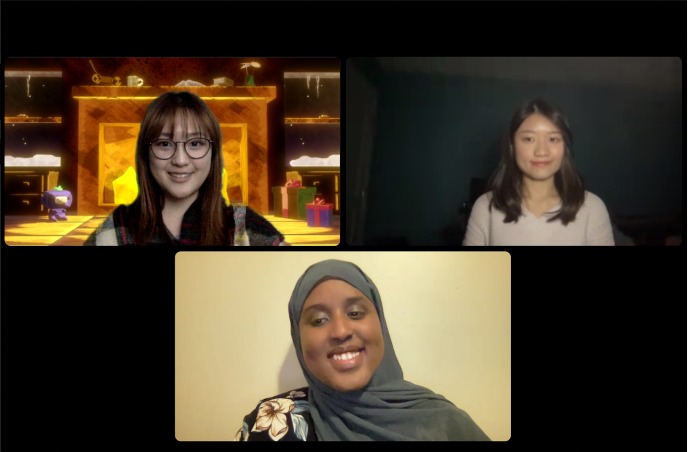 Winter Gala Meet, Frosty Fun Bingo, Among Us, and ICE to See You. The members had a great time getting cozy together with heartwarming conversations and exciting games. Kowthar (project lead), Wenhui (general member), Radha (co-chair and vice president external), and Natalie (internal relations director) were winners of a $20 local business gift card for Winter Gala!
ID-yourself (January-February 2022, Discord)
From January to February 2022, our Internal Team organized a sequel of the December Winter Gala! We brainstormed questions for team members to answer on a new Discord channel that would allow other members to get to know and understand each other. Then, our VP Internal cum Co-Chair, along with our Finance and Admin Director, created fabulous ID cards for each member of our chapter. Every member then posted their individualized ID card into the channel and answered the question: "what is the best thing you did this week?" with some pictures to go along with their answers. This not only allowed us to put faces to a name, but we also got to live vicariously through each member even if it was merely a week.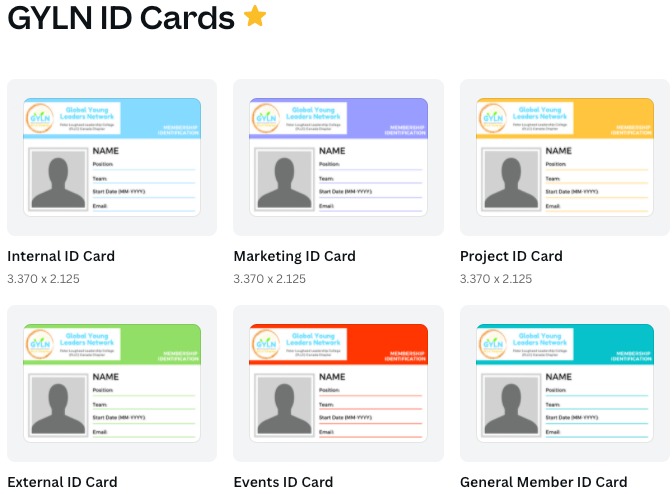 Here is a sneak peek of some of the members' ID Cards!
Newsletter – The Monthly Tea:

Due to such the big team size and the COVID-19 Pandemic, it has been difficult for all of the members to meet and get to know each other on a personal level! So Natalie, an Internal Relations Director, had an
idea of creating a centralized announcement platform for all GYLN PLLC members. Through collaboration with the internal team, we created this centralized update newsletter – Monthly Tea – as a way to keep members in the loop!
The newsletter includes team updates, superstar member features, form intakes, and special days of the month. Feel free to check out our Monthly Tea newsletter of the year by clicking the links below:
● Our very first Monthly Tea in February: https://mailchi.mp/7b1ec982c79d/gyln-monthly-tea?e=e4034431ff
● March https://mailchi.mp/f144f0816b12/gyln-monthly-tea
● April https://mailchi.mp/e475c60146b0/gyln-monthly-tea-9000561
● Ocotber https://mailchi.mp/1aa7f86389e5/gyln-monthly-tea-2022?e=%5BUNIQID
Spring Re-Leaf
Spring is here in May!
All GYLN PLLC members were invited to attend both in-person and virtual team bonding events to increase team morale, inter-portfolio connections
and comfortability, and sense of belonging. With the increased motivation and rapport from this bonding event, members will be encouraged to
strive towards optimal completion of their projects, as well as continually improve their leadership skills. This event will also serve as a celebration for the success of the Event Team's "Mind and Money Workshop" and the official launch of the Project Team's series: "Journey into Canada: A Guide to Navigating University for International Students." among other milestones achieved.
We first went to the local Gateway Bowling during the Glow Bowling special event. The GYLN PLLC team really built the bowling muscles in the night. Through cheers, high fives, and strategy conversations, we had an enjoyable time at both lanes! After our bowling competition, we went on a quick 10 minute nature walk to local korean crusine restaurant Hanjan South. From eating delicious food, chilling after a bowling workout, to having deep conversation together, most of our members rated the overall experience a 5 our of 5 stars! Truly, nothing beats good company and good food!
The virtual event later that week went great as well and was the perfect opportunity for the team to reinforce our new found connections! The GYLN PLLC Internal Team had a wonderful time bonding through various multiplayer games.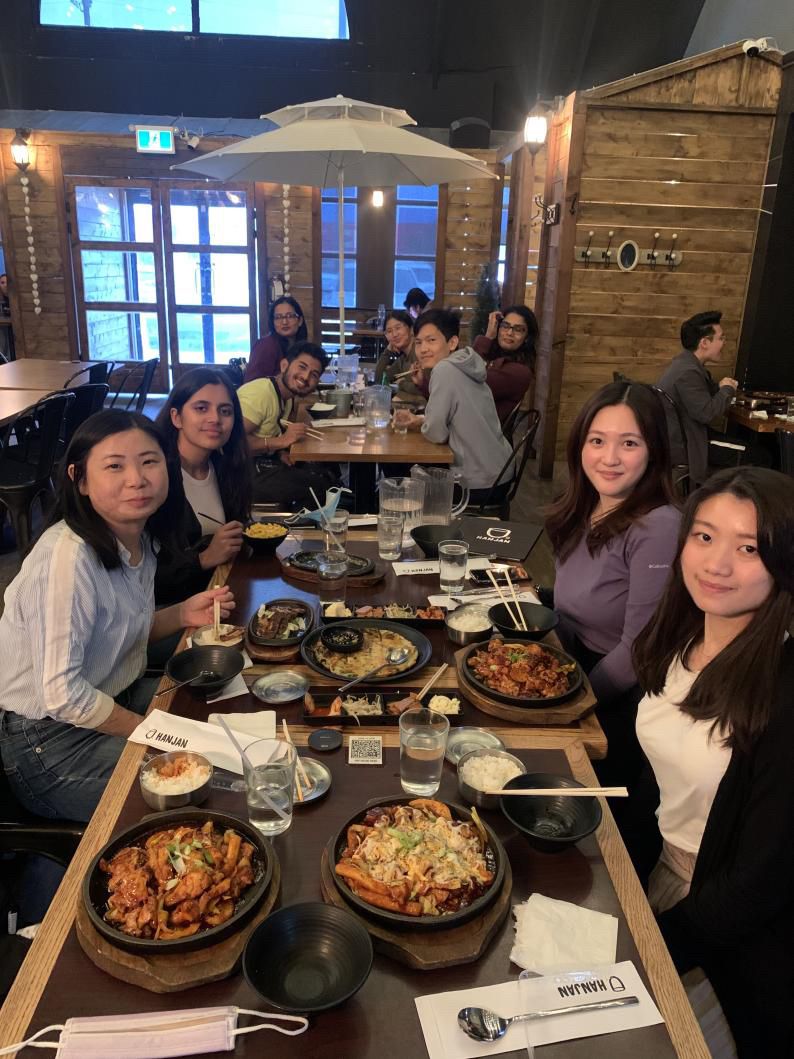 Fall 2022 Clubs Fair Tabling Fall, Recruitment on Campus!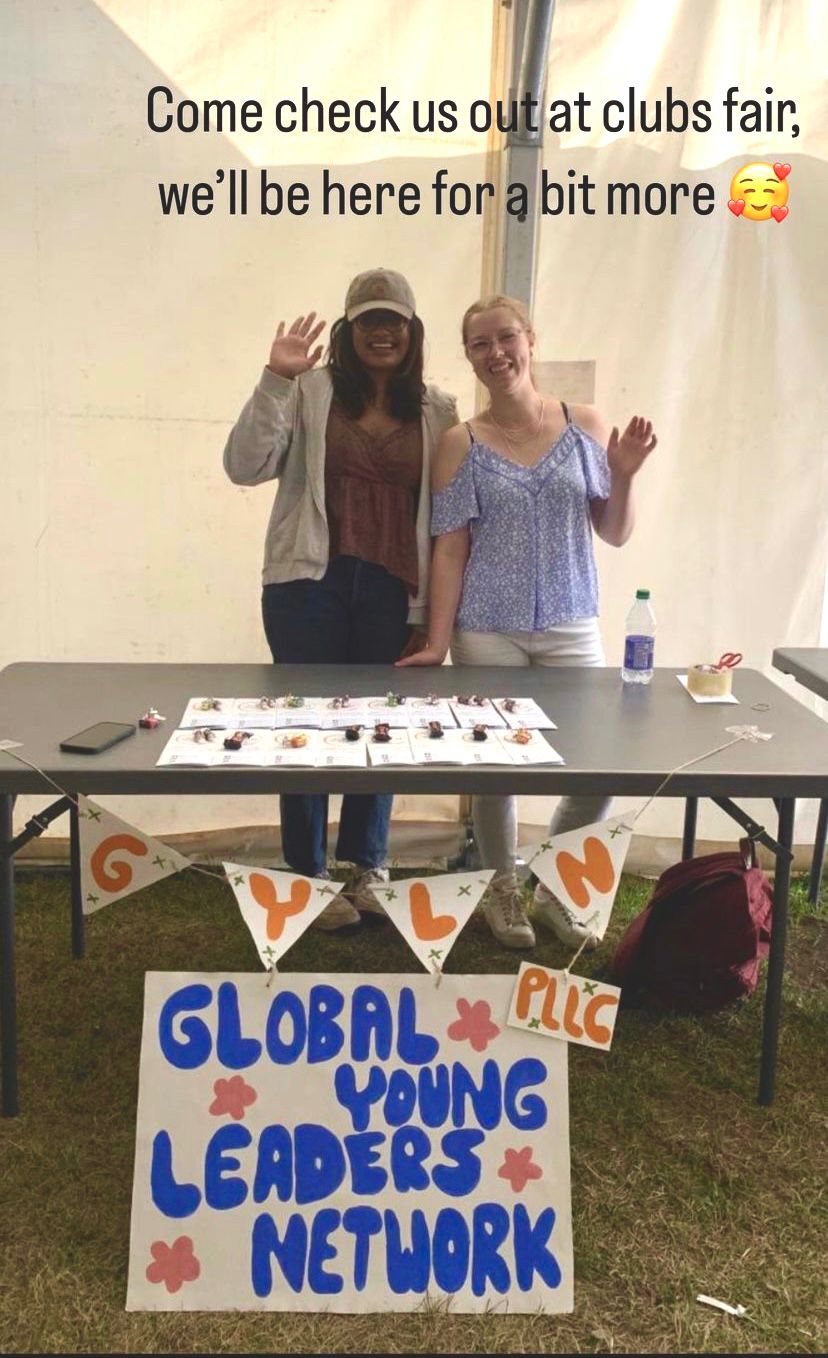 With the new semester starting at the University of Alberta, our chapter wanted to use this opportunity to recruit some new blood into our events & project team and encourage more innovative project ideas! In order to do this, we partnered with the university's Student Union to table on the first day of classes at the Week of Welcome. This was a major milestone as this semester marks the first time classes are back in-person since the onset of COVID-19. Our table at clubs fair this year was a huge success! Before the end of the day we had already given out all of our brochures to interested students. These brochures included a QR code to access the application form for Project Lead and VP Events, as well as a general volunteer application form! Sharen, Natasha, Vishwa, and Susana managed the booth and did an excellent job encouraging passerbyers to join GYLN. In the end, we were able to welcome 3 very talented students onto our team – Ofure, Priyanka, and Precious! Glad to have them onboard!
With our team now fully staffed (25 members), we are proud to present the launch of our Meet The Team page on our official GYLN PLLC website! Come check us out!
Words from Our Members
With our evergrowing team, sometimes we wonder, what motivates each one of us to be a part of this big family? And so…we embarked on a mission to interview some of our members to find out what there favourite part of being in GYLN was! Below are some of their responses!:
❖ My favourite part about joining GYLN is collaborating with and promoting our diverse GYLN PLLC member's leadership skills. Along with other members, it provided opportunities for me to share what I know about leadership and improve my leadership skills.
❖ My favourite part is being able to work with an amazing group of people! I get to create and execute projects and have fun at the same time. Best of both worlds!
❖ My favourite part about joining GYLN is meeting new people and having a creative outlet to make posts. I also really enjoy growing my leadership skills and learning how to effectively get tasks done well
Teaser into Future Events
In the future, we will try to cater to our members' preferences as much as possible. Some of the ideas we have gotten for future bonding events are laser tag, escape room, discovering new food places, hiking, watching movies or shows together, cooking classes or gaming sessions! As well, we plan on having a Professional Development event to aid members in strengthening their leadership skills.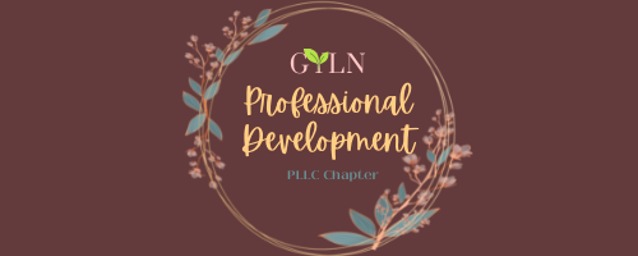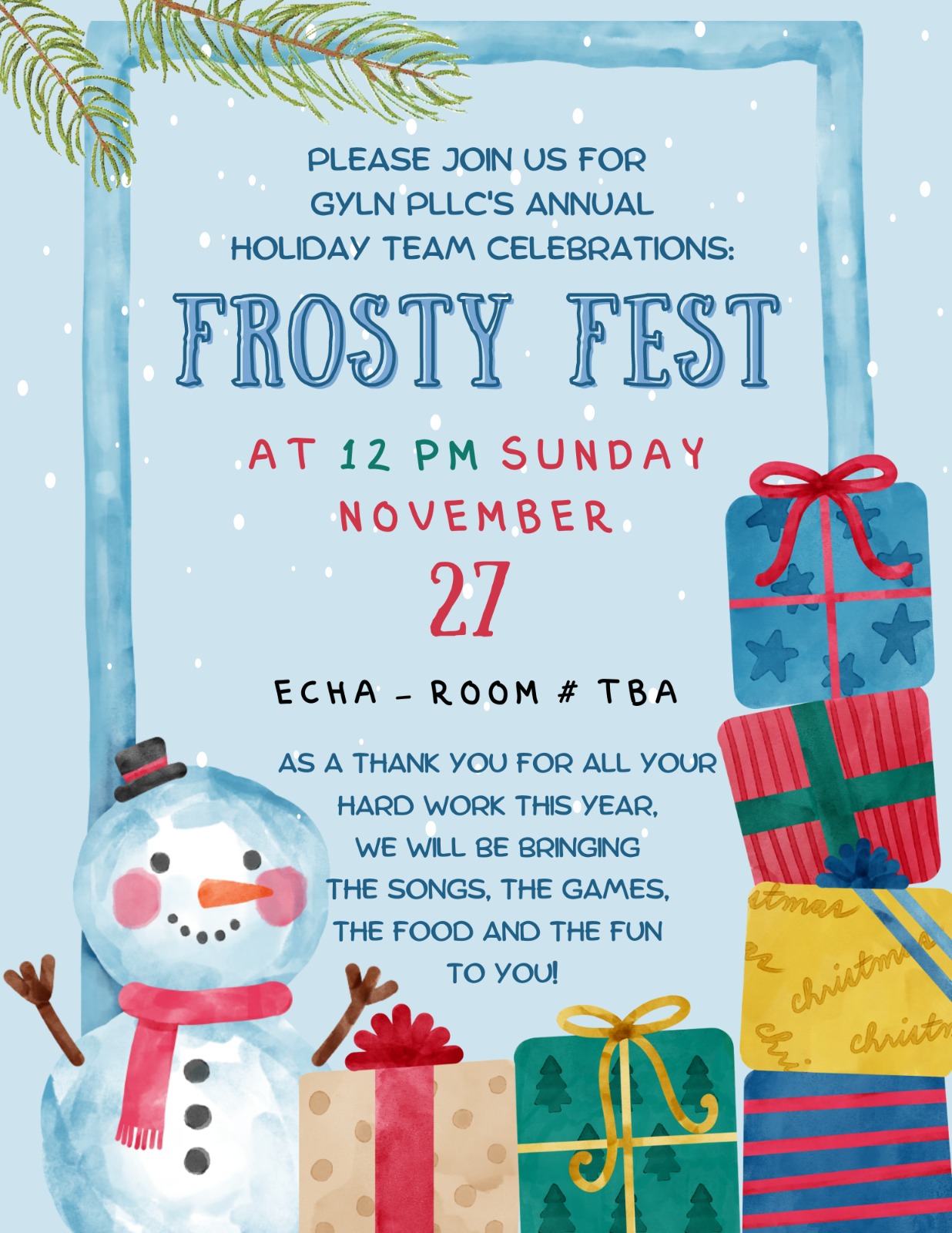 The Internal team looks forward to bringing more engaging event and valuable professional development sessions in the future! Maybe going to laser tags, escape rooms, discovering new food places, hiking, watching movies or shows together, cooking classes or gaming sessions! The endless opportunities await!
For now, we are excited to present our annual holiday team celebrations (Frosty Fest!) to thank our team members for all their hard work this past year! We can't wait to update you on how our event goes and share some jolly pictures! Take care everyone! 🙂

Reported by GYLN PLLC Canada Chapter | 18 Nov 2022