The Global Young Leaders Network (GYLN) at MSU kicked off the school year with an initiative to renovate a local park and teach children about leadership and community service. GYLN students dedicated significant service hours through the spring and summer toward planning the project, funded by the Sunwah Foundation.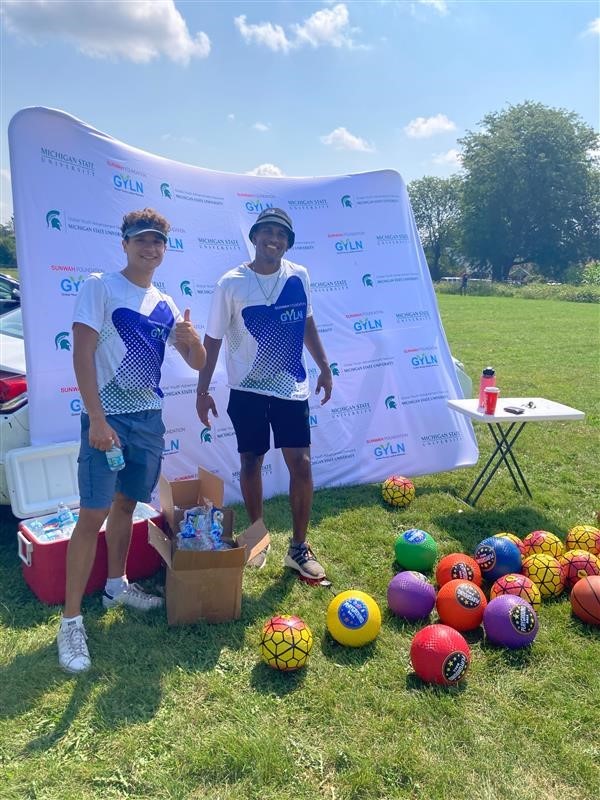 On August 21, GYLN invited members of the community to a three-hour event at Risdale Park to present their renovations to the community. Risdale Park was selected after consultation with the Lansing Refugee Development Center (RDC), in large part because of its proximity to a large population of refugee families that settled in the area. "We chose to do a local project centered on soccer because it is an international sport played all around the world, and we wanted something to bring people together no matter where they come from," said Peyton Naragon, student president of GYLN MSU chapter. The scope of activities quickly expanded beyond soccer to include basketball, jump rope, and other activities. Peyton also noted, "in a community, it's important to have spaces where people can gather and interact. How are you supposed to feel at home in your community, not to mention improve it, if you don't know it?"
Starting in the February, students collectively contributed approximately 130 hours to plan the event and coordinate logistics, which included weekly student-led sessions and meetings with the RDC, officials from the City of Lansing, and MSU advisors. They also volunteered more than 30 hours at the park to repaint lines on two basketball courts and a soccer field, hang new nets on the hoops and goal posts, and pack gift bags, among other tasks. Srijith Venkateshwaran and Isaiah Daik, both members of the chapter's executive board, also spent time in the community to get to know residents and spread the word. "We took 50-75 flyers to the neighborhood to hang up and pass out to people. It was fun to see people approach us to talk and learn what we were planning." Venkateshwaran added, "kids were asking us if they could have a flyer to take back to their apartment and share with their families. We were able to talk to some of their parents while we were there, which was great."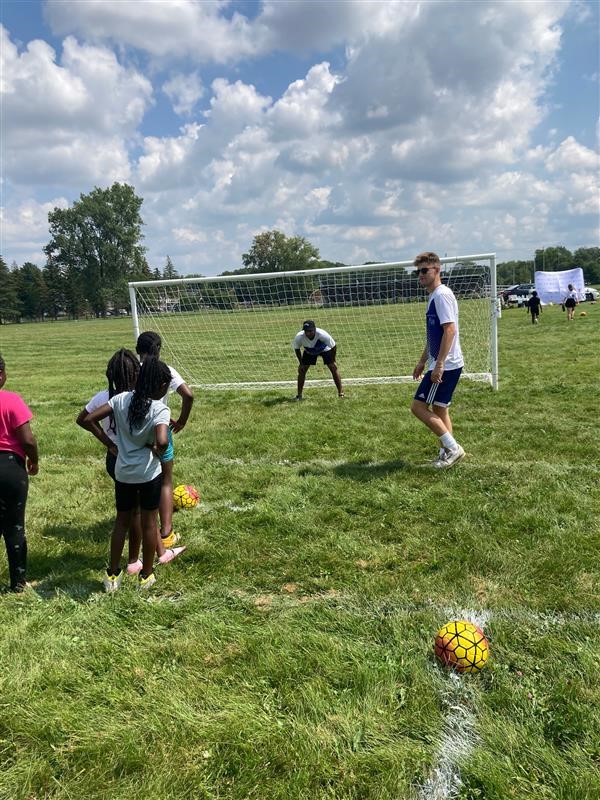 Many children from the neighborhood responded to the campaign and came by to enjoy basketball and soccer games at the renovated park. GYLN Vice President, Tomas Keck, took the opportunity to talk to the kids about taking leadership in their community. "One of the best ways to help kids learn leadership is to show them real-life opportunities and examples. We put the idea into practice by working together to clean the park. I started a timer to make it fun, and within minutes, the park went from looking bad to being clean. We talked about how, even though they weren't personally responsible for the trash, they can take initiative to help their community." Keck also shared some of his background having grown up in Lansing and attending the same schools that these young people currently attend. He hoped to inspire them and let them know that with commitment and leadership qualities, they can accomplish anything they set out to do. When asked who wanted to be a leader, every hand in the crowd shot up!
One of the best ways to help kids learn leadership is to show them real-life opportunities and examples
After three hours of outdoor activities and the leadership talk, all attendees received a meal and gift bag that included school supplies, snacks, and some fun items such as jump ropes. Everyone also entered into a raffle, and some kids took home prizes such as sports equipment and school supplies. A few lucky winners had earned extra raffle tickets for displaying leadership qualities during the event!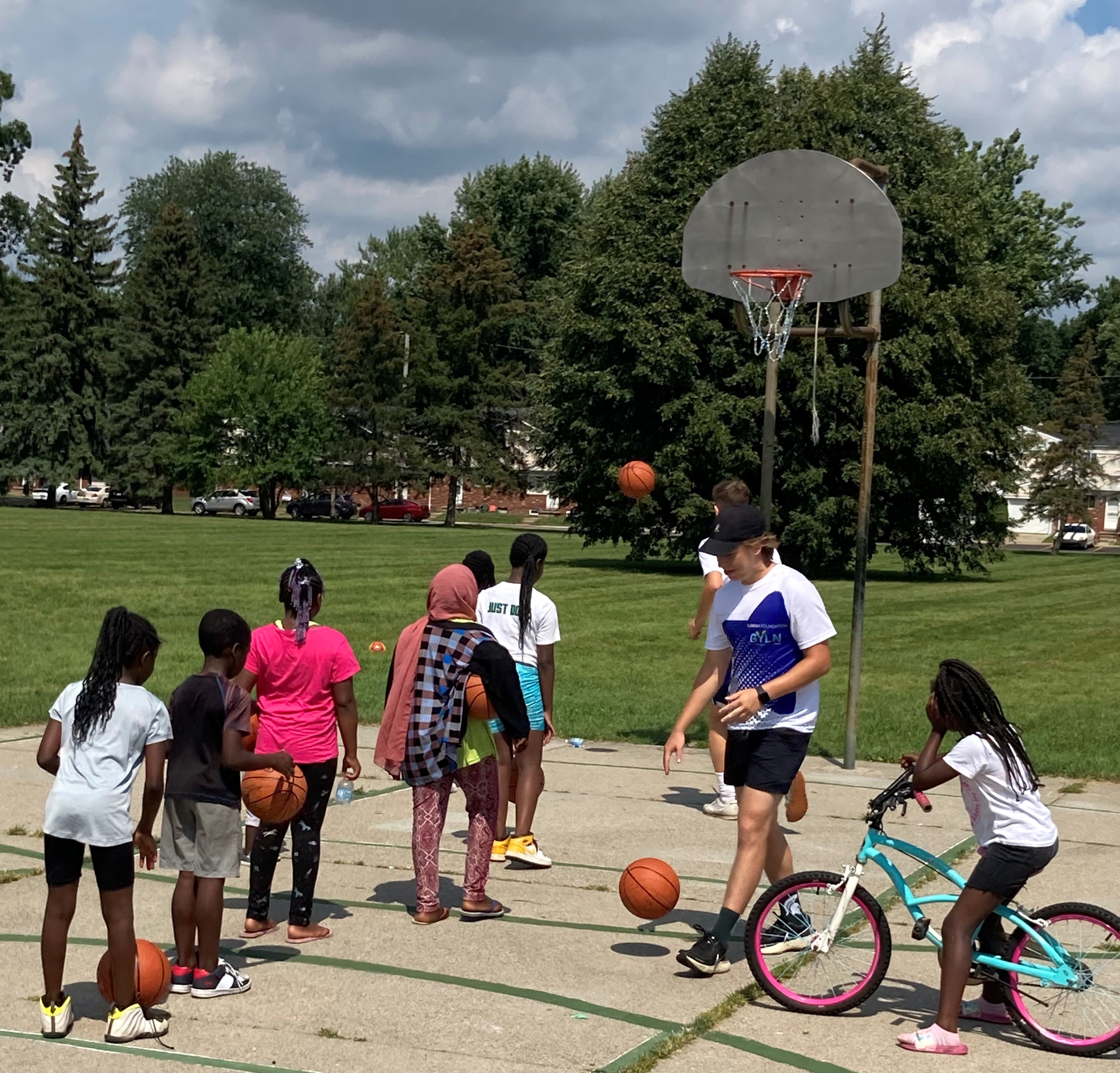 Even as the event started to wrap up, some unexpected benefits continued to roll in. Naragon noted, "One cool outcome was meeting a group at the park called 'Love the City'. They are similarly community focused and host block parties around Lansing to help neighborhoods unite. They noticed the work we were doing, and we talked with them and exchanged information to discuss joining efforts on projects in the future."
While the students are looking forward to continuing work in the local community, they also hope this project will be a springboard into even larger projects that can expand to international contexts. With support from the Sunwah Foundation and their network of GYLN chapters across the globe, the MSU chapter is aiming high to make a positive impact in Lansing and well beyond.
— Reported by GYLN MSU Chapter members